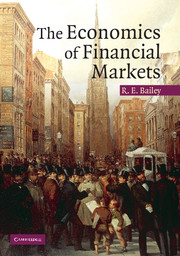 Resources and solutions
This title has free online support material available.
Details
Page extent: 550 pages
Size: 246 x 189 mm
Weight: 1.06 kg
Paperback
(ISBN-13: 9780521612807 | ISBN-10: 0521612802)
Resources and solutions
Solutions
The exercises were designed for students enrolled for a final year undergraduate course from which The Economics of Financial Markets evolved. Several of the exercises are drawn from past examination papers, the "solutions" for which are expressed in the form of guidelines about what would be expected in answers of various standards. The examination questions are designed such that there is no single "correct" answer but, rather, they provide students with the opportunity to show how much (or how little) they know..
Quick search