Published 12 January 2018
Rachel Jeffries, a teacher trainer in Spain, talks about encouraging children to identify, acknowledge and recognise emotions. She uses an example of a project she worked on in Madrid and shares activity ideas for the classroom.
As teachers, we experience many displays of emotions from the children on a daily basis; the sadness to say goodbye to parents in the morning, the excitement to go out onto the patio and play, the frustration and anger when things don't go the way they planned. Children of this age are still identifying these emotions, starting to acknowledge and label them, and to recognise them when they appear in themselves and others.
Emotional development involves learning what feelings and emotions are, understanding how and why they happen, recognising one's own feelings and those of others, and developing effective ways of managing them. Emotions are an intrinsic part of learning.  "There is no aspect of learning that doesn't involve emotions (…) engaging positive emotions is probably one of the most vital components of learning." (Simon Ward, Educational Psychologist and Cambridge Learning Journey Consultant).
Talking about feelings and how we manage them
Our research into Emotional Intelligence and aspects of Mindfulness within the Teacher Training Department Iberia led us to think about how these practices could be applied and developed within the classroom. We were invited to deliver sessions over four weeks, with children at a primary school in Torrijos, Madrid.
We started with the `Six Basic Emotions´ (Ekman and Friesen); anger, disgust, fear, happiness, sadness and surprise. We spoke about the emotions in turn using the Emotionary as a support and exploring the illustrations, colours and images, and comparing these to our own images associated with that emotion. We later moved on to thinking about more complex emotions such as acceptance, irritation and compassion.
Later on in the project, children from primary 1-3 became artists as they illustrated love, happiness, fear and sadness.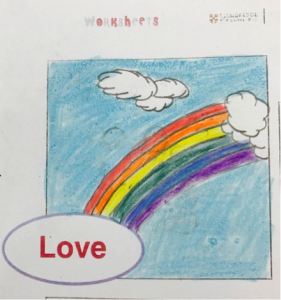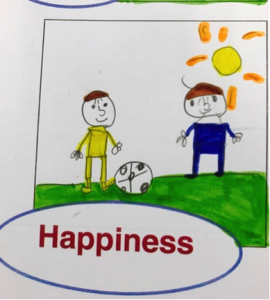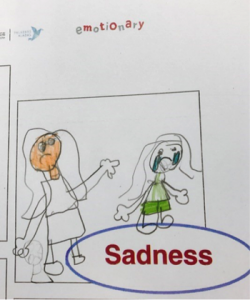 The students from primary 4-6 were asked to write their own Emotion Poems. Taking the five senses, we explored more complex emotions like frustration, stress, excitement and enthusiasm.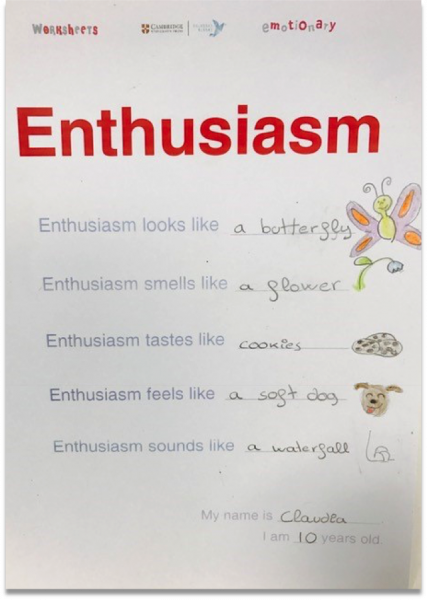 We encouraged the students to present their work with the teachers and the class afterwards. It was interesting for the children to explore and compare perspectives, noting that emotions are different for everyone. Helping them to recognise and accept this is a great way to build empathy inside and outside of the classroom; we can better understand how and why we react to what we are feeling and help others do the same.
With special thanks to the students and teachers at Colegio Santísimo Cristo de la Sangre – Torrijos.
If you'd like more ideas for activities you can do with primary learners, take a look at these craft projects for grammar practice.
Save