Teacher Trainer, Jade Blue, discusses the differences between EMI and CLIL language, looking at subject specific and academic vocabulary, as well as the different levels of Bloom's Taxonomy.
English as a Medium of Instruction (EMI) is the use of the English language to teach another subject.  It differs from Content and Language Integrated Learning (CLIL) in that there are no explicit language learning aims, but the focus is solely on teaching the subject content.  While there are similarities between the two (subjects being taught through the medium of English; the objective of learners becoming proficient in English while also acquiring subject specific knowledge), in a CLIL context the subject and the language have a dual role, and so tasks and activities will, at times, have an explicit focus on language teaching.  Teachers are required to have language knowledge and understanding, and the subject and the language are not treated as separate entities, but are 'integrated' (Leung in Llinares, Morton and Whittaker, 2012).  In an EMI context, however, there tends not to be a focus on developing learners' language skills beyond those required for learning the subject content (Dearden 2015).
Teachers' Language for EMI
Research has shown that teachers and learners need to be able to understand and produce different types of language for EMI and CLIL programmes:
– Subject Specific Vocabulary
Subject specific vocabulary is the technical vocabulary used in specific school subjects and which is specific to that particular discipline.  In an economics lesson, for example, such language might include words such as profitability; balance sheet; tax.  In a history lesson: source; artefact; century; empire.  While this type of language may sometimes be used and carry different meanings in different contexts, it generally varies according to the discipline.
– Academic Vocabulary
Unlike subject specific vocabulary, academic vocabulary occurs 'frequently and uniformly across a wide range of academic material' (Coxhead 2001).  So it is used in most subjects, for example to express logical connections and relationships, or give task demands or instructions.  CLIL teacher and trainer Kay Bentley gives the following examples of academic vocabulary:
| | | | |
| --- | --- | --- | --- |
| NOUNS | VERBS (FOR TASK DEMANDS) | ADJECTIVE-NOUN COLLOCATIONS | ADVERBS AND COHESIVE DEVICES (FOR LOGICAL CONNECTIONS) |
| cause | analyse | gradual rise | as a result of |
| effect | deduce | steep decline | consequently |
| purpose | evaluate | marked fluctuation | due to |
Basic Interpersonal Conversational Skills
Professor in Education, Jim Cummins distinguished between conversational and academic language proficiency. The first he termed Basic Interpersonal Conversational Skills (BICS) which occurs in face to face conversation, or on the telephone, for example.  BICS is the 'social language' of our students – the language that takes place outside the classroom or between tasks.  As they have frequent exposure to this language and it is cognitively undemanding, learners generally develop a high level of BICS when they are frequently exposed to the target language – in the street and in other social settings, or on the internet and social media, for example.
Cognitive Academic Language Proficiency
Social language is the foundation for academic language, as teachers frequently use social language to chat to students at the start and end of lessons.  The academic language of the content lesson is what Cummins terms Cognitive Academic Language Proficiency (CALP).  It is the language which is needed for understanding and applying new concepts and ideas – in order to learn content – and it includes vocabulary, functional and grammatical language (Chadwick 2012).  CALP is more cognitively demanding than BICS, and thus learners generally find it harder to develop in this area.
Classroom Language
Classroom language is that which 'frames' the lesson (Chadwick 2012) and is the language teachers use in order to check understanding, give feedback, organise student interaction, etc.  This language becomes familiar to learners as it is naturally repetitive and so they have repeated exposure to it.
Bloom's Taxonomy
In an EMI or CLIL context the cognitive challenges for the learner may be more demanding, as the content may be more abstract.  One way for teachers to support learners is to help them develop higher order cognitive processes.  The educational psychologist Benjamin Bloom developed a hierarchy of thinking skills, or educational objectives, which serves as a useful framework for thinking about the cognitive processes our students are developing with different classroom activities.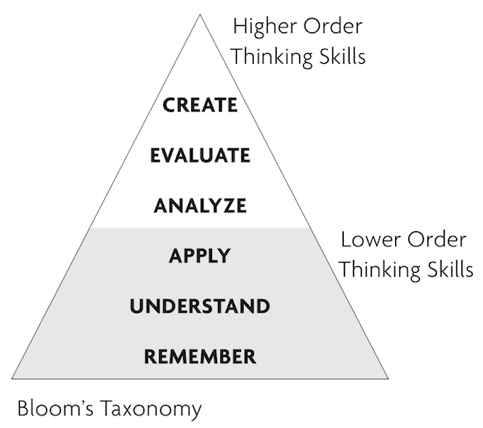 The first three levels, remembering, understanding and applying, are referred to as Lower Order Thinking Skills (LOTS) as they require a lower level of cognitive processing.  Analysing, evaluating and creating are more demanding, and so are referred to as Higher Order Thinking Skills (HOTS).  In EMI and CLIL classrooms especially, there should be a range of activities, task types and questions which require learners to utilise thinking processes of various levels, and so in the design and planning of lessons, Bloom's Taxonomy provides a useful framework.
Read Jade's last article on Bite-Sized Learning.
Further reading
Chadwick, T. (2012) Language Awareness in Teaching:  A Toolkit for Content and Language Teachers. Cambridge: Cambridge University Press
Coxhead, A. (2001) The Academic Wordlist, available online: http://www.victoria.ac.nz/lals/resources/academicwordlist and http://www.nottingham.ac.uk/alzsh3/acvocab.
Dearden, J. (2015) English as a Medium of Instruction – a growing global phenomenon British Council, available online: https://www.britishcouncil.es/sites/default/files/british_council_english_as_a_medium_of_instruction.pdf
Llinares, A., Morton T. and Whittaker, R. (2012) The Roles of Language in CLIL, Cambridge: Cambridge University Press