Introducing 'Ellie, the Wizard!' by Gorovaya from Russia. 'Ellie, the Wizard!' is one of the winning story submissions for the Cambridge Story Competition and was chosen as it is well written, succinct, funny and imaginative. Congratulations Gorovaya!
---
Ellie was a regular teenage student. She studied at school, as all teenagers do. But there is something that no one knew about her. It was her biggest secret! And I will tell you about it right now.
On one beautiful day, Ellie, as usual, went to school. She understood suddenly that she was late and imagined that it would be great if she was already in the class. She closed her eyes for a moment and when she opened them… What a surprise! She saw that was she stood at her class door.
Ellie thought: 'Well, this is really strange! I was standing in the street a moment ago!' She went to her seat with a mind full of enthusiasm and curiosity.
After the end of her classes, Ellie couldn't understand what had happened to her in the morning.
Ellie thought: 'Am I a wizard? This could not happen at all, wizards exist only in legends and fairy tales. I should probably check it.' She had been checking this for the whole evening. For example, she wanted to get a pen, so she could just close her eyes for a moment and the pen was already in her hand!
She told herself: 'So, I am a wizard now if I can do magic. I wish I could use it for good things…'
Suddenly, Ellie heard a scary noise of breaking glass in the street. She was a bit afraid, but she looked outside through her window. In the street there were men robbing a jewellery store. Ellie stunned for a moment but then she understood what she had to do. She knew that the robbers would steal a big heavy jewel, so she closed her eyes and began to imagine something. When she opened her eyes, the big heavy jewel instantly turned into a big chewing gum, and every robber stuck to it and couldn't get free.
After that night, Ellie became a true hero and started to make the world a safer and better place.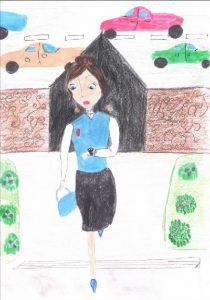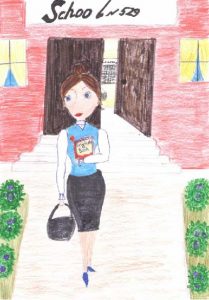 ---
Interested in reading the other winning story submissions? Find all the stories in our competition section here.