In the second part in this series, Jishan Uddin, author of the Mindset for IELTS Foundation Teacher's Book shares his advice for teachers new to the IELTS test by recommending collaborative writing practice.
In my first article '#1 Keeping the interactive environment', I introduced a couple of ideas for keeping IELTS classes interactive and engaging. In this second article, let's look at how you can introduce collaboration into your IELTS writing classes.
Collaborative writing practice
If you're new to IELTS, the image of students heads down writing may seem a world away from the vocal classroom a mingle activity, for example, creates. However, technology provides a solution! Using online tools, students can work together to create answers to written task.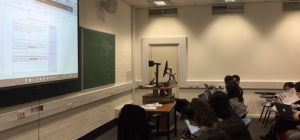 1. Prepare an interactive document for students to work with – Word online and Google Docs are best known for this, but the same online collaborative environment can be achieved using Padlet.
2. Put students into small groups sharing one device and ask each group to discuss, plan and then complete a written task from the book (e.g. a piece of email correspondence) in class on the interactive document.
3. Add your comments to direct students mid-task; this generates group discussion as students find ways to respond to your advice.
4. When complete, ask groups to add their feedback/comments in the assigned area on the document. For lower levels it's a good idea to provide a checklist to help students make effective comments.
5. Students go back and make final changes after the group discussion.
6. At the end of the activity, provide whole class feedback and invite further comments and response.
In this way, collaboration and discussion, as well as peer assessment and learning, can be built into your IELTS writing lessons.
Listen to Jishan discuss these strategies and other ideas in more detail in his webinar.  For more helpful resources, visit our website for teaching IELTS collection.