Published 20 November 2018
Mike Astbury has designed a quick speaking activity designed to give quieter and less confident students extra thinking time before talking about difficult topics. In addition, it helps students to build from a single opinion on a topic, to a more complex discussion, and can be used as a lead in for practising essay structures.
Preparation
Give each student a copy of the handout with eight statements. Ask them to read each statement and write 'A' if they agree, or 'D' if they disagree. Give students the option to skip one or two if they can't decide, or to write 'it depends'.
I have prepared a handout with a blank table to be used as a template. This allows you to use statements within a specific topic.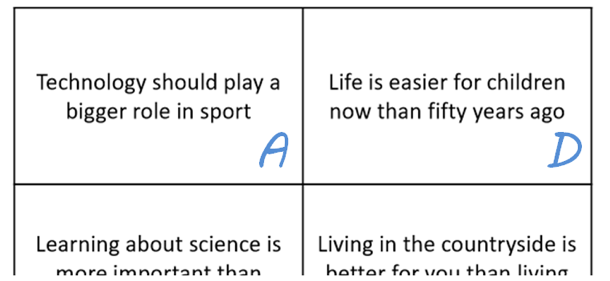 Next, students choose three statements that they would like to discuss. They should pick statements where they have strong opinions or a lot to say about the topic.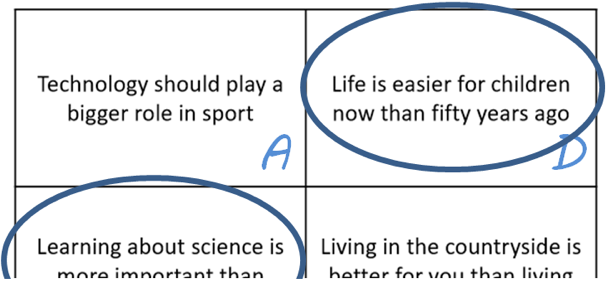 Ask students to compare their choices in pairs. They should explain why they agree, or disagree, and why they picked the statement for discussion.
If you have a significant number of students who lack confidence when speaking, or are especially shy, give everyone a few minutes to make some notes on their chosen statements. Otherwise they can move onto the next stage.
Discussion
With a smaller class, students stand up with their handout and speak to every other student. With each new partner they should swap ideas with each of the topics that they selected for discussion. In larger classes you might need to be more organised, so use a 'speed dating' set up.
After students have swapped partners twice, ask them to start incorporating ideas they've heard from other students. This should mean that students are able to contribute ideas from other students on topics they don't have any opinion about themselves. This is an important step, as it gives students a licence to repeat and recycle ideas that aren't their own and to build a wider knowledge of each topic.
Once students have spoken to five or six different partners ask them to return to their seats. They should then briefly talk in pairs about each of the statements, but they can only mention what other people said.
Follow up
Ask students to work in pairs and write two or three of their own statements. Students should try to write statements that their classmates would have different opinions on. You could then put students into small groups to discuss what they've written. Alternatively, students could write them on pieces of paper and swap them with each other, keeping their discussions in pairs.
There are also a number of other ways to transition from this exercise to a writing task. In the handout provided there are two follow up writing tasks which use the speaking activity as the lead-in to practise essay writing.

The first tasks students with writing sentences that use formal structures. The second gives students a template to follow in order to write a one-sided opinion essay.
Find more games, activities and lesson plans, and read previous blogs from Mike Astbury.