Published 19 December 2018
Over the past autumn I attended three ELT conferences in Europe – both with the aim of promoting my new book and just because it's something I enjoy doing! In this post I'd like to highlight one presentation that made a lasting impression on me from each of them.
ATECR
My first stop was the ATECR (the Association of Teachers of English of Czech Republic) conference, which was held in September in a picturesque mediaeval town called Hradec Králové about 1.5 hours west of Prague. The organisers secured the conveniently located city library as a venue for the event. The most interesting session, however, took place off the premises of the library. On the second day of the conference Mark Andrews took us on a walking tour of the city and showed how language learning can occur outside the boundaries of the classroom.
In order to take part in the session the participants had to sign up the day before, at the end of the first day, when all the workshop leaders got up on the stage and pitched their workshops, which was a nice touch and something I hadn't seen at other conferences. Mark promised that we would explore the town, its history and its linguistic landscape. And exploration was what we did. Suddenly the street signs and graffiti I had walked past on the way to the conference venue at least twice before came alive as we discovered endless language learning opportunities.
Mark, who prides himself on using the Dogme approach long before Dogme was 'invented', came up – seemingly on the spot – with various tasks and questions throughout the walk, which was, in fact, a demo of an 'unplugged' / Dogme lesson. We had to read graffiti on walls, describe buildings and sculptures to each other, and compare the city maps from different time periods.
It seemed as though nothing escaped Mark's eye as he turned shop windows, notice boards, tree branches, discarded crisp packets and other random objects into learning opportunities. Using the term Leo Van Lier's (2006) borrowed from ecology, we were taking advantage of the affordances which emerged through our interaction with the physical world. This was an apt conclusion to the conference whose theme this year was No Limits.
IATEFL Poland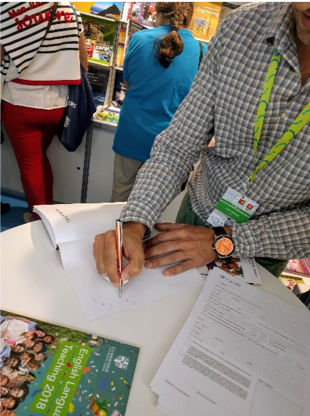 A week later, only some 100 miles (170 km) to the north – and with the temperature about 10 degrees lower – the annual IATEFL Poland conference was held in Wroclaw. In this photo I'm signing copies of Lexical Grammar at the CUP stand. IATEFL Poland is one of the biggest ELT events on the continent, which was attended this year by more than 1000 delegates, with an extensive book exhibition featuring all major ELT book publishers and talks by a number of well-known speakers such as Hugh Dellar, Nick Bilbrough, Hanna Kryszewska, Jon Hird and Mark Hancock, to name but a few. After giving my own talk – in addition to two workshops at the pre-conference event – I headed to a presentation by Marcin Stanowski with the unusual title Small changes, big results & Pareto.
The Pareto principle, as the participants learned during the talk, has its origin in economics and refers to a situation where 80% of the effect comes from 20% of the causes (hence it's also known as the 80/20 rule). The principle explains how 20% of a company's range of products yields 80% of the profit or – in everday life – how people tend to wear 20% of their wardrobe 80% of the time. When applied to teaching we can observe the Pareto principle, for example, when 20% of the students create 80% of the discipline problems.
Martin turned the principle into a powerful construct for professional development: a small personal step (20%) can translate into a giant leap (80%) for those you inspire. A minor tweak to the lesson plan can make a significant effect on students' learning. Sharing with your colleagues a new idea picked up at a conference, however small, can make a big difference on their teaching.
Marcin showed how constant change is vital to our success as a teacher and how the greatest threat lies in the inability to adapt. He made the interesting point that successful teachers share similar qualities, while troubled ones are unsuccessful in their own way.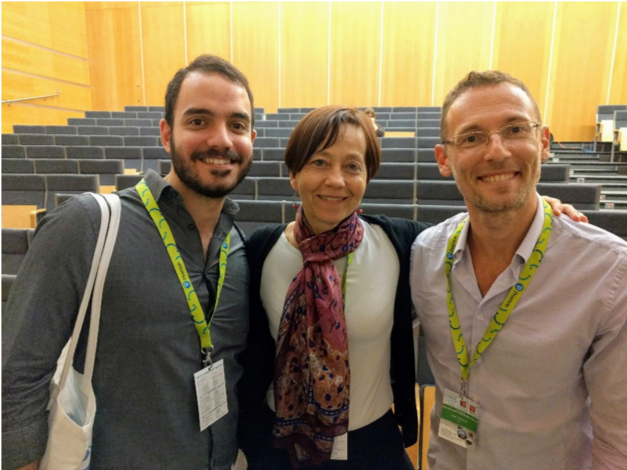 With Margit Szesztay, IATEFL President and Angelos Bollas, Teacher Trainer, IH Dublin, at IATEFL Poland
I'd like to see more inspiring and insightful talks like these at ELT conferences. With metaphors from the Greek mythology (e.g. Theseus) and concepts from behavioural psychology (e.g. the Hawthorne effect), this was certainly a presentation aimed to inspire and provoke thought rather than provide quick-fix activities and ideas for Monday morning. Yet, we all like to come away from conferences with some practical ideas for the classroom and a very practical session, such as the one I attended at TESOL France, is what I'd like to describe next.
TESOL France
TESOL France's annual colloquium, which, unlike its Polish counterpart, always takes place in the French capital, is one of my favourite ELT conferences – and not only because it tends to fall on or near my birthday. This year's TESOL France conference, my fourth, was held, as usual in the Télécom ParisTech close to the quaint Butte aux Cailles neighbourhood. In addition to the champagne, flavourful cheeses and other French delicacies, there was a rich menu of stimulating sessions. I particularly enjoyed the workshop by Louise Desmier from the British Council Madrid.
Big on audience participation, yet full of valuable insights, Louise's workshop focused on developing receptive skills, specifically sub-skills involved in reading and listening. She kept the participants busy throughout with interesting and engaging tasks. In the course of one hour, which seemed to just fly by, we played bingo, tracked each other's eye-ball movements and held our thumbs and pens up to indicate we've located relevant information in a listening text. Not only did the workshop equip the participants with necessary tools for improving learners' receptive skills, we left with a handout with additional 15 activities to try out in the classroom. I'll be definitely using some of these in my teaching. Louise's workshop was also a good reminder of what a true conference workshop should be like. I particularly liked the idea of starting off with a Bingo, in which the audience has to complete the Bingo grid with words (or chunks!) they expect to hear during the session.
Will you be heading to an ELT conference near you in the near future? My next one will be the IATEFL conference in Liverpool on 2-5 April. See you there?
References
Van Lier, L. (2006). The ecology and semiotics of language learning: A sociocultural perspective (Vol. 3). Springer Science & Business Media.
Catch up on Leo's Teaching Business English in chunks