Published 29 January 2019
Schools need to show that they are evaluating their language programmes. In collaboration with our Pedagogy Researchers and two volunteer schools, we conducted a study to help us understand how effective their English programmes were and how they could further improve them. We measured three aspects: language proficiency gained over a period of time, practices that support learning and learners' motivation. Gauging learners' motivation was particularly challenging and the data led to interesting insights.
The challenge
Motivation, unlike language proficiency, is not immediately accessible to a researcher. The challenge was therefore to design a study instrument that didn't look like another test. We wanted learners to relax and be as open as possible. We also wanted to give participating children the chance to express themselves openly, and not be limited by their level of literacy. Finally, we wanted to tap into learners' immediate feelings and impressions, so the task had to be relatively quick and easy to complete. Our pedagogy research team did a great job in designing an activity that ticked all the boxes.
Drawings are a known research tool in child psychology. It's important to remember the importance of clear instructions, e.g. encouraging the child to include as much detail as possible, as well as clear score criteria – perceived attractiveness of the picture being irrelevant.
We asked children to "Draw your English lesson".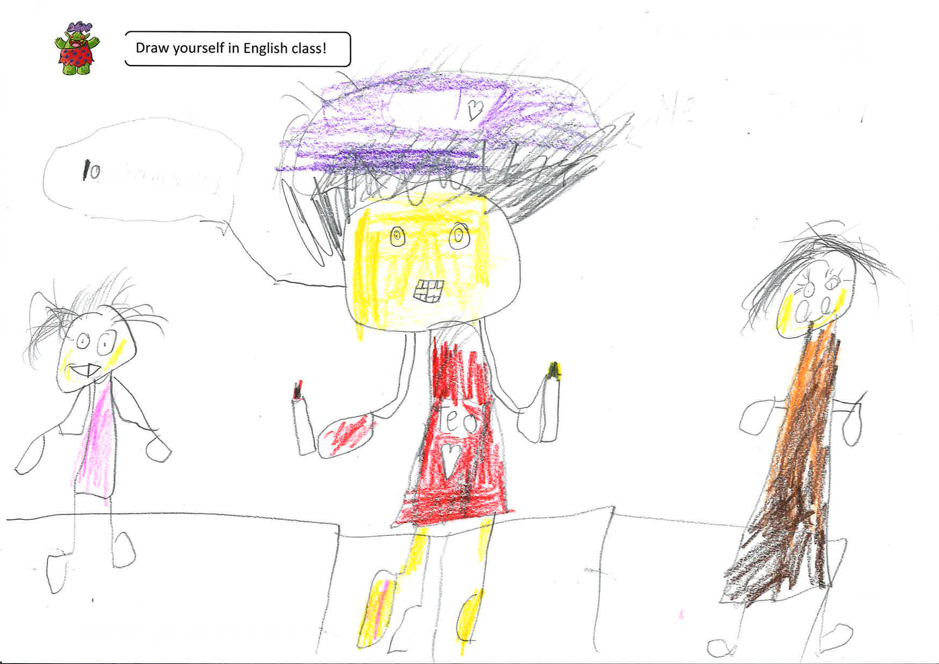 The study
45 children drew pictures at the start (top image) and at the end (bottom image) of a semester. The scenes ranged from simple black and white to bursting with colour and detail. The 90 pictures were then analysed by our researchers according to very specific criteria: dynamics, mood, presence of others, among other factors. The drawings provided the insights we needed to better understand learners' individual perceptions of English lessons. The creativity and the range of emotions and experiences surprised us.
The results
The drawings showed that learners' attitude to English had evolved over the semester. The first drawings had muted colours, a lot of them showed children sitting alone with a book. The second round of drawings in comparison were busier, livelier and more colourful. More often, peer interaction was at the centre of the picture. The depiction of the English classroom evolved from a place of individual learning to a place where fun peer interactions happen. Children also used more English in their pictures.
Increased sense of enjoyment and learning in a group seemed to correlate with test results and overall engagement in the classroom as reported by teachers. Teachers told us that child-centred, peer activities had a powerful effect on learners' engagement and learning; children used English more.
Renata Barryman from Pro Futuro said, "I can see that students quickly pick up 'values' and phrases. It is very rewarding to see students actually using and enjoying English."
Download the full impact study report.
Why is this important?
The insights from our impact study helped the participating schools and Cambridge University Press to understand the impact of Cambridge resources on the young learner classroom. While summative and formative forms of assessment are important, some aspects of classroom life cannot be measured by a language test or a project. The materials used in class had an important role to play – they supported teachers in creating effective learning environments. Children liked to identify with fun characters, sign songs, act out stories and read and talk about interesting topics. They appreciated the humour and opportunities to work with their peers. It improved their learning experience.
A big thank you goes to the volunteering schools: Pro Futuro in Warsaw and First Decision in Moscow for participating in the study, both using the Kid's Box series for young learners.