Can you think of someone who is an excellent communicator? Not just an excellent public speaker, but someone who's great at persuading people, at listening to other people and facilitating good group decisions. Those are oracy skills. In this article, Professor Neil Mercer and Dr Lyn Dawes explore how teachers can help develop these skills and enable young people to participate fully in education and life in general.
Oracy is the skill of speaking confidently in a variety of situations, from presentations in front of an audience to participating in group discussions and collaborative activities. It's also the skill of listening to others, reading group dynamics, and facilitating shared decision-making.
Think back to your excellent communicator. Oracy is not just about the words they use. Oracy training includes physical skills, like projecting your voice and conveying confidence through your posture. It includes socio-emotional skills, like understanding group dynamics and helping a group come to a collective decision. It includes cognitive skills, like structuring your ideas into a coherent argument.
Collaboration and group work are two areas where the importance of talk becomes apparent. How can we teach talk skills for group work and collaborative learning?
Research on classroom-based group work reveals a paradox; it has shown that collaborative learning can be very effective for curriculum based learning (Howe, 2010), but that simply putting children together to work in groups is often unproductive (Wegerif & Scrimshaw, 1997). How can this paradox be solved?
Research tells us that children will only work together if they have learned how to do so and if they have learnt the relevant oracy skills. The way their teacher talks with them has a strong influence on how children talk in group work.
Teachers need to raise students' awareness of why they are being asked to work in groups, so that they appreciate the potential value of talk for learning. More importantly, they need to teach them about to engage in the kind of reasoned discussion which is known as Exploratory Talk. This is a way of using language for thinking collectively or 'interthinking' (Littleton & Mercer, 2013).
In Exploratory Talk everyone's viewpoint is considered, opinions are justified with reasons, and decisions are made together. People engage critically but constructively with each other's ideas. They invite one another to contribute, asking for explanation, reasons and elaboration. They listen and respond, continuing the discussion until their group can agree on a joint decision.
A reasoned discussion is necessary for successful collaboration. An effective way of achieving this is to agree with the class a set of 'Ground Rules' to use during group work.

The behaviours resulting from Ground Rules form a foundation for successful collaboration: the children ask each other for information and opinions; they seek reasons and provide them and evaluate any proposals that are made. The group members work towards a joint conclusion. Opinions are treated with respect, and each speaker has the opportunity to develop his or her own ideas. The children have been taught to ask one another, 'What do you think? Why?' and listen to one another's ideas, so are well on the way to generating a reasoned discussion such as is necessary for successful collaboration.
Thanks to Exploratory Talk, group activity becomes a powerful aid to learning and certain types activities are particularly effective in stimulating it. Talking Points are thought-provoking statements which encourage children to talk to one another about a topic, sharing what they know, what they do not know or are unsure about. Research has shown Talking Points generate more imaginative and longer responses from students than questions on the same topic. They help children focus on a topic and to compare their point of view with that of others.
Talking Points are easy to read so that children can concentrate their thinking on the subject under discussion. Children in discussion share their personal experiences and understanding. They begin to see that some of their ideas are fluid and can be affected by new evidence. They recognise that classmates are a valuable resource for new thinking.
When to use Talking Points?
at the start of a topic: to evaluate baseline understanding;
during a topic, to share ideas, plan or consider other points of view;
and at the end of a topic, as a formative assessment, to establish what has been learnt, and to consider next steps. They can be devised for any topic by the teacher or by the children.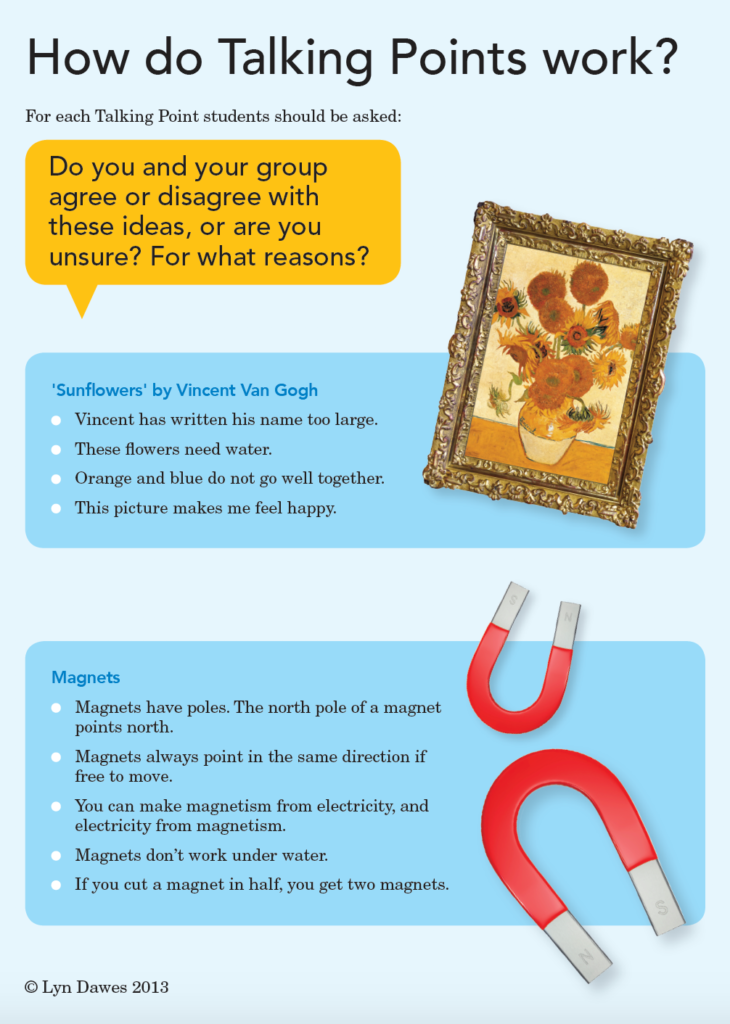 In summary, employers commonly look for a workforce with well-developed skills in spoken communication; but they also regularly claim that school leavers lack these skills (UKCES, 2010, p.16). They want to employ people who can make clear presentations, work well in teams, listen properly to others and solve problems collaboratively. Oracy education can help develop these skills and enable young people to participate fully in education and life in general.
Professor Neil Mercer and Dr Lyn Dawes are part of Oracy Cambridge: The Hughes Hall Centre for Spoken Communication promoting oracy in schools and in the wider society. You can learn more about oracy and how it can enrich your lessons in our white paper.
If you want to learn more about developing global competencies in your students, why not read our article on How can we prepare our students for the future?