Using advanced thinking skills is becoming increasingly important as a way to prepare our students to succeed in a fast-changing world. In this article, we look at how you can expand upon the reading texts of ELT course books by helping your students not simply read them and answer the questions, but apply previously learned skills and knowledge to new situations and problems, therefore developing their critical thinking ability.
I wanted to start this article off with a quick thinking activity: If you are a teacher, take a minute and think about these questions, keeping your students at the front of your mind:
'What is my role in my students' life?'
'What am I supposed to be to them?'
I imagine there are many ways to answer these questions, but for the sake of staying loyal to the title of this particular blog, I'd like to begin with a quote from Benjamin Bloom's Taxonomy of Educational Objectives:
"Very few teachers would be satisfied to regard (information or knowledge) as the primary or the sole outcome of instruction. What is needed is some evidence that the students can do something with their knowledge, that is, that they can apply the information to new situations and problems." (Bloom et al. p.38 – Bloom et al – Taxonomy of Educational Objectives).
So how do we do this?
To start, look at a text from a course book, ignore the activities surrounding it and imagine this is all you have to deliver a lesson to develop critical thinking skills … How would you do that? What generic ways are there that can be adapted to any text?
Before going into different text types, the first thing you could do is give your students a certain time limit or a simple race to identify whether the text is one of the following by skimming it: subjective / opinion; objective / factual; fictional; or personal. Then justify which they chose with specific evidence from the text. To make it more accessible, you might use the words opinion; fact; story; personal instead.
So once they have their text type, you may already have some ways that work with multiple texts, but here are some suggestions for expanding on various texts, depending on its type, in a nice neat little cheat sheet: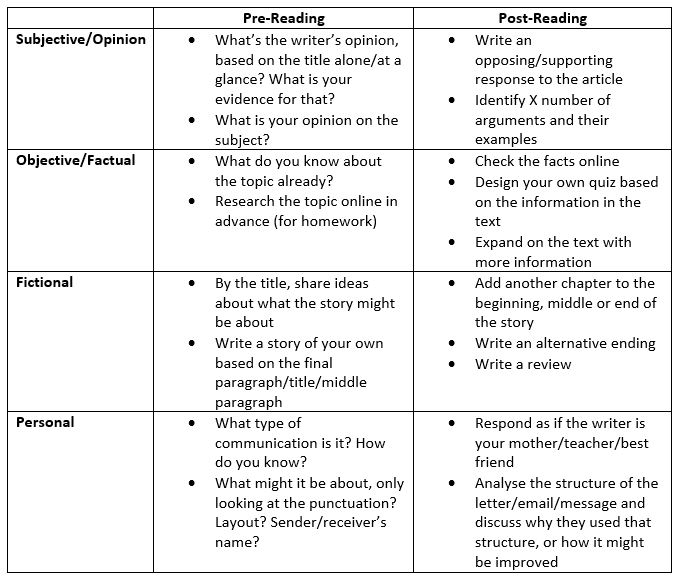 There are many more ideas that could be inserted into the table above, so please feel free to comment below to share your ideas and help our students become more analytical, solution-focused individuals!
Find out more on developing 21st century skills and preparing learners for the future in our blog post The Cambridge Framework for Life Competencies: Free download.