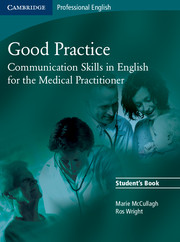 Uses the Cambridge International Corpus
Good Practice
Upper-intermediate, Advanced
Good Practice focuses on the language and communication skills that doctors need to make consultations more effective, through a focus on five elements of good communication: verbal communication, active listening, voice management, non-verbal communication and cultural awareness. The course teaches learners how to handle a range of situations sensitively, such as taking a patient history, breaking bad news, examining a patient and describing treatment options, as well as preparing doctors for dealing with different types of patients, from children to the elderly.With reference to numerous medical communication experts, and through exposure to authentic clinical scenarios, the course demonstrates the impact of good communication on the doctor-patient relationship and enables students to become confident and effective practitioners in English. Good Practice won The BESIG David Riley Award for Innovation in Business English in 2008 and was also shortlisted for the 2008 British Council Innovation Awards.
Key Features
Includes a DVD showing authentic doctor-patient communication, which comes with supporting worksheets.
Teaches 'patient speak' - everyday language for understanding patients and explaining things to them.
Includes wordlists, vocabulary practice activities, photocopiable reading activities and DVD worksheets online at www.cambridge.org/elt/goodpractice
Components
For pricing, availability and further information, first select the ISBN you require from the component grid above.
More to Explore
Learning Links