Featured topic: Listening
Also explore
Read and listen to a range of information about a particular area of applied linguistics. This month: Listening.
Book of the month | Articles | Listening and pronunciation resources | Related titles
Book of the month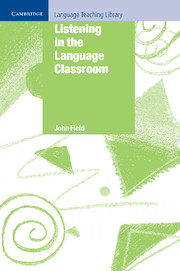 Listening in the Language Classroom
John Field
This book challenges the orthodox approach to the teaching of second language listening, which is based upon the asking and answering of comprehension questions. It critically examines the practices and assumptions associated with this approach, and suggests ways of revising them. The book's central argument is that a preoccupation with the notion of 'comprehension' has led teachers to focus upon the product of listening, in the form of answers to questions, ignoring the listening process itself. The author provides an informed account of the psychological processes which make up the skill of listening, and analyses the characteristics of the speech signal from which listeners have to construct a message. Drawing upon this information, the book proposes a radical alternative to the comprehension approach and provides for intensive small-scale practice in aspects of listening that are perceptually or cognitively demanding for the learner.
Read a sample chapter
(Chapter 8 of Listening in the Language Classroom, 2008)
'My aim in the present chapter is to provide a framework for thinking about the processes involved in listening. Much of the discussion will be shaped by the important distinction … between the two major operations that make up the skill: decoding and meaning building.'
Articles and talks
'While extensive reading is a familiar part of the ELT repertoire, extensive listening has received much less attention … Research projects to quantify the effects of extensive listening in the way in which extensive reading has been researched are needed.'
'Two themes will wind through this discussion. The first is the necessity of supporting students' learning … Another theme will be motivation. Because listening is so challenging, teachers need to think carefully about making our activities successful and our content interesting.'
John Field presents the process approach to teaching listening as a solution to the deficiencies of the comprehension approach. He discusses the advantages of focused, intensive practice of listening sub-skills as a way of becoming an 'expert' listener. The challenges of and the processes involved in listening are explained, and some examples of classroom tasks are given. This presentation was first given at the 2009 Annual General Meeting for the Teachers Association in Helsinki.
Listening and Pronunciation Resources
Related titles
Language teaching and learning
General linguistics