English Language and Literature for the IB Diploma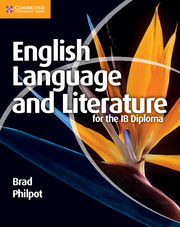 ISBN:

9781107400344

Format:

Paperback

Subject(s):

English Language and Literature

Qualification:

IB Diploma

Author(s):

Brad Philpot

Available from:

July 2011
For students studying the new Language A Language and Literature syllabus for the IB Diploma.
Description
Introduction
Part I. Language in Cultural Context: 1. The English language
2. Text and context
Part II. Language and Mass Communication: 3. The media
4. The language of persuasion
Part III. Literature, Text and Context: 5. The context of interpretation
6. The context of composition
Part IV. Literature, a Critical Study: 7. The mechanics of fiction
8. What makes English poetic
Glossary
Acknowledgements
Index.
Latest news
All news
20 June 2017
Learning French opens up a world of opportunities
6 things your students may not know about why learning French is such an asset.