English Language and Literature for the IB Diploma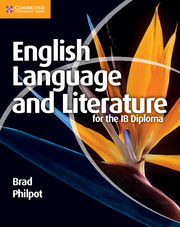 ISBN:

9781107400344

Format:

Paperback

Subject(s):

English Language and Literature

Qualification:

IB Diploma

Author(s):

Brad Philpot

Available from:

July 2011
For students studying the new Language A Language and Literature syllabus for the IB Diploma.
The English Language and Literature for the IB Diploma coursebook is a comprehensive and accessible guide for Standard and Higher Level students of the new Language A Language and Literature syllabus for the IB Diploma (from 2011).Written by an experienced, practising IB English teacher, English Language and Literature for the IB Diploma covers key concepts in language and literature studies in a lively and engaging way suited to IB students aged 16-19 years. This well structured coursebook includes: key concepts in studying language and literature; text extracts from World literature (in English and in translation); international media and language sources; a wide variety of activities to build skills; materials for exam preparation; guidance on assessment; Theory of Knowledge links; and Extended essay opportunities.

Structured activities to build study skills in both language and literature. Annotated and deconstructed texts, highlighting media and author techniques.

Materials for exam preparation, covering each assessment type with information and guidance on assessment, explaining the syllabus in practice.

Theory of Knowledge boxes with question ideas to stimulate thought. Extended Essay ideas linking to Creativity Activity Service explore for Language and Literature.

Sample student work, providing examples for reference and criticism alongside definitions of key terms in the margin for easy reference, as well as a fully glossary.

Introduction
Part I. Language in Cultural Context: 1. The English language
2. Text and context
Part II. Language and Mass Communication: 3. The media
4. The language of persuasion
Part III. Literature, Text and Context: 5. The context of interpretation
6. The context of composition
Part IV. Literature, a Critical Study: 7. The mechanics of fiction
8. What makes English poetic
Glossary
Acknowledgements
Index.
Latest news
All news
05 January 2018
Why is working memory important for mathematics learning?
In this espresso from our colleagues at Cambridge Mathematics they consider the evidence around working...