About the Series:
With over 90 titles in the series Cambridge Studies in International and Comparative Law is a forum for high quality research in the field of public and private international and comparative law. Although these are distinct legal sub-disciplines, developments since 1946 confirm their interrelation and it is increasingly used as a tool in the making of law at national, regional and international levels.
Please find below the entire range of titles in the series, all available to buy online in multi-formats now. Titles are regularly being added to the series so bookmark this page to make sure you are fully up to date with new and forthcoming publications!
General Editors:
James Crawford SC FBA
Whewell Professor of International Law, Faculty of Law,
University of Cambridge
John S. Bell FBA
Professor of Law, Faculty of Law, University of Cambridge
JUST PUBLISHED!
State Control Over Private Military and Security Companies in Armed Conflict
Hannah Tonkin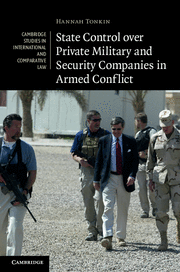 Due to publish on 11th August 2011, this book analyses how the state-centred normative frameworks and accountability structures of traditional international law apply to modern PMSCs in practice.
Click here to read more
Features book listing
There are 227 titles for this feature
Sort by:
These titles are sorted by Title (ascending)
Sort by: