Skills for Effective Writing
Skills for Effective Writing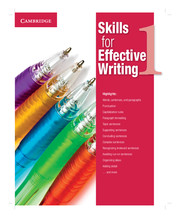 Students are better writers when they master discrete writing skills.
Discrete writing skills, such as creating topic sentences and recognizing irrelevant information, are critical for good writers. When students master these skills, all of their writing improves. This allows teachers to focus their time and feedback on the content of student work. This 4-level series teaches these skills and offers extensive practice opportunities.
Key features
Each unit teaches a single writing skill, focusing students on developing the skill fully.
Following instruction, students apply the skill, facilitating their understanding of exactly how each skill works.
The units include extensive practice so that students can truly master each skill.
Unit quizzes give teachers a snapshot of exactly how well students learned the skill.
See it now
Get an eSample of Skills for Effective Writing that will allow you to view a product preview on your desktop.
Free sample
User reviews
5 December 2015
By hasantitiz
Student
I have just bought 4 books. I would never buy an ESL book without answer key. At the back of the book, it was saying you can get the answer key from website. But when you click resource, it says Sorry, no resource. What I am saying is: Sorry, I am returning all 4 books , if you are not providing answer key.
20 October 2015
By hatemmostafa
Administrator/Co-ordinator
Im a full-time teacher. Its a really fine book to develop students writing skills, especially working with them at lower levels and getting them to master those discrete wrting skills as the authors put it. However, there is NO answer key, as Pearsalisa mentioned in her message. I cant find it on the site. Can anyone help, please?
10 May 2015
By Pearsalisa
Student
I buy this book to develop my writing skill but I cant get an answer key from this website.I feel bad
16 July 2014
By rlaing
Full-time teacher
Useful for supplementary resource for academic writing classes because they are succinct and can be covered in one lesson. Logical progression and multi-choice check at the end is helpful review.
See all reviews
Need technical support?
Thank you for your feedback which will help us improve our service.
If you requested a response, we will make sure to get back to you shortly.
×
Please fill in the required fields in your feedback submission.
×