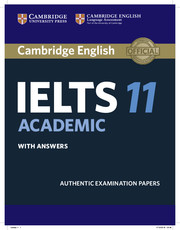 Cambridge IELTS 11 contains four authentic IELTS examination papers from Cambridge English Language Assessment, providing excellent exam practice.
Cambridge IELTS 11 provides students with an excellent opportunity to familiarise themselves with IELTS and to practise examination techniques using authentic test material. You can choose an edition containing either four complete tests for Academic or for General Training module. An introduction to these different modules is included in each book, together with with an explanation of the scoring system used by Cambridge English Language Assessment. A comprehensive section of answers and tapescripts makes the material ideal for students working partly or entirely on their own. These tests are also available separately for purchase online from Testbank.org.uk
Key features
Contains four complete tests for either Academic or General Training candidates.
Includes a comprehensive section of tapescripts and answers, including models and samples for all the Writing tasks, making it suitable for students working partly or entirely on their own.
Contains a helpful introduction outlining the IELTS format and its scoring, ensuring that students and teachers have a thorough understanding of what is involved in the exam.
User reviews
20 March 2017
By alencar
Graduate Student
Where do I get the audio files for the IELTS 11 - General?
18 March 2017
By georgejsanju
Other
Where do i find the Audio for listening? I could not find a direct lead to get my Audio for listening.
14 March 2017
By abirafdi
Student
i have bought ielts 11 academic with answer book. However, i couldn't found the audio for listening. How can I get the audio for the listening section?
1 February 2017
By JamieMoriarty
Graduate Student
Good afternoon. Is there a sample of the book? I'd like to look inside before purchasing it. Best regards.
Academic Student's Book with Answers
16 January 2017
By Valeriion
Graduate Student
Great place for new information! I find here a lot of cool things
23 October 2016
By RAADFAHAD
Student
Please share the Cambridge IELTS 11 General Training Book+CD at raadfahad64@gmail.com Thanks in advance.
General Training Student's Book with answers
14 October 2016
By ArturYolchyan
Other
This is will help me to get clear IELTS exam and as I heard it is very helpful
26 August 2016
By Events
Other
I want to see this. Preparing for islets so I think this can help me
24 August 2016
By Dr199130
Full-time teacher
It is a very useful book. However, the listening materials isn't available.
General Training Student's Book with answers with Audio
18 August 2016
By Billyghurl
Student
How can i get an access to audio or listening part of this book? I just recieved it today and have searching everywhere in your website bit still haven' found it
17 August 2016
By allen2
Graduate Student
It is a good and newest exercise. But I have not see it until now.
16 August 2016
By SAMIR24101983
Researcher
thank you very much to be here in cambridge learning english site i want to learn english well
General Training Student's Book with answers with Audio
6 July 2016
By BenAk
Graduate Student
Graet it is the best book i have ever seen, it is the best book
12 May 2016
By ELTCustomerService
Full-time teacher
EDITORIAL RESPONSE: Dear tuliovargas - Thank you for your feedback on IELTS 11. We have looked into this query and the error on page 133 of the Academic version in the word 'transprotation' is in fact intentional: this is an actual candidate answer and the examiner's comment above pre-alerts readers to 'spelling errors'. We hope that you will continue to find our practice tests useful. Best wishes, Cambridge Exams Publishing
4 May 2016
By tuliovargas
Student
There is some spelling error at book Cambridge IELTS 11 Academic Student's Book, ISBN-10: 1316503852. At page 133, Answer of Test 1, Writing Task 2. The world TRANSPROTATION are written in a wrong spelling, the correct must be: TRANSPORTATION. It is a crucial error, students use this book to get a better score in their exam, and errors like this do not help the students, your customers.
3 May 2016
By Gemmy
Part-time teacher
The book reflects precisely the current trend in IELTS Listening and Reading tests. For the Listening component, we can see the faster speed, increased level of difficulty in sections 2 and 3, and lower difficulty level for section 4 compared to before 2011. The number of words allowed for short answer questions in both sub-tests is now between one and two rather than three as of exams before 2012.
28 March 2016
By Tahir786
Other
I think this book is really so nice . this book is available in Pakistan
3 March 2016
By Djovokhir
Student
how much does it cost? the book is I think very good organized!
22 February 2016
By Alaev
Teacher
sd df ffg a sd fsf sf fs f sdfds f sdfsfsd f dsfsdf f gadgaf asd asd ad s dasfafas
See all reviews
Need technical support?
Thank you for your feedback which will help us improve our service.
If you requested a response, we will make sure to get back to you shortly.
×
Please fill in the required fields in your feedback submission.
×