Open global navigation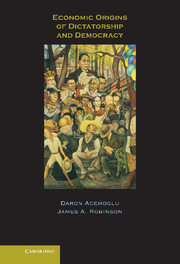 Economic Origins of Dictatorship and Democracy
$60.00
Date Published:

December 2005

availability:

Temporarily unavailable - no date available

format:

Hardback

isbn:

9780521855266
Temporarily unavailable - no date available
Unavailable
Add to wishlist
---
Looking for an examination copy?
This title is not currently available for examination. However, if you are interested in the title for your course we can consider offering an examination copy. To register your interest please contact collegesales@cambridge.org providing details of the course you are teaching.
Description
Product filter button
What forces lead to democracy's creation? Why does it sometimes consolidate only to collapse at other times? Written by two of the foremost authorities on this subject in the world, this volume develops a framework for analyzing the creation and consolidation of democracy. It revolutionizes scholarship on the factors underlying government and popular movements toward democracy or dictatorship. Daron Acemoglu and James Robinson argue that different social groups prefer different political institutions because of the way they allocate political power and resources. Their book, the subject of a four-day seminar at Harvard's Center for Basic Research in the Social Sciences, was also the basis for the Walras-Bowley lecture at the joint meetings of the European Economic Association and Econometric Society in 2003 and is the winner of the John Bates Clark Medal. Daron Acemoglu is Charles P. Kindleberger Professor of Applied Economics at The Massachusetts Institute of Technology. He received the 2005 John Bates Clark Medal awarded by the American Economic Association as the best economist working in the United States under age 40. He is the author of the forthcoming text Introduction to Modern Economic Growth. James A. Robinson is Professor of Government at Harvard University. He is a Harvard Faculty Associate at the Weatherhead Center for International Affairs and a member of the Canadian Institute for Advanced Research's Program on Institutions, Organizations, and Growth. He is coeditor with Jared Diamond of the forthcoming book Natural Experiments in History.

Highly interdisciplinary study of government, integrating economics, political science, sociology and history
Real world in orientation, making it not just for students but also policy makers
Authors are already internationally known for their work on this subject

Read more

Prizes

Winner of the 2006 Association of American Publishers/Professional and Scholarly Publishing Division Award, Best Book in Economics and Finance
Winner of the 2007 William H. Riker Prize in Political Economy, American Political Science Association
Joint winner of the 2007 Woodrow Wilson Prize, American Political Science Association

Reviews & endorsements

"This path-breaking book is among the most ambitious, innovative, sweeping, and rigorous scholarly efforts in comparative political economy and political development. It offers a broad, substantial new account of the creation and consolidation of democracy. Why is the franchise extended? How do elites make reform believable and avoid expropriation? Why do revolutions nevertheless occur? Why do new democracies sometimes collapse into coups and repression? When is repression abandoned? Backed by a unified analytic model, historical insight, and extensive statistical analysis, the authors' case is compelling." - James E. Alt, Frank G. Thomson Professor of Government, Harvard University

"This tour de force combines brilliant theoretical imagination and historical breadth to shine new light on issues that have long been central in social science. The book cannot be ignored by anybody wanting to link political and economic development. Its range is truly impressive. The same logical framework offers plausible predictions about revolution, repression, democratization, and coups. The book refreshingly includes as much Latin American experience as European experience, and as much Asian as North American. The authors offer new intellectual life to economics, political science, sociology, and history. Game theory gains a wider audience by being repeatedly applied to major historical issues for which commitment is indeed a key mechanism. Economists and political scientists gain more common ground on their political economy frontier." - Peter Lindert, University of California, Davis

"Sociologists are given a new template about class interactions in the political sphere, one that suggests both new tests and new ideas. And comparative historians, while fleeing from active involvement in game theory, have a new set of conjectures to support or be provoked by."

"Acemoglu and Robinson have developed a coherent and flexible analytical framework that brings together many aspects of the comparative political economy of democratization and democratic consolidation. Beyond being an excellent work of synthesis, this framework also leads to insights that will pave the way for further theoretical and empirical investigation. The combination of theory and historical application make this a first-rate book for teaching, as well as a major research contribution." - Thomas Romer, Princeton University

"This book is an immense achievement. Acemoglu and Robinson at once extend the frontiers of both economics and political science; they provide a new way of understanding why some countries are rich and some are poor; and they reinterpret the last 500 years of history." - Barry Weingast, Stanford University

"A vast body of research in social science on the development of democracy offers detailed accounts of specific country events but few general lessons. Acemoglu and Robinson breathe new life into this field. Relying on a sequence of formal but parsimonious game-theoretic models and on penetrating historical analysis, they provide a common understanding of the diverse country histories observed during the last two centuries" - Torsten Persson, Director Institute for International Economics Studies, Stockholm University

"…brilliant in its parsimony of means and power of explanation. The thesis is compellingly inventive. In practice, this is a model that may prove helpful in explaining long-term patterns of emerging democracies. Students of economics will study this text as much for its methodical exposition as for its conclusions. They will find the effort well worthwhile." - Tim Harford, Financial Times

"Acemoglu and Robinson have dared to set themselves up as targets. It is unlikely that the naysayers and nitpickers will be able to desist. Nor should they. And if the authors' effort survives the pounding —as well it might —it will be a triumph not just for Acemoglu and Robinson but for economics and its methods." - Arvind Subramanian, International Monetary Fund Journal

"I would recommend this book to anyone with a serious interest in democratic transitions and economic development. Its historical scope, and the power of the models it develops, set a new standard in political economy." - Michael Munger, EH.NET

"In this superb volume, Daron Acemoglu and James A. Robinson seek to answer age-old questions in political economy: What factors, particularly economic factors, explain why some countries pass from dictatorship to democracy? What determines whether such transitions will be consolidated or whether a country will revert to rule by a small elite? Their answers, and the manner in which these were obtained, are refreshingly new." - Romain Warciarg, Science

"…there is much [here] to admire. True to their title, Messrs Acemoglu and Robinson offer a unified theory of both democracy and its opposite. According to two scholars cited in this book, even to look for a general theory of democratic reform requires great temerity. Happily, Messrs Acemoglu and Robinson have temerity in spades." - The Economist

"The book will be widely used in undergraduate and graduate courses in political economy. [It] will be appreciated by economists who are not satisfied with an argument until it reaches its apotheosis as a set of mathematical equations. But the less quantitative have much to glean from this rich book as well, for it clarifies what assumptions are required for its arguments to hold, and shows in high relief the contrasts with other standard works on democratization." - Frances Rosenbluth, Japanese Journal of Political Science

See more reviews

Customer reviews

Not yet reviewed

Be the first to review

Review was not posted due to profanity

×

Product details

Date Published:

December 2005

format:

Hardback

isbn:

9780521855266

length:

432 pages

dimensions:

243 x 161 x 28 mm

weight:

0.739kg

contains:

43 b/w illus.

availability:

Temporarily unavailable - no date available

Table of Contents

Part I. Questions and Answers
Section 1. Paths of Political Development:
1. Britain
2. Argentina
3. Singapore
4. South Africa, 5. The agenda
Section 2. Our Argument:
1. Democracy vs. nondemocracy
2. Building blocks of our approach
3. Towards our basic story
4. Our theory of democratization
5. Democratic consolidation
6. Determinants of democracy
7. Political identities and the nature of conflict
8. Democracy in a picture
9. Overview of the book
Section 3. What Do We Know About Democracy?:
1. Measuring democracy
2. Patterns of democracy
3. Democracy, inequality and redistribution
4. Crises and democracy
5. Social unrest and democratization
6. The literature
7. Our contribution
Part II. Modelling Politics
Section 4. Democratic Politics:
1. Introduction
2. Aggregating individual preferences
3. Single-peaked preferences and the median voter theorem
4. Our workhorse models
5. Democracy and political equality
6. Conclusion
Section 5. Nondemocratic Politics:
1. Introduction
2. Power and constraints in nondemocratic politics
3. Modeling preferences and constraints in nondemocracies
4. Commitment problems
5. A simple game of promises
6. A dynamic model
7. Incentive compatible promises
8. Conclusion
Part III. The Creation and Consolidation of Democracy
Section 6. Democratization:
1. Introduction
2. The role of political institutions
3. Preferences over political institutions
4. Political power and institutions
5. A 'static' model of democratization
6. Democratization or repression?
7. A dynamic model of democratization
8. Subgame perfect equilibria
9. Alternative political identities
10. Targeted transfers
11. Power of the elite in democracy
12. Ideological preferences over regimes
13. Democratization in pictures
14. Equilibrium revolutions
15. Conclusion
Section 7. Coups and Consolidation:
1. Introduction
2. Incentives for coups
3. A static model of coups
4. A dynamic model of the creation and consolidation of democracy
5. Alternative political identities
6. Targeted transfers
7. Power in democracy and coups
8. Consolidation in a picture
9. Defensive coups
10. Conclusion
Part IV. Putting the Models to Work
Section 8. The Role of the Middle Class:
1. Introduction
2. The three-class model
3. Emergence of partial democracy
4. From partial to full democracy
5. Repression: the middle class as a buffer
6. Repression: soft-liners vs. hard-liners
7. The role of the middle class in consolidating democracy
8. Conclusion
Section 9. Economic Structure and Democracy:
1. Introduction
2. Economic structure and income distribution
3. Political conflict
4. Capital, land and the transition to democracy
5. Financial integration
6. Increased political integration
7. Alternative assumptions about the nature of international trade. 8. Conclusion
Part V. Conclusion and The Future of Democracy
Section 10. Conclusion and the Future of Democracy:
1. Paths of political development revisited
2. Extension and areas for future research
3. The future of democracy
Part VI. Appendix
Section 11. Appendix to Section 4: The Distribution of Power in Democracy:
1. Introduction
2. Probabilistic voting models
3. Lobbying
4. Partisan politics and political capture.

Authors

Daron Acemoglu, Massachusetts Institute of Technology
fm.author_biographical_note1

James A. Robinson, Harvard University, Massachusetts
fm.author_biographical_note2
You are now leaving the Cambridge University Press website, your eBook purchase and download will be completed by our partner www.ebooks.com. Please see the permission section of the www.ebooks.com catalogue page for details of the print & copy limits on our eBooks.
Continue
×