Open global navigation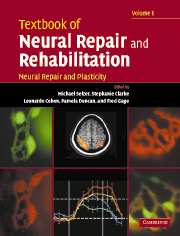 Textbook of Neural Repair and Rehabilitation

2 Volume Hardback Set
$353.00
Oswald Steward, Kimberly M. Christian, Andrew M. Poulos, Richard F. Thompson, Ralf Schneggenburger, Zafar I. Bashir, Peter V. Massey, John H. Byrne, Diasinou Fioravante, Evangelos G. Antzoulatos, Jon H. Kaas, Tim P. Pons, Jonathan R. Wolpaw, Catherine Ojakangas, John P. Donoghue, Kurt Haas, Hollis T. Cline, Kurt Haas, Josef P. Rauschecker, Krishnankutty Sathian, Bharathi Jagadeesh, Serge Rossignol, Randolph J. Nudo, Ines Eisner-Janowicz, Ann M. Stowe, Agnes Floel, Leonardo G. Cohen, Thomas W. Gould, Ronald W. Oppenheim, John W. Griffin, Ahmet Hoke, Jeffrey D. Macklis, Gerd Kempermann, Timothy E. Kennedy, Matthew B. Dalva, Matthew Kayser, T. Spencer, M. Domeniconi, M. T. Filbin, Jared H. Miller, Jerry Silver, Joel M. Levine, Lorne M. Mendell, Lisa J. McKerracher, Michael E. Selzer, C. Warren Olanow, Alan R. Tessler, Itzhak Fischer, Steve Sang Woo Han, Stephen G. Waxman, Wesley J. Thompson, Mary B. Bunge, Patrick M. Wood, Ken Nakamura, Un Jung Kang, Ronaldo M. Ichiyama, Roland R. Roy, V. Reggie Edgerton, Philip C. Wong, T. Li, H. Cai, Donald L. Price, Gerald E. Loeb, Cesar E. Blanco, Jonathan R. Wolpaw, Niels Birbaumer, Olle F. Lindvall, Peter Hagell, Carolee J. Winstein, Carol L. Richards, Sharon Wood-Dauphinee, Francine Malouin, Austin J. Sumner, Amparo Gutierrez, Gary Goldberg, Lawrence R. Robinson, Catherine E. Lang, Karen T. Reilly, Marc H. Schieber, Bruce H. Dobkin, Gammon M. Earhart, Fay B. Horak, Peter H. Gorman, Gad Alon, P. Hunter Peckham, Nick S. Ward, Richard S. J. Frackowiak, Rory A. Cooper, Rosemarie Cooper, Michael L. Boninger, Hermano Igo Krebs, Neville Hogan, William K. Durfee, Hugh M. Herr, William C. Mann, Jessica Lambert, Patricia L. Weiss, Rachel Kizony, Uri Feintuch, Noomi Katz, Cheryl Trepagnier, Beth Mineo Mollica, Sheela Stuart, Carole W. Brown, Herta Flor, F. Andrasik, Leeanne Carey, David A. Gelber, Courtney D. Hall, Susan J. Herdman, Sarah Blanton, Steven L. Wolf, Volker Dietz, Thomas Platz, Keith M. Robinson, Murray Grossman, Jonathan Evans, Walter Huber, Mark D'Esposito, Adam Gazzaley, Stephanie Clarke, Claire Bindschaedler, Francesco Lombardi, Antonio De Tanti, Mindy L. Aisen, Danielle M. Kerkovich, Brenda S. Mallory, John C. Rosenbek, Neila Donovan, Marilyn MacKay-Lyons, Richard D. Zorowitz, Michael P. Barnes, Andres M. Kanner, Antoaneta Balabanov, Georg Ebersbach, Werner Poewe, J. Wissel, David C. Good, Richard D. Zorowitz, Diana D. Cardenas, Catherine Warms, Serafin Beer, Jurg Kesselring, Peter J. Flett, H. Kerr Graham, Hans-Peter Hartung, Bernd C. Kieseier, Hubertus Koller, James S. Lieberman, Nancy E. Strauss
View all contributors
Date Published:

June 2006

availability: Replaced by 9781107010475
format:

Multiple copy pack

isbn:

9780521836395
$353.00

Multiple copy pack
Replaced by 9781107010475
Unavailable
Add to wishlist
Looking for an examination copy?
If you are interested in the title for your course we can consider offering an examination copy. To register your interest please contact collegesales@cambridge.org providing details of the course you are teaching.
Description
Product filter button
In two freestanding but linked volumes, Textbook of Neural Repair and Rehabilitation provides comprehensive coverage of the science and practice of neurological rehabilitation. Volume 1, Neural Repair and Plasticity, covers the basic sciences relevant to recovery of function following injury to the nervous system, reviewing plasticity in the normal CNS, mechanisms of neuronal death, axonal regeneration, stem cell biology and current research strategies. Volume 2, Medical Neurorehabilitation, provides authoritative guidelines on the management of disabling symptoms and describes comprehensive rehabilitation approaches for the major categories of disabling neurological disorders. Edited and written by leading international authorities from the neurosciences and clinical neurorehabilitation, the two-volume set is an essential resource for rehabilitation professionals and a comprehensive reference for all scientists and clinicians in the field.

Comprehensive reference text covering basic science and medical neurorehabilitation
In two freestanding but linked volumes, written and edited by international leaders
Establishes a basic science of neurorehabilitation, and applies this to the clinical setting

Read more

Customer reviews

Not yet reviewed

Be the first to review

Review was not posted due to profanity

×

Product details

Date Published:

June 2006

format:

Multiple copy pack

isbn:

9780521836395

length:

1520 pages

dimensions:

253 x 194 x 79 mm

weight:

3.9kg

availability: Replaced by 9781107010475

Table of Contents

Part A. Neural plasticity
Part A1. Cellular and molecular mechanisms of neural plasticity
Part A2. Functional plasticity in CNS system
6 Plasticity of mature and developing somatosensory systems
7 Activity-dependent plasticity in the intact spinal cord
8 Plasticity of cerebral motor functions
Part B. Neural Repair
Part B1. Basic cellular and molecular processes
16 Neuronal death and rescue
Part B2. Determinants of regeneration in the injured nervous system
21 Inhibitors of axonal regeneration
22 Effects of the glial scar and extracellular matrix molecules on axon
23 Trophic factors and their influence on regeneration
24 Intraneuronal determinants of regeneration
Part B3
Part B3
Part B4. Translational research
Part A
Part A1
Part A2
Part B
Part B1
Part B2
Part B3
Part C.

Editors

Michael Selzer, University of Pennsylvania
Michael Selzer is Professor of Neurology at the University of Pennsylvania and Research Director in the Department of Physical Medicine Rehabilitation. He is editor-in-chief of Neurorehabilitation and Neural Repair, the official journal of the American Society of Neurorehabilitation and the World Federation of Neurorehabilitation.

Stephanie Clarke, Université de Lausanne, Switzerland
Stephanie Clarke is Professor and Head of Neuropsychology at the University Hospital, Lausanne and President of the Swiss Society of Neurorehabilitation.

Leonardo Cohen, National Institute of Neurological Disorders and Stroke, Bethesda, Maryland
Leonardo Cohen is Chief of the Human Cortical Physiology Section and Chief of the Stroke Rehabilitation Clinic at NINDS, Bethesda.

Pamela Duncan, University of Florida
Pamela Duncan is Professor of Health Services Administration and Physical Therapy, and Director of the University of Florida Brooks Center for Rehabilitation Studies, University of Florida.

Fred Gage, Salk Institute for Biological Studies, San Diego
Fred Gage is Professor in the Laboratory of Genetics at the Salk Institute, and served as President of the Society for Neuroscience, 2001–2. He is a fellow of the American Association for the Advancement of Science and a member of the National Academy of Sciences and the Institute of Medicine.

Contributors

Oswald Steward, Kimberly M. Christian, Andrew M. Poulos, Richard F. Thompson, Ralf Schneggenburger, Zafar I. Bashir, Peter V. Massey, John H. Byrne, Diasinou Fioravante, Evangelos G. Antzoulatos, Jon H. Kaas, Tim P. Pons, Jonathan R. Wolpaw, Catherine Ojakangas, John P. Donoghue, Kurt Haas, Hollis T. Cline, Kurt Haas, Josef P. Rauschecker, Krishnankutty Sathian, Bharathi Jagadeesh, Serge Rossignol, Randolph J. Nudo, Ines Eisner-Janowicz, Ann M. Stowe, Agnes Floel, Leonardo G. Cohen, Thomas W. Gould, Ronald W. Oppenheim, John W. Griffin, Ahmet Hoke, Jeffrey D. Macklis, Gerd Kempermann, Timothy E. Kennedy, Matthew B. Dalva, Matthew Kayser, T. Spencer, M. Domeniconi, M. T. Filbin, Jared H. Miller, Jerry Silver, Joel M. Levine, Lorne M. Mendell, Lisa J. McKerracher, Michael E. Selzer, C. Warren Olanow, Alan R. Tessler, Itzhak Fischer, Steve Sang Woo Han, Stephen G. Waxman, Wesley J. Thompson, Mary B. Bunge, Patrick M. Wood, Ken Nakamura, Un Jung Kang, Ronaldo M. Ichiyama, Roland R. Roy, V. Reggie Edgerton, Philip C. Wong, T. Li, H. Cai, Donald L. Price, Gerald E. Loeb, Cesar E. Blanco, Jonathan R. Wolpaw, Niels Birbaumer, Olle F. Lindvall, Peter Hagell, Carolee J. Winstein, Carol L. Richards, Sharon Wood-Dauphinee, Francine Malouin, Austin J. Sumner, Amparo Gutierrez, Gary Goldberg, Lawrence R. Robinson, Catherine E. Lang, Karen T. Reilly, Marc H. Schieber, Bruce H. Dobkin, Gammon M. Earhart, Fay B. Horak, Peter H. Gorman, Gad Alon, P. Hunter Peckham, Nick S. Ward, Richard S. J. Frackowiak, Rory A. Cooper, Rosemarie Cooper, Michael L. Boninger, Hermano Igo Krebs, Neville Hogan, William K. Durfee, Hugh M. Herr, William C. Mann, Jessica Lambert, Patricia L. Weiss, Rachel Kizony, Uri Feintuch, Noomi Katz, Cheryl Trepagnier, Beth Mineo Mollica, Sheela Stuart, Carole W. Brown, Herta Flor, F. Andrasik, Leeanne Carey, David A. Gelber, Courtney D. Hall, Susan J. Herdman, Sarah Blanton, Steven L. Wolf, Volker Dietz, Thomas Platz, Keith M. Robinson, Murray Grossman, Jonathan Evans, Walter Huber, Mark D'Esposito, Adam Gazzaley, Stephanie Clarke, Claire Bindschaedler, Francesco Lombardi, Antonio De Tanti, Mindy L. Aisen, Danielle M. Kerkovich, Brenda S. Mallory, John C. Rosenbek, Neila Donovan, Marilyn MacKay-Lyons, Richard D. Zorowitz, Michael P. Barnes, Andres M. Kanner, Antoaneta Balabanov, Georg Ebersbach, Werner Poewe, J. Wissel, David C. Good, Richard D. Zorowitz, Diana D. Cardenas, Catherine Warms, Serafin Beer, Jurg Kesselring, Peter J. Flett, H. Kerr Graham, Hans-Peter Hartung, Bernd C. Kieseier, Hubertus Koller, James S. Lieberman, Nancy E. Strauss
Sorry, this resource is locked
Please register or sign in to request access. If you are having problems accessing these resources please email cflack@cambridge.org
Register
Sign in
Please note that an additional password is required to open the solutions file once you have downloaded it. Contact
collegesales@cambridge.org
for this password.
»
Proceed
You are now leaving the Cambridge University Press website, your eBook purchase and download will be completed by our partner www.ebooks.com. Please see the permission section of the www.ebooks.com catalogue page for details of the print & copy limits on our eBooks.
Continue
×