Interchange
Third Edition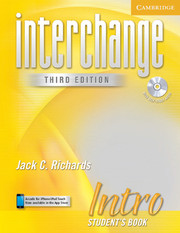 Interchange Third edition is a four-level series for adult and young-adult learners of English from the beginning to the high-intermediate level.
Interchange Third Edition is a fully revised edition of New Interchange, the world's most successful series for adult and young-adult learners of North American English. This new edition reflects the current approaches to language teaching and learning. While incorporating suggestions from teachers and students throughout the world, it remains the innovative series they have grown to love. This edition offers updated content in every unit, additional grammar practice, and more opportunities to develop speaking and listening skills. Interchange Third edition features contemporary topics and focuses on both accuracy and fluency. Its successful multi-skills syllabus integrates themes, grammar, functions, vocabulary, and pronunciation. The underlying philosophy of the course remains that language is best learned when it is used for meaningful communication. Written in American English, Interchange Third Edition reflects the fact that English is the major language of international communication and is not limited to any one country, region, or culture.
Key features
A proven multi-skills syllabus
A focus on accuracy and fluency
Contemporary, real-world topics
Natural, conversational language
Grammar in communicative contexts
Task-based listening activities
An updated pronunciation syllabus
Frequent learner-centered progress checks
A new self-study listening section
Popular resources
See it now
Get an eSample of Interchange that will allow you to view a product preview on your desktop.
Free sample
User reviews
10 February 2017
By ALKELIS2003
Teacher
hello, my name is alberto ramos from dominican republic and I will be teaching Emglish soon
21 December 2016
By ilimxumar
Graduate Student
Interchange is my favorite English book, I really like it. It helped me to improve my English. I'm really grateful for this book.
16 October 2016
By Jeffreytann
Full-time teacher
I believe it is very useful for those who study English at colleges.
19 September 2016
By jmonarrezc
Part-time teacher
Hello, I'm checking... this wook, to learn English, and to get to know how to use the DVD.
15 August 2016
By Willavig
Student
This was very useful for practicing listening and grammar. This helps me to improve my English
8 August 2016
By studentmexican
Student
I've read yet, I hope enjoy the book a litlle before I be ready for do a comment. Thank you
27 July 2016
By 4444Sophat
Teacher
I want to learn from it because this Cambridge have many good books and easy to study and understanding.
29 May 2016
By waiyan322
Student
It is awesome and nice to see this review .. i like this cambridge
20 May 2016
By Lucemar
Full-time teacher
This is a good product. Really helpful. You can use for different levels.
Teacher's Resource Book 2
26 September 2015
By David2099871
Student
Este es un sistema muy bueno para aprender ingles. Me ha ayudado mucho y he tenido grandes resultados.
27 August 2015
By lyhenaglay
Student
i need to download interchange 3rd edition audio. because i want to improve my listening skill.
4 July 2015
By Lisgmz
Student
This book is very very good and essential to first class i love it!
28 June 2015
By Mostafa4t
Part-time teacher
its a fantastic series. i love it. its my first time to teach from these series.
20 June 2015
By adrianbg22
Professional
Pretty Good and excellent book, I teach me to improve my pronunciation and especially the way of speaking.
Student's Book 1 with Audio CD
22 April 2015
By camiloronderos
Student
This a book that helped much people learning english around the world.
16 April 2015
By May97
Lecturer
its a very good tool to learn engilsh as a second language
23 December 2014
By Off
Full-time teacher
Its fantastic Its fantastic Its fantastic Its fantastic Its fantastic Its fantastic Its fantastic Its fantastic Its fantastic Its fantastic Its fantastic Its fantastic
23 October 2014
By ilopezg
Full-time teacher
Great book to learn English, has all different types of activities such as grammar, speaking, listening, etc. Simple to use...
7 August 2014
By naser12345
Teacher
it is good product i like it best for students and i would like it to see it
5 August 2014
By CeciFlores
Student
Great page!!! I think its impórtant to learn english in this global world, this page is a great web site to learn with interchange book!
1 August 2014
By LaBrume
Part-time teacher
I like this book a lot, it is really nice. Im able to write and speak English.
29 May 2014
By adelia11
Student
I like this beacuse its wreally nice and , I want to teach my english conversation , so... I like this site
See all reviews
Need technical support?
Thank you for your feedback which will help us improve our service.
If you requested a response, we will make sure to get back to you shortly.
×
Please fill in the required fields in your feedback submission.
×