Objective First 4th Edition
Objective First
Fourth Edition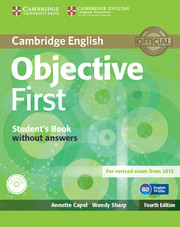 Fourth edition of the best-selling Cambridge English: First (FCE) course, updated to prepare for the 2015 revised exam.
Objective First is an updated and revised edition of the best-selling Cambridge English: First (FCE) course. It is official preparation material for the revised 2015 exam, and combines thorough and systematic exam preparation with language work designed to improve students' overall English level. The Teacher's Book offers complete support with time-saving ideas, including a Teacher's Resources CD-ROM with regular progress tests. The Workbook provides further practice of language and vocabulary introduced in the Student's Book, as well as including an Audio CD with listening exam practice. The CD-ROM provides more language and exam practice in the form of interactive activities. Complete Cambridge English: First practice tests are available for teachers online.
Key features
Fully updated content and design provide candiates with a fresh new version of a well-established favourite.
Twenty-four short units offer a fun, fast-paced approach to learning.
'Writing folders' develop the full range of writing skills needed for the Cambridge First exam - an area many Cambridge English: First candidates find challenging.
'Exam folders' provide helpful advice for each part of the exam so that candidates are reassured that they will know what to expect in the exam and how best to tackle it.
Regular revision units recycle grammar and vocabulary practising language and keeping it fresh.
The Student's Book CD-ROM provides optional extra language and vocabulary practice, familiarisation with Cambridge English: First exam format, and fun new interactive activities.
The course draws upon the Cambridge English Corpus to provide examples of authentic and up-to-date English, and highlight areas of the exam that students find most challenging.
Vocabulary sections are informed by English Profile which ensures students learn the language expected of them at B2 level.
A Teacher's Resources CD-ROM provides extra test materials, including progress tests. Complete Cambridge English: First practice tests are available online.
See it now
Get an eSample of Objective First that will allow you to view a product preview on your desktop.
Free sample
User reviews
17 August 2016
By alejaprofe
Full-time teacher
100% user-friendly. Very practical for both students and teachers. It helps facilitators approach each language point through appealing topics.
Student's Book with Answers with CD-ROM with Testbank
24 July 2016
By user560945405434
Professional
Very useful for gain knowledge about English in intermediate and also very easy to understand the subject very well.
22 July 2016
By PGuerrero
Student
I find this book completly useless becouse there is not any audio for the listenings in the student's book. For the price that I have paid for it (55 eur) I really think that the support team should be solve this problem and provide us with the necessary material.
Student's Book Pack (Student's Book with Answers with CD-ROM and Class Audio CDs(2))
30 April 2016
By michelafunari
Graduate Student
I bought this book to study and prepare for the exam. Inside the CD-ROM aren't the exercises in the book but audio for extra practice. I would like know how can I do the exercise and where can I download the listenig! I really hope that there are available tracks to do the exercises of this book because the price of the book is not very cheap!
Student's Book Pack (Student's Book with Answers with CD-ROM and Class Audio CDs(2))
4 March 2016
By eimalvir
Student
He comprado el mismo pack y no vienen los audios, alquien sabe cómo acceder a ellos?
Student's Pack (Student's Book without Answers with CD-ROM, Workbook without Answers with Audio CD)
28 January 2016
By 1971yola
Student
I would like to see the product list to try to buy it
18 January 2016
By Solimar
Student
I am fully disappointed about the book, because it doesn't include the audio needed to make the listening exercises in the book. I feel cheated. That book cost a lot, what is the use to do this? Just take money from students??? Now what should I do with this useless book?? Wasted my money!!!! Really disappointed. I would ask you to resolve this problem by sending all the student that have bought your book the related cd audio.
13 January 2016
By Mary1962
Self-employed teacher
I fully agree: What's the sense of adding extra resources if I don't get the listenings belonging to the book???
19 November 2015
By Mashed
Part-time teacher
Is this a joke? Where are the listening?! How is possible that in 2015 we continue with this kind of scam? Please share free this audios! I paid 38€ for the book...
5 November 2015
By JFDean
Administrator teacher
As a teacher I think it is an excellent book - the grammar explanations are some of the best Ive found. However, I have one gripe... That is that the online tests dont come with any answer keys!!! Please can this be rectified as theyre of no use to students like this, and if I use them as tests I want to know what the correct answers are. Thanks.
18 October 2015
By giorgitac
Student
It a great shame to sell a book without CD for the listening exercises. I believe that the publisher knows the problem because many students have felt cheated after buying the book and continue to write it in the reviews. The information on this fact in the book are not clear and I believe that you can make a legal complaint. Why not solve the problem? it is speculation on the skin of the students just to do business?
21 September 2015
By Ilem
Graduate Student
I am writing to complain about the book, this is a STUDENTS book with answers but I have to say that was extremely disappointing found that IT DOESNT HAVE THE LISTENINGS! the CD ROM dont match with the listenigs, it has only extra exercises...so I paid a lot because it was a very expensive book and now I cant do the listenings!!! I hope you understand how I feel about it. I would be most grateful if you could give me a reasonable solution. *For other students I recommend: First trainer Second Edition or Real listening and speaking 4
29 June 2015
By Hexagram
Other
I have recently bought the students book edition, with answers, audio and CD-ROM. The book, witch has a splendid method, is very good BUT I am very disappointed about the resources: they are ONLY available for professors, it is a shame. Please, do not put a dedicate web page with resources in the students book if they are only available for professors.
11 April 2015
By ValentinaA
Graduate Student
Im really sorry I have to complain about this book because is really good but I dont know what to do without the listening. Its a really important for me and I fell a very disappointed. Moreover this book is quite expensive and most of us bought it thinking on self-study without the need of teachers materials. You must give us a solution.
24 March 2015
By CarlosTorro
Professional
Estos CDs son los que hacen falta para seguir el libro Objective First????? Si es así, por qué no se incluyen en el libro en lugar de poner un CD que no tiene nada que ver con el libro????? Y si no es así, para qué son estos CDs??? porque no son baratos
11 March 2015
By Nayade
Student
I would like to know where are the listenings that appear in the Objetive First Studens book, the CD has only extra exercices, however the listenings from the book arent. Ive paid 28 pounds for the book.
Student's Book Pack (Student's Book with Answers with CD-ROM and Class Audio CDs(2))
4 March 2015
By JCC1969
Student
He comprado en España este libro que ustedes anuncian que lleva audios es el paquete del libro OBJETIVE FIRST, que incluía los libros Book Students Book with Answers with CD-ROM Fourth edition English for spanish speakers, 100 writing tips, y workbook with answers, pero solo vienen los audios del libro workbook with answers. pero ¡ No vienen los audios del libro students book with answer ¡ me costo 53 eur ¿ dónde puedo conseguir los audios que me faltan ?
Student's Book Pack (Student's Book with Answers with CD-ROM and Class Audio CDs(2))
23 February 2015
By jorsotmar
Professional
i don´t find the listenings resources to do the excesises. Please fix the issue.
16 February 2015
By Raquel1988
Student
I recently bought this book and I feel completely disappointed. Exercises in the CD Rom dont match with the book. For this reason I cant do the Listenings, which were the most interesting part for me. Its a shame because this book its really good.
Student's Book Pack (Student's Book with Answers with CD-ROM and Class Audio CDs(2))
16 September 2014
By JoseJulian
Self-employed teacher
From the Students book, in reference to the Writing paper: Each part carries equal marks and you are expected to write between 140–190 words for Part 1 and 140–190 for Part 2. Is it the same number of words for both parts? If so, I think it would be clearer if reworded.
See all reviews
Need technical support?
Thank you for your feedback which will help us improve our service.
If you requested a response, we will make sure to get back to you shortly.
×
Please fill in the required fields in your feedback submission.
×