Open global navigation

The TKT Course Modules 1, 2 and 3 2nd Edition
The TKT Course Modules 1, 2 and 3
Second Edition
Popular resources
See it now
Get an eSample of The TKT Course Modules 1, 2 and 3 Second Edition that will allow you to view the entire product on your desktop.
Free sample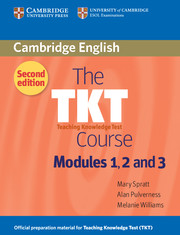 Description
This is the updated version of 'the' teacher training course for teachers and trainee teachers preparing for the Cambridge ESOL Teaching Knowledge Test (TKT). It includes everything you need to prepare for the test. The second edition contains three brand new model TKT practice tests, new tips for preparing for the TKT, an additional unit on approaches to language teaching tested in the TKT, completely rewritten tasks in every unit, and revised ELT terms and concepts matching the latest Cambridge ESOL TKT Glossary. This best-selling course has been written in collaboration with Cambridge ESOL by a team of experienced TKT writers. It provides a comprehensive and reliable package for TKT candidates, as well as for teachers preparing for other initial teacher training qualifications and those on in-service training programmes. This course is also available in an online version. Select 'TKT Online' from the menu on the left for further information.
User reviews
2 September 2015
By MsCarmen
Teacher
This is a great help to prepare for the exams, always learning and being prepared is necessary.
27 March 2015
By Vaiery
Full-time teacher
It is productive and helpfull to be used to know better the subject and to more skillfull in teaching, I beleive
10 June 2014
By abualfaddl
Teacher
The Cambridge Teaching Knowledge Test TKT is an affordable, internationally recognised teaching qualification for teachers of primary, secondary and adult
10 May 2014
By Ehsan1365
Part-time teacher
A great resource book that effectively connects theory and practice, without any superfluous discussions. This book provides a direct-to-the-point path from TEFL background to TEFL classroom activities. Although aimed at TKT applicants, the book is a precious resource for all people interested in the field.Additionally, this book goes rightly hand-in-hand with the book Teacher Training Essentials: Workshops for Professorial Development by C. Thaine, published by CUP.
See all reviews
Need technical support?
Thank you for your feedback which will help us improve our service.
If you requested a response, we will make sure to get back to you shortly.
×
Please fill in the required fields in your feedback submission.
×