Cambridge Advanced Learner's Dictionary 4th Edition
Cambridge Advanced Learner's Dictionary
Fourth Edition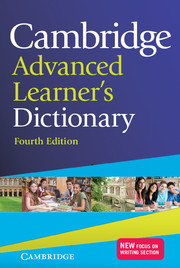 A fully updated edition of the best-selling Cambridge Advanced Learner's Dictionary.
A fully updated edition of the best-selling Cambridge Advanced Learner's Dictionary. It includes up-to-date vocabulary, clear definitions, hundreds of pictures and illustrations, and a new 'Focus on Writing' section. Informed by the Cambridge International Corpus and correlated to English Vocabulary Profile, it is ideal for exam preparation and also features 'Common mistake' boxes, to help learners avoid typical mistakes.
Key features
Fully updated with 1,500 new words and phrases, including words from the areas of technology, media, language, society, and lifestyle; important words for academic study; important additional words and phrases from American, Indian, Australian and South African English.
Vocabulary is correlated with the English Vocabulary Profile at sense level, showing which words students know at different levels, and allowing users to prioritize their vocabulary study.
Learner error information shows the most common errors made by learners of English, helping learners to avoid mistakes before they make them.
32-page Focus on Writing section, dealing with all essential aspects of academic, formal, and informal writing.
The CD-ROM includes the complete dictionary and recordings in British and American English. Learners can also record their own pronunciation and compare it with the model, use the QUICKfind feature to look up words and hear their pronunciation when using Word or a web browser, and access interactive exercises which include real past papers from IELTS, FCE, CAE, CPE and BEC examinations.
Popular resources
See it now
Get an eSample of Cambridge Advanced Learner's Dictionary that will allow you to view a product preview on your desktop.
Free sample
User reviews
29 November 2016
By Americanmylovemylife
Graduate Student
The best dictionary ever but just one more thing. Could you please give option to sort the content of the thesaurus by difficulty level. I'm a beginning English as a second language learner and I want to use Cambridge advanced learner's dictionary as a vocabulary learning tool. The thesaurus is a good tool for this. But I have a problem on my studying. The words in each category of the thesaurus is listed in the abc order. Students like me will have problem to choose which word to learn in step by step. You should sort the words by difficulty level or give an option to sort the words by difficulty level. Words come firstly in the life of a baby or words with a higher frequency in the daily language should appear before a word with lower frequency level. This is a good tool to learn vocabulary but without sorting the words in the SMART thesaurus by difficulty level it's like a feast without some important guests. I'll wait for your next updating version for Windows 10 and I hope the next version of Cambridge advanced learner's dictionary will give me for this feature.
2 April 2016
By Mithlesh
Graduate Student
Ya although its so good, but needs to add some more word (some scientific word)
25 January 2016
By MansurbekRasulov
Student
Very useful and impressive web-site for international English Learner students. No matter, they are in elementary or advanced level.
7 September 2014
By Nhantam
Student
I think its really great, theres a lot of things to learn. I can onnestly say, I love cambridge university, I hope someday Ill be able to learn there.
31 July 2014
By jhansayaarman
Student
This is the best dictionary I have ever used. The most usefull dictionary.
21 June 2014
By user553963396667
Professional
Excellent for IELTS preparation,self study,and academics. The same IELTS maker and Cambridge exams source.
4 June 2014
By Tawfik
Full-time teacher
this is the bestseller dictionary I have ever used. it contains all ur needs.
See all reviews
Need technical support?
Thank you for your feedback which will help us improve our service.
If you requested a response, we will make sure to get back to you shortly.
×
Please fill in the required fields in your feedback submission.
×