Cambridge English Pronouncing Dictionary 18th Edition
Cambridge English Pronouncing Dictionary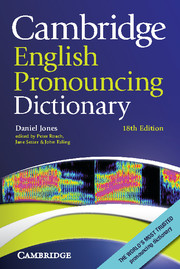 New edition of the classic work by Daniel Jones includes up-to-date entries and new study pages.
The 18th edition includes over 230,000 pronunciations of words and phrases. Unlike general dictionaries, it also includes the pronunciation of proper names, people and places. It also features The World of English Pronunciation – a collection of lively essays on aspects of pronunciation by leading experts in the field, and includes a phonetics and phonology glossary and notes on the relationship between spellings and sounds.
Key features
Over 80,000 entries and 215,000 pronunciations using the International Phonetic Alphabet.
Includes proper names as well as general vocabulary.
CD-ROM and online version include spoken pronunciations in British and American English.
Panels give information on sounds and phonetics terminology.
CD-ROM includes exercises, pronunciation pronunciation practice, and phonetic search facility for comparing sounds.
User reviews
29 October 2015
By bulent33
Administrator teacher
Perfect, outstanding, marvellous. No dictionaries can be better than this one, if you want to learn English perfectly this dictionary is the first resource book for you.
11 August 2015
By bulent33
Administrator teacher
I have been using this dictionary since 2005, bought nearly 4 or 5 so far and totaly unbelievablely perfect, outstanding, incomparable for pronouncing English faultlessly.
24 March 2015
By karen2020
Student
I have not seen the product yet, sorry. But the name gives prestige to the book, thats why I am interested.
See all reviews
Need technical support?
Thank you for your feedback which will help us improve our service.
If you requested a response, we will make sure to get back to you shortly.
×
Please fill in the required fields in your feedback submission.
×