Cambridge Academic English
Cambridge Academic English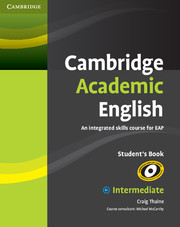 A three-level (B1+ to C1) integrated skills course for higher education students at university or on foundation courses.
Designed specifically for students at university and on foundation courses, this integrated skills course develops language and real academic skills essential for successful university studies across disciplines. With authentic lectures and seminars, language informed by Cambridge Academic Corpus and the Academic Word List, the course guarantees that students are learning English that is up-to-date and relevant to them. Students are also guided to develop independent learning skills and critical thinking through the 'Study Tips' sections and can further personalise their learning with the 'Focus on your discipline' sections. Extensive audio and video material with authentic Cambridge University lectures, seminars and interviews with university students is available for each level on audio CD and DVD providing invaluable learning and practice material for developing listening, note-taking, discussion and other skills specific to academic context.
Key features
Helps to develop real academic skills needed at university through video recordings of authentic lectures.
Offers real, up-to-date, relevant language thanks to the use of the Cambridge Academic Corpus.
'Study tips' help to develop independent learning and working in groups, which are essential in an academic environment.
'Focus on your subject' enables personalised learning.
Develops essential critical thinking skills.
Flexible structure allows modular use of each unit so that teachers can focus on particular skills or follow the integrated approach.
Popular resources
See it now
Get an eSample of Cambridge Academic English that will allow you to view a product preview on your desktop.
Free sample
User reviews
7 February 2017
By reddy123
Student
I didn't see this product yet , I'm looking for free E-Books here , please send some of them .
Class Audio CD and DVD Pack
11 January 2017
By BellaLi
Student
This is an excellent book and it promote my English in a short time
21 November 2016
By xssc
Graduate Student
ok,good .i like it very much .introduce a lot of news .find answer
17 May 2016
By thapthim
Student
I want to download Cambridge Academic English - upper intermediate - teacher's book and audio.
21 April 2016
By Mesias
Teacher
I have already read this text but I need to get the sound track
23 November 2015
By shaoyuchen
Full-time teacher
it is a useful tool it is good for language couse student
22 May 2015
By MariaDor
Student
Its great amd helpfull. I wonna to review it again and again. Thank you
9 April 2015
By Tamir
Full-time teacher
better than student book. Maybe should add other pages. If so it would be more needful
25 October 2014
By hudaa
Full-time teacher
hjv cdfh sdf hjkk kff kfdddfb kgfdn jgfddjk ghdsa kllkjhgh llkhgddc klhfd kljgfb hkjgdsdb
19 July 2014
By xiaogu
Graduate Student
extrodinary useful book, help student to understand how to use english more presicely.
2 July 2014
By ENGLISH123
Full-time teacher
1 QQ Q 12QE E QEQW DSA D D AS DADS FSD DAS DFDSFD AS FDSFDS FDS
See all reviews
Need technical support?
Thank you for your feedback which will help us improve our service.
If you requested a response, we will make sure to get back to you shortly.
×
Please fill in the required fields in your feedback submission.
×