Clear Speech
Fourth Edition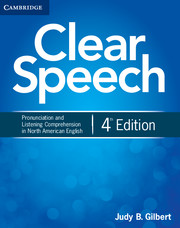 Clear Speech, the world's favorite pronunciation series, helps students master the most important features of spoken English.
The world's favorite pronunciation series helps students master the most important features of spoken English. By emphasizing stress, rhythm, and intonation, this series ensures that students learn to speak clearly. In addition, students study practical spelling rules, which allow them to pronounce new words correctly.
Key features
Hundreds of exercises, now in full color, help students comprehend what they hear and communicate more clearly.
A focus on the most important concepts makes the best use of class time and builds student confidence.
Every teaching point is designed not only to help intelligibility but also to improve listening comprehension.
The full Student's Book audio program is available for download at www.cambridge.org/clearspeech.
See it now
Get an eSample of Clear Speech that will allow you to view a product preview on your desktop.
Free sample
User reviews
Teacher's Resource and Assessment Book
29 December 2016
By Moogii
Student
I am using Clear speech student's book. This book is very useful. I need teacher's book due to check answer of each task.
5 July 2016
By Felixli
Graduate Student
I purchased this book, but I could not check the clear speech App on the iphone app store, who know to solve this problem? thank you a lot.
Class and Assessment Audio CDs (4)
5 September 2015
By Zazasat091965
Other
I am learning english intensively so I need more material to improve my reading, listening and speaking skills.
3 August 2015
By camila2090
Student
is a good book, but where are the answers? i am confusing, because i am not sure about my answers. I need help
Class and Assessment Audio CDs (4)
19 January 2015
By Rosas26
Other
This book is sure going to be a help to me
22 October 2014
By sahra66
Student
I want to study this book to improve my pronunciation and listening along with book which is advertised by my teacher.
29 September 2014
By irynakrychun
Student
good i like it so much evrythink is really good for me im so happy
27 August 2014
By Malaliyadgary
Student
this book is awesome and its more needed good nice good good
See all reviews
Need technical support?
Thank you for your feedback which will help us improve our service.
If you requested a response, we will make sure to get back to you shortly.
×
Please fill in the required fields in your feedback submission.
×