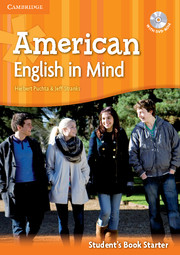 American English in Mind is an integrated, four-skills course for beginner to advanced teenage learners of American English.
American English in Mind is the American edition of the successful British course English in Mind. The American edition motivates teenage students of American English through thought-provoking reading, listening, speaking, and writing topics. Contemporary spoken American English is presented in realistic contexts with content-rich photostories and dialogues. The interleaved Teacher's Editions provide step-by-step instructions for teachers along with supplemental material for multi-level classes. The Student's Book DVD-ROM features stimulating grammar exercises, games, video, unit tests, Workbook audio, and selected Student's Book audio. The videos feature the Student's Book photostory characters and include a 'Videoke' function that allows students to record and hear their voices in portions of the video dialogues.
Key features
Thought-provoking, contemporary unit themes, topical readings, and Culture in Mind texts
Clear learning objectives with each unit and "Check your progress" pages every two units
Starter and Level 1 are appropriate entry points for absolute and false beginners of English
Contemporary visual appeal with photos and teen-centered photo stories
DVD-ROM with interactive exercises, audio resources, and video episodes.
Customizable test maker and additional worksheet resources on CD-ROM
Interleaved Teacher's Editions with lesson plans, answer keys for Student's Books and Workbooks, cultural information, and teaching tips by methodology expert Mario Rinvolucri.
Photocopiable grammar and communication activities available in Teacher's Editions
Additional practice and reference material for grammar, vocabulary development and pronunciation in Student's Book appendices and in Workbooks.
Videos feature continuing characters in situations highlighting teens' social and personal development.
Popular resources
See it now
Get an eSample of American English in Mind that will allow you to view a product preview on your desktop.
Free sample
User reviews
1 August 2016
By MarceBalltorr
Student
that's amazing. Estos libros son muy útiles para el aprendizaje del idioma inglés, me gusta su CD y sus ilustraciones y dibujos
1 August 2016
By MarceBalltorr
Student
So usefull. Lo recomiendo estos libros son muy didácticos e ilustrativos. Además vienen con CD
16 July 2016
By PabloRod
Other
very good much good good good good good good good goody very goody
17 June 2016
By KaewklaoSimpson
Part-time teacher
It's great. it's very useful for me and my students. i would like to say thank you for one who creates this site
26 March 2016
By Android361abc
Other
It is very intersting because it will have a lot of fun
Student's Book with DVD-ROM
16 December 2015
By Kari1022soone
Full-time teacher
It's an excellent material and very convenient for teenagers at bilingual school
6 November 2015
By joseth
Student
i need this work sdasfa asd asdasd asd asd da dasd sada fsadfdf
3 November 2015
By SGT
Part-time teacher
AMERICAN IN MIND IS AN ENGLISH COURSE FIT FOR TEENAGERS´NEEDS.ALL THE LANGUAGE SKILLS ARE PRACTICED HERE IN A STRAIGHFORWARD AND EFFECTIVE APPROACH.
6 October 2015
By user647243175009
Other
It is my most favorite course books. I truly appreciate this. I would like to read more about it.
25 August 2015
By pablo00vazvel
Full-time teacher
it is a very helpful and complete series for junior and high school students.
29 June 2015
By KIKIURIARTE
Full-time teacher
it is very interesting, has helped me a lot, i recommend it
13 June 2015
By JBones
Full-time teacher
My students and I enjoy using these books because it contains a lot of projects focused on teenager interests.
24 February 2015
By carlitos7232
Full-time teacher
great for estudents and teacher, we need for interctive with parents in new language. thanks you
23 October 2014
By Adrima
Full-time teacher
really good, thank you for all your help. It´s nice to know that you support us teachers.
18 August 2014
By Kelly1715
Full-time teacher
It´s a good book for teaching and learning because of the vocabulary used
17 July 2014
By sebas
Departmental Chair
a a a a a a a a a a a aa a aa a a a a a a a a
Student's Book with DVD-ROM
17 July 2014
By sebas
Departmental Chair
a a a a a a a a a a aa a a a a a a aa a
25 June 2014
By 15JULIO
Student
i think this book is veryy good becuse have a good gra,mar an listening to practice the enanglish ejejjjejjjjjjjjjj jjjjjjjn
9 April 2014
By javier01
Full-time teacher
This product is very good for teenagers and to learn English, Thanks
See all reviews
Need technical support?
Thank you for your feedback which will help us improve our service.
If you requested a response, we will make sure to get back to you shortly.
×
Please fill in the required fields in your feedback submission.
×