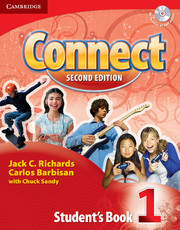 Connect, Second Edition, is a fun, four-level, multi-skills American English course especially written and designed for young adolescents.
Motivation is encouraged through high-interest topics and lively activities. Each Student's Book contains eight units divided into two-page lessons with full-color photographs and illustrations. Also included in each unit are 'Get Connected' lessons which give students an opportunity to consolidate the English they are learning, and Theme Projects which help students connect their English to the world outside the classroom.
Key features
Up-to-date topics and contexts draw in students using high-interest topics which increase their motivation to learn English.
Engaging dialogs, exercises, and games provide opportunities for students to communicate about their own lives and experiences.
Point-by-point grammar boxes present grammar in a clear manner making it less intimidating.
Clear vocabulary presentations give students easy-to-understand definitions, structured practice, and the opportunity to reinforce what they have learned.
Graded, multi-skills syllabus presents vocabulary, grammar (Language Focus), listening, and reading in a logical sequence for both teachers and students.
Theme Projects take students beyond the manipulation of language by connecting their English with the world outside the classroom.
Controlled and open-ended speaking activities build up students' confidence with oral communication skills.
Teacher's Edition with worksheets, unit quizzes, and step-by-step instructions provides teachers with flexibility in their teaching.
The Arcade engages students in exciting online activities which motivate their English learning.
The Teacher Support Site provides extra grammar worksheets, readings, tests, and support for teachers.
Popular resources
See it now
Get an eSample of Connect that will allow you to view a product preview on your desktop.
Free sample
User reviews
11 February 2017
By khanhphan1974
Teacher
i would like to download the connection book for teaching. Thanks so much
1 October 2016
By gally
Other
hoidbsa abekifla ukbdsaek uba uiabe kiufbae kiabsif oifgaeoi oicah ioba ubcsd ubcsad fbead
21 September 2016
By 435
Director
The book is good! My students love it! I recomended! I think this book excelent and good, very much.
Student's Book with Self-study Audio CD
4 September 2016
By user173982399681_20150914
Full-time teacher
Great book! It is perfect for teenagers. It is easier for them to understand English.
3 September 2016
By janetpalma
Full-time teacher
I am glad to be here in this web. It give me basas to teaching. Thanks a lot. Janet
27 April 2016
By angelikvega
Full-time teacher
A very usefull book for beginners, it contains fun activities while the students are learning
5 February 2016
By povheng
Student
I'm think Cambridge is very good and interesting for student to student
2 February 2016
By Burgersan
Full-time teacher
I've been using this textbook for the last few years with my ELT classes in Japan and find it well-structured for an effective curriculum. However, I'm disappointed that after 4 years of use (possibly longer) I'm still forced to use a highly antiquated version with no revised edition being available. The conversations (listening/reading) are somewhat unnatural and indicative of outdated techniques. Also, the pictures and vocabulary need updating. Many of my students can't recognize technological items due to them no longer being used by the pubic (Blackberry cellphones and MP3 players. really?). I would love to see a third edition soon.
16 November 2015
By user625484482669
Other
Great! The course given had been worked out and published professionally, for sure in terms of being liked by the learnees themselves. p.s. the Peace studio course attendees*, in spite of being young, can already say something concrete in both methodological and real-life practice applicability terms. *http://ils-world.ru
30 October 2015
By Geovani
Self-employed teacher
Its actually great material !!!! I would like some pdf samples to show to potential students .
23 October 2015
By JackTse
Teacher
i think its ok, so i want to get the pdf to make the ppt
Student's Book with Self-study Audio CD
28 February 2015
By JoelAdrianPachecoAlvarez
Full-time teacher
This is a really good book for teenagers, it covers all of the areas in english and it has enough practiced requires
9 February 2015
By farnaz687
Self-employed teacher
i need this for my first session teaching.this is my first experience i need teacher book for this purpose.
17 December 2014
By user946826477229
Administrator teacher
its a really useful book but i wished these series had more levels
Student's Book with Self-study Audio CD
16 October 2014
By farhad3113
Student
its good. farhad adibi sedeh564645654645646 hjjdfdjdf fnf hd fj6 tkt tjk fktf tkjf frk .
13 September 2014
By Sassan
Full-time teacher
this book is very useful book all of my students like Connect 1 , 2 , 3 & 4
2 June 2014
By jpg
Graduate Student
the book is a complement good and interesting in the world must interesting
5 May 2014
By user946826477229
Administrator teacher
as give an overview about this book its a great book for teens esp. for esl learners but i think if it contains more reading pages it would be more useful for students
See all reviews
Need technical support?
Thank you for your feedback which will help us improve our service.
If you requested a response, we will make sure to get back to you shortly.
×
Please fill in the required fields in your feedback submission.
×