Open global navigation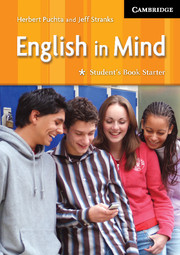 Written for teenagers, English in Mind creates an inspiring learning experience for secondary students. Everything, from the choice of imaginative topics, texts and exercises to the attractive design is perfectly matched to students' interests, age and ability. It provides a solid basis for effective language learning through a strong focus on grammar and vocabulary. Flexibility and support are offered in the form of photocopiable activities and tests in the Teacher's Resource Pack, 'EiMTV' DVDs, Workbook CD-ROMs and the extensive free worksheets, tests, wordlists and resources on the website. Each level of the course provides 80-90 hours of work with the possibility of extension. It can be used with mixed-ability classes. The Starter level is for complete beginners and Level 1 is for elementary students and contains a 16-page starter section to revise key language. Levels 2 to 5 take students from pre-intermediate to advanced level.
Key features
Imaginative and appealing topics - such as wonders of the world, reality TV and global issues engage teenagers' interest and motivate them to learn.
Projects and writing tasks allow students to build up their own language portfolios, developing learner independence and giving students a practical use for the language.
'Culture in Mind' sections give students an insight into different aspects of culture throughout the English-speaking world.
'Fiction in Mind' in level 3 and 'Literature in Mind' in levels 4 and 5 provide further reading practice.
Teacher's Resource Pack with extra photocopiable activities and tests gives teachers lots of support and flexibility.
Entertaining photostories give students a feel for contemporary spoken English.
'Study Help' and 'Skills Tips' sections in the Workbook give learners extra support and guidance.
A strong focus on grammar and vocabulary provides a solid basis for effective language learning.
Popular resources
See it now
Get an eSample of English in Mind that will allow you to view the entire product on your desktop.
Free sample
User reviews
6 April 2016
By Farith2001
Student
Very important is very very intresting Is my study lesson and homeworks is very imprtant for me
21 March 2016
By VietCu
Part-time teacher
I wanna see about pdf, because I don't have any time to read classical book.
6 March 2016
By Jerry74839
Full-time teacher
This series of books are really useful for students and teachers. We use them as basic training books.
2 December 2015
By hhhhh
Student
this is so cool and beatiful and great. I like this book so much.
1 December 2015
By xoren1111
Full-time teacher
reffdfsdsfds dfvfbsabuo hu ov ovuh iv icy i ci c y ftu fcctu
14 October 2015
By jaina5267
Full-time teacher
I have all the sets of Students Books. It is just disappointing that there are no audio CDs that accompany the books. Can I have a listening transcript instead? How do I get these?
17 May 2015
By Samo
Teacher
I am new on here . Hope I will find what I am looking for
7 May 2015
By fernanda1806
Graduate Student
Ok, I really need this book, because is one of the best in the country
1 March 2015
By fainan
Student
great great great great great great great great great great great great great
27 February 2015
By FAO
Part-time teacher
Very Good!!! it is a good book for the students but they will be a lern
16 February 2015
By sheismasha
Teacher
its the best book for education, You can find many interesting cords and phrases
30 January 2015
By Zhasik231
Student
Good I like it teachers book cool Its amazing, fine, listen it so cute
25 January 2015
By sisil
Student
It so amazing book and can ready a book anything and study for test and final test thank english in mind
1 December 2014
By user624919735421
Full-time teacher
Great course for teenagers with a strong focus on grammar and vocabulary and its perfect for mixed-ability classes.
14 November 2014
By Helder123
Teacher
IS VERY GOOD THE BOOK I LIKE IT, AND IS VERY VERY VERY EASY
8 November 2014
By Marcos13
Lecturer
This book has great information to read and learn more of the english grammar
23 October 2014
By krle94
Student
Adadas asdas as dsa a as das dasd asdad a adaa dasd asd asd as dasd as dasd asd adasd asdasd asd as dasdas
10 June 2014
By user612516468691
Teacher
it is very useful for teachers.it provides a lot of material to use in the classroom.thanks a lot!!!!!!!!!!
22 May 2014
By nourosama
Full-time teacher
this product is complicated for me i want cd fol listening it is so important for me
See all reviews
Need technical support?
Thank you for your feedback which will help us improve our service.
If you requested a response, we will make sure to get back to you shortly.
×
Please fill in the required fields in your feedback submission.
×