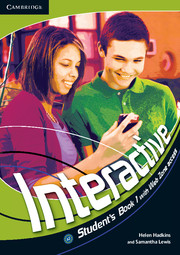 Interactive is an exciting four-level course for teenage learners from elementary to upper-intermediate levels (CEF A2-B2).
Interactive is an exciting four-level course for teenagers packed from cover to cover with up-to-the-minute, stimulating content. Students are given maximum support to get them speaking and interacting in English from day one. Teachers can tailor the course to their own requirements using the wide range of materials such as Classware, DVDs, Testmaker and a premium content website with even more online extras to make learning truly 'interactive'. Interactive provides 80-90 hours of core material at each level, extendable to 180+ with the full range of components.
Key features
Help your students communicate confidently in English with regular 'Interaction' speaking activities, lots of extra pronunciation support and a unique classroom language reference so they can interact in English in class.
Inspire them with interesting culture content from throughout the English-speaking world with 'Culture UK' noticeboards, 'Culture World' magazine articles, and 'Culture Vulture' boxes.
Engage them with the wide range of technology including Classware DVD-ROM, and the Testmaker Audio CD and CD-ROM which allows you to create and edit your own tests.
Even more practice is available in the Student and Teacher Zones at http://interactive.cambridge.org/, including fun games and activities, printable resources, a discussion forum for teachers and the unique Comic Builder which allows students to create and print their own stories.
'Correct it!' exercises and 'Check it out!' boxes, informed by the Cambridge Learner Corpus, highlight common mistakes and help students get it right.
See it now
Get an eSample of Interactive that will allow you to view a product preview on your desktop.
Free sample
Sample content
User reviews
Teacher's Book with Web Zone Access
19 March 2017
By salima2017
Full-time teacher
This book it's interressant that's why I advise you to use it for your students
19 March 2017
By salima2017
Full-time teacher
That's good, i like that book because it's interressant and not boring that's why i used for my student's in school
Testmaker CD-ROM and Audio CD
16 March 2017
By Haohao1409
Full-time teacher
this kind of book is really good. I like it. It helps me to teach english better
Workbook with Downloadable Audio
11 June 2016
By ahmed333
Student
i think it is very good site , i like it .i wish to continue with you in the future
Student's Book with Web Zone Access
12 May 2016
By Crisulloa
Student
It is a really good book, it has been really helpful for improving my english
11 February 2016
By AdvancedLearning
Administrator/Co-ordinator
I'm just now beginning the review process. we're looking for a text book that will meet the needs of our students.
23 September 2015
By quynh1103
Full-time teacher
The textbook is very useful for students and teachers. It can help students improving 4 skills
Student's Book with Web Zone Access
29 July 2015
By user540918379043
Full-time teacher
Its and excellent book with a lot of communicative activities. In my opinion this book helps to create a bridge for those students who are in A1 and want to get to a level A2 or B1.
Workbook with Downloadable Audio
18 April 2015
By user648410267321
Other
I have not seen the prduct yet, but I suposse its gonna be good.
Teacher's Book with Web Zone Access
17 March 2015
By esin
Full-time teacher
ı think it is very good book and useful for the teachers.
7 January 2015
By user633613502648
Other
Its awesome. It contains really interactive and great topic to talk and very good resources.
5 August 2014
By hana1511
Departmental Chair
This book is very suitable for teenagers and they feel interesting in studying
Student's Book with Web Zone Access
24 May 2014
By ebbeke
Full-time teacher
I enjoy the topics chosen and as in the other levels I consider material is well organized , and in a very intersting way for the students, very active grammar and well selected vocabulary
Student's Book with Web Zone Access
24 May 2014
By ebbeke
Full-time teacher
Well organized interesting and well developed topics. Full vocabulary and grammar is dealt with appropriately
5 May 2014
By fguzer
Student
I think very good and very nice teacher book i think every country try this book very funny and i need this book very good
See all reviews
Need technical support?
Thank you for your feedback which will help us improve our service.
If you requested a response, we will make sure to get back to you shortly.
×
Please fill in the required fields in your feedback submission.
×