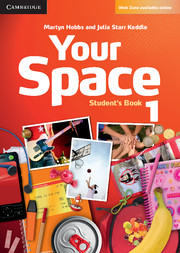 Your Space is a three-level course designed to motivate students as they change and grow.
Your Space links your students' own world to the language classroom, giving them 'space' to explore and develop their English language skills, and takes them step by step through the language they need at this level. There is an emphasis on achievement from the start. It encourages learner autonomy while recognising that learners need feedback and a sense of progress to maintain momentum. Students are supported to explore and personalise new language, they are provided with models and guidance to communicate effectively and with confidence in everyday situations. Topics have been chosen to engage and educate the digital generation and bring a world they can relate to into the classroom. Learners are exposed to a wide variety of language in authentic contexts and provided with the tools they need to produce their very own English. A highly interactive Web Zone provides a real incentive to practice language at home.
Key features
'Communication' pages practise functional language, such as buying tickets, and agreeing and disagreeing. 'Phrasebook' boxes give students the key phrases they need to start talking.
Photostories present natural sounding, everyday language with useful teen-friendly expressions highlighted in 'Chat zone' boxes that students learn how to use themselves in the Workbook.
Students are exposed to a rich variety of realistic English text types including emails, magazine articles, websites, and a delightful graphic story. Online CLIL lessons as well as documentaries, drama and vox pops on the DVD add to the motivating mix.
A 'Language focus' box asking students to notice language can be found on each presentation spread, drawing students' attention to new structures in the context of lively photostories and engaging reading tests. This is followed by a two-page 'Language space' of explanation and practice.
'Study skills' - learner strategy tips -encourage students to reflect on how they study and guide them towards a more autonomous approach to language learning while 'Get it right!' boxes guide them away from common learner errors.
Topics and themes reflect students' development and the world in its rich variety balancing entertainment, the lives of young people in other countries and social and environmental awareness.
Inspired by popular websites, 'Your space' sections get students using and personalising new language to talk about their own world.
In the Your Space Web Zone students will find a whole world of fun and engaging practice materials that support the course. More than just a website with practice activities, the Web Zone is a virtual world in which learners can create a customised learning 'space' of their own.
'Your progress' sections at the end of each unit allow students to review what they have achieved and where they need to improve, fostering learner awareness.
Popular resources
See it now
Get an eSample of Your Space that will allow you to view a product preview on your desktop.
Free sample
Thank you for your feedback which will help us improve our service.
If you requested a response, we will make sure to get back to you shortly.
×
Please fill in the required fields in your feedback submission.
×