Open global navigation
Cambridge English Readers
Cambridge English Readers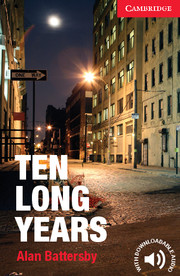 Original stories at seven levels from starter to advanced, written specially for learners of English. With gripping plots and a range of genres to satisfy every taste, Cambridge English Readers offer high-quality original fiction that students will love! The highest quality of writing and storytelling is combined with the greatest sensitivity to the learner's language level, to ensure an enjoyable and successful learning experience, with learners eager to finish one book and start the next.
Key features
Seven levels from Starter to Advanced provide reading material for every student's ability.
A wide selection of titles, from thriller to romance, with international settings appeal to a broad range of interests.
Contemporary themes, gripping plots and believable characters inspire learners and stimulate classroom discussion.
Audio CD recordings for every title improve listening and speaking skills.
eBook and audiobook formats make Readers instantly accessible wherever you are.
Free online resources for students and teachers at www.cambridge.org/elt/readers include vocabulary placement test, lesson plans and worksheets for every title and provide all the support you need for successful learning through reading.
Popular resources
See it now
Get an eSample of Cambridge English Readers that will allow you to view the entire product on your desktop.
Free sample
User reviews
25 April 2015
By Myriam
Student
I was very impressed with the history because they got together. This history is not a true story
10 April 2015
By esmaeilshiri
Student
it is a useful book and Ill study it on weekend. thank you for it
28 March 2015
By victor99
Student
esta que te cagas la pagina, es la caña pa mirar libros y eso
24 March 2015
By Zahra18
Student
I dont non but I come jute visite this page. But I think than good.
3 February 2015
By francisfcv
Graduate Student
hello, i love english class, this book is very interesting. please if you can send me information about these books. Thank you
19 December 2014
By IgorMachado
Graduate Student
Vou verificar primeiro antes de avaliar pois ainda não consegui ver o produto. Obrigado.
14 December 2014
By user628691938504
Other
I am thinking this story a very good adventure story and fluence story.
8 December 2014
By alita079
Student
Its a good book, very entertaining and has a with a happy ending.
30 November 2014
By chaojeda1976
Student
Webs contain is very interesting for me because I can hear the book in english
7 November 2014
By gmf
Student
I think that the book when summer comes, it is interest and excellent
2 November 2014
By Alejandras
Student
Its a great book, very funny and interesting. This help to know more about the life.
17 October 2014
By IvanFromLasPalmas
Student
It was very fats, but also I enjoyed ti! Why don´t you try it?
7 October 2014
By CheaPheakdey
Full-time teacher
I never seen the website like you that can give me the book for to read free free like this I love it :
Book with Audio CDs (2) Pack
27 September 2014
By gesilmo
Student
Theres an address in my book. I want to get de audio.
Book with Audio CDs (2) Pack
18 September 2014
By HAMhyder2
Student
Very atractive story, when you started reading it you never stop tll the end.
12 September 2014
By ahmedxtb
Graduate Student
I like it was so nice, and I wish to see more!!!
See all reviews
Thank you for your feedback which will help us improve our service.
If you requested a response, we will make sure to get back to you shortly.
×
Please fill in the required fields in your feedback submission.
×