Open global navigation

Let's Talk
Second Edition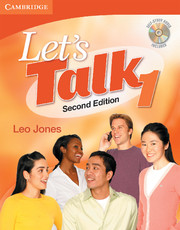 Let's Talk, Second Edition, is a fully revised edition of Let's Talk, the successful speaking and listening course that takes students from a high-beginning to a high-intermediate level. Like the first edition, this three-level course in American English is designed to develop oral communication skills and increase fluency. Unique twists on topics draw students into conversations, and engaging activities guarantee maximum talking time. Features of the new edition include more systematic presentation and recycling of structures and vocabulary, increased focus on communication activities, and Expansion review sections every four units. The expanded self-study section includes grammar, listening, and vocabulary practice, offering students additional opportunities for review and consolidation. Grammar paradigms and listening texts are included on the Self-Study Audio CD packaged with the Student's Book.
Popular resources
See it now
Get an eSample of Let's Talk that will allow you to view the entire product on your desktop.
Free sample
User reviews
Student's Book 1 with Self-Study Audio CD
26 October 2015
By mahmoudelhaggar
Student
amazing good reference for improving my skill in English conversation and vocablary
Teacher's Manual 2 with Audio CD
31 July 2015
By Jesus07
Student
es de lo mejro que alla encotrado en el idioma ingles en todo lo que hay
Teacher's Manual with Audio CD
24 October 2014
By Mateer23
Other
i want this book and i have some class , i wanna teach this book
Teacher's Manual with Audio CD
20 October 2014
By dragonknight0908
Student
ofji djoi odjoijio jiojosjdoi joijoijs jojoiji iopasd opjaso oeeos oajofdjf ojepfjp jsoidjf
16 August 2014
By AhmedandAli
Part-time teacher
it very very very v very very veryery very very very very
25 June 2014
By MohamedElshreef
Graduate Student
great and useful book to learn English , and you will learn a much from it
Teacher's Manual with Audio CD
26 May 2014
By user641248498693
Teacher
İgrenç Bir Kitap Türkleri Niçin Kötülediniz.Gerçekten Ayıp Diyorum Başka Bir Şey Demiyorum.
Student's Book with Self-study Audio CD
5 May 2014
By li9
Student
This title is not currently available for examination. However, if you are interested in the title for your course we can consider offering an examination copy
See all reviews
Need technical support?
Thank you for your feedback which will help us improve our service.
If you requested a response, we will make sure to get back to you shortly.
×
Please fill in the required fields in your feedback submission.
×