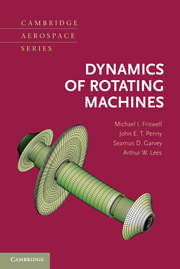 Resources and solutions
This title has free online support material available.
Details
384 b/w illus. 67 tables 102 exercises
Page extent: 544 pages
Size: 253 x 215 mm
Weight: 1.16 kg
Library of Congress
Dewey number: 621.8/2
Dewey version: 22
LC Classification: TJ1058 .D89 2010
LC Subject headings:

Rotors--Dynamics
Rotors--Vibration
Hardback
(ISBN-13: 9780521850162)
Manufactured on demand: supplied direct from the printer
$162.00 (C)
Resources and solutions
Quick search
Links
Cambridge University Press is not responsible for the content of external websites.