Browse series
Quick search
Cambridge Alerts
Law in Context
Editors:Professor Maksymilian Del Mar, Professor Bronwen Morgan, Professor William Twining
Since 1970 the Law in Context series has been at the forefront of the movement to broaden the study of law. It has been a vehicle for the publication of innovative scholarly books that treat law and legal phenomena critically in their social, political and economic contexts from a variety of perspectives. The series particularly aims to publish scholarly legal writing that brings fresh perspectives to bear on new and existing areas of law taught in universities. A contextual approach involves treating legal subjects broadly, using materials from other social sciences, and from any other discipline that helps to explain the operation in practice of the subject under discussion. It is hoped that this orientation is at once more stimulating and more realistic than the bare exposition of legal rules. The series includes original books that have a different emphasis from traditional legal textbooks, while maintaining the same high standards of scholarship. They are written primarily for undergraduate and graduate students of law and of other disciplines, but will also appeal to a wider readership. In the past, most books in the series have focused on English law, but recent publications include books on European law, globalisation, transnational legal processes, and comparative law.
There are 211 books in this series...
3rd Edition
Ian Ward
Paperback | Published May 2009
Manufactured on demand: supplied direct from the printer | $55.99
England's Obedient Servant?

Mark Lunney
Hardback | Published February 2018
In stock | $110.00 | Add to basket
England's Obedient Servant?

Mark Lunney
Paperback | Published July 2019
Not yet published - available from | c. $35.99 | Add to basket
Phil Harris
Paperback | Published December 2016
Manufactured on demand: supplied direct from the printer | $49.99
Text and Materials

Bronwen Morgan, Karen Yeung
Paperback | Published April 2007
Manufactured on demand: supplied direct from the printer | $84.99
2nd Edition
Terence Anderson, David Schum, William Twining
Paperback | Published July 2005
Manufactured on demand: supplied direct from the printer | $72.99
Peter Cane, James Goudkamp
Paperback | Published October 2018
In stock | $54.99 | Add to basket
Text and Materials

Colin Turpin, Adam Tomkins
Paperback | Published October 2011
Manufactured on demand: supplied direct from the printer | $78.99
Michael Zander
Paperback | Published May 2007
Manufactured on demand: supplied direct from the printer | $78.99
3rd Edition
Jane Fortin
Paperback | Published October 2009
Manufactured on demand: supplied direct from the printer | $110.00
Rising above Politics

Norman D. Lewis
Paperback | Published July 1998
In stock | $60.00 | Add to basket
Dawn Oliver
Paperback | Published August 1999
Manufactured on demand: supplied direct from the printer | $51.99
2nd Edition
Mathias Siems
Hardback | Published May 2018
Manufactured on demand: supplied direct from the printer | $110.00
2nd Edition
Mathias Siems
Paperback | Published April 2018
In stock | $48.99 | Add to basket
A Formalist Restatement of Commercial Contract Law

Jonathan Morgan
Hardback | Published December 2013
Manufactured on demand: supplied direct from the printer | $118.00
3rd Edition
Colin Scott, Julia Black
Paperback | Published August 2000
Manufactured on demand: supplied direct from the printer | $66.99
A Critical Introduction to Criminal Law
3rd Edition
Alan Norrie
Hardback | Published December 2014
In stock | $124.00 | Add to basket
A Critical Introduction to Criminal Law
3rd Edition
Alan Norrie
Paperback | Published December 2014
In stock | $57.99 | Add to basket
Wealth, Influence and Democratic Politics

Jacob Rowbottom
Hardback | Published June 2010
In stock | $108.00 | Add to basket
Wealth, Influence and Democratic Politics

Jacob Rowbottom
Paperback | Published June 2010
Available, despatch within 1-2 weeks | $35.99 | Add to basket
Property Law in the Sharing Economy

Shelly Kreiczer-Levy
Hardback | Published December 2019
Not yet published - available from December 2019 | c. $110.00 | Add to basket
ADR and the Primary Forms of Decision-Making
2nd Edition
Simon Roberts, Michael Palmer
Paperback | Published November 2005
Manufactured on demand: supplied direct from the printer | $78.99
Giorgio Monti
Paperback | Published August 2007
Manufactured on demand: supplied direct from the printer | $78.99
Contextual and Critical Histories of European Jurisprudence

Edited by Fernanda Nicola, Bill Davies
Hardback | Published May 2017
Manufactured on demand: supplied direct from the printer | $99.00
Contextual and Critical Histories of European Jurisprudence

Edited by Fernanda Nicola, Bill Davies
Paperback | Published May 2017
In stock | $31.99 | Add to basket
Text and Materials

Sue Elworthy, Jane Holder
Paperback | Published June 1997
Manufactured on demand: supplied direct from the printer | $67.00
Text and Materials
2nd Edition
Jane Holder, Maria Lee
Paperback | Published July 2007
Manufactured on demand: supplied direct from the printer | $106.00
2nd Edition
Brian Bercusson
Paperback | Published August 2009
Manufactured on demand: supplied direct from the printer | $99.99
Patrick Birkinshaw
Paperback | Published June 2004
In stock | $100.00 | Add to basket
Themes and Implications

Tamara K. Hervey, Jean V. McHale
Hardback | Published November 2015
Manufactured on demand: supplied direct from the printer | $155.00
An Interdisciplinary Framework for Intellectual Due Process

Erica Beecher-Monas
Hardback | Published November 2006
In stock | $120.00 | Add to basket
An Interdisciplinary Framework for Intellectual Due Process

Erica Beecher-Monas
Paperback | Published November 2006
Manufactured on demand: supplied direct from the printer | $58.00
Science, Proof, and Truth in the Law

Susan Haack
Hardback | Published July 2014
Manufactured on demand: supplied direct from the printer | $98.00
Science, Proof, and Truth in the Law

Susan Haack
Paperback | Published July 2014
Manufactured on demand: supplied direct from the printer | $36.99
Law, Politics and Pluralism

Clare McGlynn
Paperback | Published October 2006
Available, despatch within 1-2 weeks | $84.99 | Add to basket
The Law, the Practice and the Ideal

Patrick Birkinshaw
Hardback | Published April 2010
Manufactured on demand: supplied direct from the printer | $158.00
The Law, the Practice and the Ideal

Patrick Birkinshaw
Paperback | Published April 2010
Manufactured on demand: supplied direct from the printer | $83.99
John Bell
Paperback | Published May 2001
Manufactured on demand: supplied direct from the printer | $78.99
Ann Stewart
Hardback | Published October 2011
In stock | $124.00 | Add to basket
Ann Stewart
Paperback | Published October 2011
Manufactured on demand: supplied direct from the printer | $51.99
Understanding Law from a Global Perspective

William Twining
Hardback | Published March 2009
Manufactured on demand: supplied direct from the printer | $162.00
Understanding Law from a Global Perspective

William Twining
Paperback | Published March 2009
Manufactured on demand: supplied direct from the printer | $78.99
William Twining
Paperback | Published March 2000
Manufactured on demand: supplied direct from the printer | $72.99
Recurring Patterns of Law and Authority

David B. Goldman
Paperback | Published March 2008
In stock | $62.00 | Add to basket
Tamara K. Hervey, Jean V. McHale
Paperback | Published December 2004
Manufactured on demand: supplied direct from the printer | $81.00
David Cowan
Hardback | Published November 2011
In stock | $178.00 | Add to basket
David Cowan
Paperback | Published November 2011
In stock | $61.99 | Add to basket
William Twining, David Miers
Hardback | Published June 2010
Manufactured on demand: supplied direct from the printer | $129.00
William Twining, David Miers
Paperback | Published June 2010
Manufactured on demand: supplied direct from the printer | $57.99
Francis Deng, Abdullahi An-Na'im, Yash Ghai and Upendra Baxi

Edited by William Twining
Hardback | Published October 2009
In stock | $120.00 | Add to basket
Francis Deng, Abdullahi An-Na'im, Yash Ghai and Upendra Baxi

Edited by William Twining
Paperback | Published October 2009
In stock | $51.99 | Add to basket
Useful Paradoxes

Samuli Seppänen
Hardback | Published December 2016
In stock | $119.00 | Add to basket
Useful Paradoxes

Samuli Seppänen
Paperback | Published October 2016
In stock | $45.99 | Add to basket
Socio-Legal Perspectives

Agnieszka Kubal
Hardback | Published May 2019
Not yet published - available from May 2019 | $110.00 | Add to basket
Text, Cases and Materials

Andrea Broderick, Delia Ferri
Hardback | Published September 2019
Not yet published - available from September 2019 | Price is not yet set | Add to basket
Text, Cases and Materials

Andrea Broderick, Delia Ferri
Paperback | Published September 2019
Not yet published - available from September 2019 | Price is not yet set | Add to basket
Text and Materials
2nd Edition
Chris Reed
Paperback | Published October 2004
Manufactured on demand: supplied direct from the printer | $89.99
A Memoir

William Twining
Hardback | Published April 2019
Not yet published - available from March 2019 | $105.00 | Add to basket
A Memoir

William Twining
Paperback | Published April 2019
Not yet published - available from March 2019 | $32.99 | Add to basket
2nd Edition
William Twining
Hardback | Published September 2012
Manufactured on demand: supplied direct from the printer | $149.00
2nd Edition
William Twining
Paperback | Published June 2014
Manufactured on demand: supplied direct from the printer | $41.99
Hugh Collins, K. D. Ewing, Aileen McColgan
Hardback | Published November 2012
In stock | $178.00 | Add to basket
2nd Edition
Hugh Collins, Keith Ewing, Aileen McColgan
Hardback | Published October 2019
Not yet published - available from October 2019 | c. $135.00 | Add to basket
2nd Edition
Hugh Collins, Keith Ewing, Aileen McColgan
Paperback | Published October 2019
Not yet published - available from October 2019 | c. $65.00 | Add to basket
Hugh Collins, K. D. Ewing, Aileen McColgan
Paperback | Published November 2012
In stock | $84.99 | Add to basket
Text and Materials

Celia Wells, Oliver Quick
Hardback | Published June 2010
Manufactured on demand: supplied direct from the printer | $217.00
Text and Materials

Celia Wells, Oliver Quick
Paperback | Published June 2010
Manufactured on demand: supplied direct from the printer | $111.00
3rd Edition
Carol Harlow, Richard Rawlings
Hardback | Published September 2009
Manufactured on demand: supplied direct from the printer | $217.00
3rd Edition
Carol Harlow, Richard Rawlings
Paperback | Published September 2009
Manufactured on demand: supplied direct from the printer | $84.99
Chris Barton, Gillian Douglas
Paperback | Published May 1995
Manufactured on demand: supplied direct from the printer | $35.99
Text and Materials

Roger Brownsword, Morag Goodwin
Hardback | Published July 2012
In stock | $151.00 | Add to basket
Text and Materials

Roger Brownsword, Morag Goodwin
Paperback | Published July 2012
In stock | $50.99 | Add to basket
Threat to the Rule of Law

Brian Z. Tamanaha
Hardback | Published October 2006
Manufactured on demand: supplied direct from the printer | $124.00
Threat to the Rule of Law

Brian Z. Tamanaha
Paperback | Published October 2006
Manufactured on demand: supplied direct from the printer | $46.99
Essays in Honour of William Twining

Edited by Upendra Baxi, Christopher McCrudden, Abdul Paliwala
Hardback | Published October 2015
Manufactured on demand: supplied direct from the printer | $125.00
Essays in Honour of William Twining

Edited by Upendra Baxi, Christopher McCrudden, Abdul Paliwala
Paperback | Published March 2018
Manufactured on demand: supplied direct from the printer | $29.99
Alison Diduck
Paperback | Published June 2004
In stock | $47.99 | Add to basket
Michael B. Likosky
Hardback | Published October 2006
In stock | $88.00 | Add to basket
Michael B. Likosky
Paperback | Published October 2006
Manufactured on demand: supplied direct from the printer | $48.99
Ian Ward
Hardback | Published April 2009
In stock | $116.00 | Add to basket
Ian Ward
Paperback | Published May 2009
In stock | $45.99 | Add to basket
Contemporary Approaches

Eve Darian-Smith
Hardback | Published January 2013
Manufactured on demand: supplied direct from the printer | $113.00
Contemporary Approaches

Eve Darian-Smith
Paperback | Published January 2013
Manufactured on demand: supplied direct from the printer | $41.99
2nd Edition
Caroline Maughan, Julian Webb
Paperback | Published November 2005
Manufactured on demand: supplied direct from the printer | $61.99
Text and Materials

Richard O'Dair
Paperback | Published December 2007
Manufactured on demand: supplied direct from the printer | $62.99
Antonio Estella
Hardback | Published October 2018
Manufactured on demand: supplied direct from the printer | $74.99
Antonio Estella
Paperback | Published October 2018
In stock | $34.99 | Add to basket
What Globalization Means for Migration and Law

Catherine Dauvergne
Hardback | Published April 2008
Manufactured on demand: supplied direct from the printer | $95.00
What Globalization Means for Migration and Law

Catherine Dauvergne
Paperback | Published June 2009
Manufactured on demand: supplied direct from the printer | $29.99
Shaheen Sardar Ali
Hardback | Published November 2016
Manufactured on demand: supplied direct from the printer | $105.00
Shaheen Sardar Ali
Paperback | Published October 2016
In stock | $40.99 | Add to basket
Text and Materials

Jonathan Garton, Graham Moffat, Gerry Bean, Rebecca Probert
Hardback | Published October 2015
In stock | $178.00 | Add to basket
Text and Materials

Jonathan Garton, Graham Moffat, Gerry Bean, Rebecca Probert
Paperback | Published October 2015
In stock | $64.99 | Add to basket
2nd Edition
A. C. L. Davies
Hardback | Published July 2009
Manufactured on demand: supplied direct from the printer | $126.00
2nd Edition
A. C. L. Davies
Paperback | Published July 2009
Manufactured on demand: supplied direct from the printer | $57.99
The Legal History of Sexual Offences in Mandate Palestine

Orna Alyagon Darr
Hardback | Published January 2019
In stock | $110.00 | Add to basket
A Comparative Study of Autonomous Regions

Edited by Yash Ghai, Sophia Woodman
Hardback | Published September 2013
In stock | $124.00 | Add to basket
A Comparative Study of Autonomous Regions

Edited by Yash Ghai, Sophia Woodman
Paperback | Published October 2016
Manufactured on demand: supplied direct from the printer | $44.99
Commentary and Materials

Alison Clarke, Paul Kohler
Paperback | Published January 2006
Manufactured on demand: supplied direct from the printer | $84.99
Wolf Sauter
Hardback | Published December 2014
In stock | $102.00 | Add to basket
2nd Edition
Donald Harris, David Campbell, Roger Halson
Paperback | Published November 2006
Manufactured on demand: supplied direct from the printer | $78.99
James Gobert, Maurice Punch
Paperback | Published March 2003
Manufactured on demand: supplied direct from the printer | $46.99
Exploratory Essays
2nd Edition
William Twining
Paperback | Published July 2006
Manufactured on demand: supplied direct from the printer | $89.99
Andrew Ashworth
Hardback | Published October 2015
Manufactured on demand: supplied direct from the printer | $129.00
Andrew Ashworth
Paperback | Published October 2015
In stock | $54.99 | Add to basket
From Fornicators to Family, 1600–2010

Rebecca Probert
Hardback | Published October 2012
In stock | $154.00 | Add to basket
From Fornicators to Family, 1600–2010

Rebecca Probert
Paperback | Published July 2015
Manufactured on demand: supplied direct from the printer | $43.99
Dora Kostakopoulou
Hardback | Published June 2008
In stock | $132.00 | Add to basket
Dora Kostakopoulou
Paperback | Published June 2008
In stock | $54.99 | Add to basket
Beyond the Common Law and Civil Law Traditions

John D. Jackson, Sarah J. Summers
Hardback | Published February 2012
In stock | $140.00 | Add to basket
Beyond the Common Law and Civil Law Traditions

John D. Jackson, Sarah J. Summers
Paperback | Published February 2012
In stock | $72.99 | Add to basket
Hugh Collins
Paperback | Published April 2008
Manufactured on demand: supplied direct from the printer | $62.99
Michael Zander
Paperback | Published January 2005
In stock | $72.99 | Add to basket
200 Years of Migration and Citizenship Law

Diego Acosta
Hardback | Published June 2018
Manufactured on demand: supplied direct from the printer | $110.00
200 Years of Migration and Citizenship Law

Diego Acosta
Paperback | Published March 2019
Manufactured on demand: supplied direct from the printer | c. $34.99
2nd Edition
Boaventura de Sousa Santos
Paperback | Published September 2002
Manufactured on demand: supplied direct from the printer | $99.99
Globalisation and Power Disparities

Edited by Michael Likosky, Foreword by A. Vaughan Lowe
Paperback | Published April 2002
In stock | $104.99 | Add to basket
Reflections on the European Convention

Marie-Bénédicte Dembour
Paperback | Published October 2006
Manufactured on demand: supplied direct from the printer | $89.99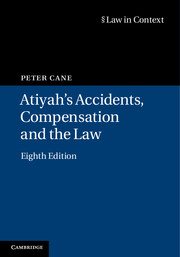 Market: Law
Level: graduate students, academic researchers, undergraduate students