Cambridge Topics in English Language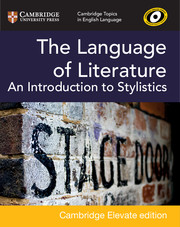 Sorry, the product you are trying to view is not available in your country.
ISBN:

9781108442541

Format:

Cambridge Elevate

Subject(s):

English Language

Author(s):

Marcello Giovanelli, Jessica Mason

Available from:

February 2018
Essential study guides for the future linguist.
Sorry, the product you are trying to view is not available in your country.
The Language of Literature Cambridge Elevate edition is suitable for advanced level students and beyond. Written with input from the Cambridge English Corpus, it provides students with an introduction to the methods and principles behind stylistics with texts from different genres. It takes the approach that the best way to study literary texts is to focus closely on language. Using short activities to help explain analysis methods, this digital resource guides students through major modern issues and concepts. It summarises key concerns and findings, while providing inspiration for language investigations and non-examined assessments (NEAs) with research suggestions.

Personalise Cambridge Elevate editions to your needs – set homework, link to the web and share annotations with your class.

Instruction in analysis techniques and research methodology, as well as examples of academic writing at an accessible level, give students models to follow for their own work.

Examples from the Cambridge English Corpus give students access to prestigious academic global English research, as well as insight into corpus linguistics and techniques for corpus creation and analysis.

Wider reading suggestions guide students towards broader topic exposure, encouraging them to research areas that interest them.

Longer research tasks encourage a greater depth of application and provide inspiration for non-examined assessment (NEA).

Written to support A Level and IB qualifications: in particular Cambridge International A Level English Language (9093) Paper 3 Text Analysis and Paper 4 Language Topics, AS & A Level English Language, AS & A Level English Language and Literature and IB English A.

Short activities and exam-style questions provide practice and help students get a deeper understanding of key concepts.

Cambridge Elevate is simple to navigate for both students and teachers – find notes quickly with highlights and bookmarks.

Simple and easy to use, link directly into Cambridge Elevate from Moodle, Blackboard and any other VLE.

Access a library of Cambridge books anywhere, anytime whether online or offline (via the app). For more information, please visit elevate.cambridge.org/support.

1. What is stylistics?: 1.1. Introduction
1.2. Defining stylistics
1.3. Why stylistics?
1.4. Principles of stylistics
2. Developing a stylistics toolkit: 2.1. Introduction
2.2. Foregrounding
2.3. Using levels of language analysis
2.4. Words
2.5. Structure
2.6. Sounds
2.7. Developing writing as a response
3. Doing stylistics: 3.1. Introduction
3.2. Speech and thought presentation
3.3. Modality
3.4. Transitivity
3.5. Deixis and viewpoint
4. Stylistics and the mind: 4.1. Introduction
4.2. Figure and ground
4.3. Schema theory
4.4. Metaphor
4.5. Text World Theory
5. Exploring stylistics: 5.1. Introduction
5.2. Creative writing and stylistics
5.3. Reader response studies and stylistics
5.4. Corpus stylistics
Ideas and answers
References.
Thank you for your feedback which will help us improve our service.
If you requested a response, we will make sure to get back to you shortly.
×
Please fill in the required fields in your feedback submission.
×