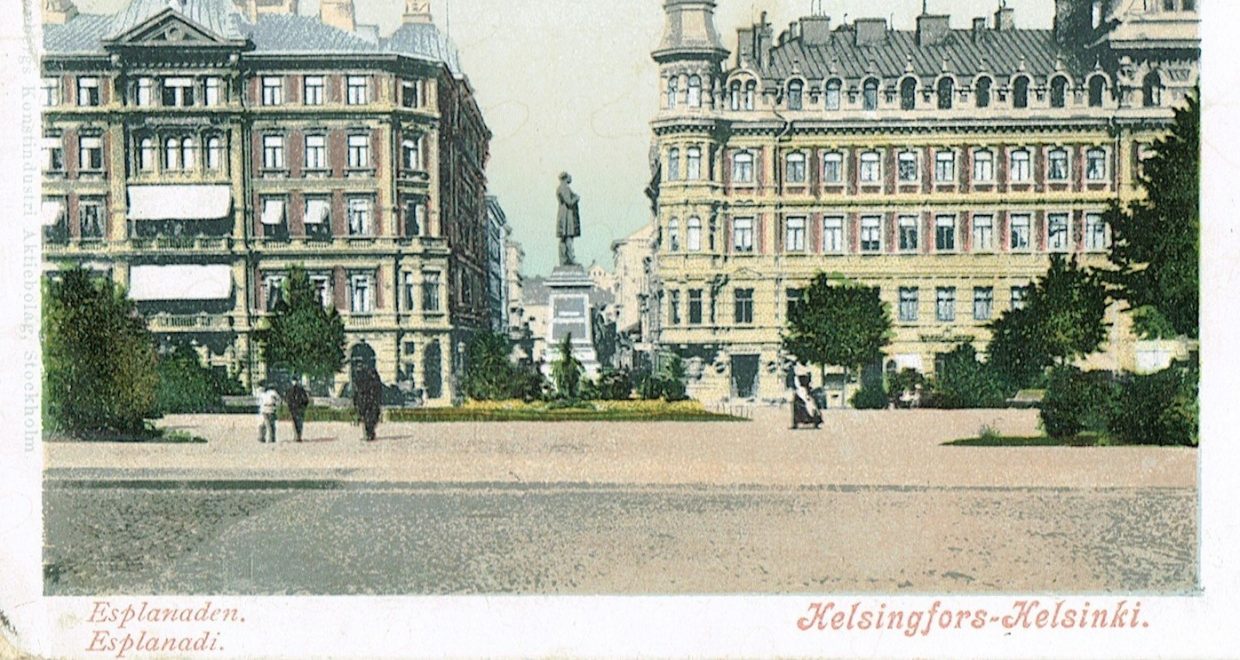 Writing histories in a time of commemoration: Ireland and Finland
"I maintain that the analogy between Finland and Ireland is almost perfect" -Michael Collins
At the end of 2017, with Ireland approaching the half-way mark of what is designated a "Decade of Centenaries," a country at the opposite edge of northern Europe will celebrate a hundred years of nationhood. Finland reaches that notable milestone on 6 December 2017. Thanks to various parallels in Finnish and Irish history, particularly during the Long Nineteenth Century when both existed as component parts of vast empires, there has been increased interest in either comparing the two countries, or examining the various connections which have existed over the years. It was well-publicised in 2016, for example, that a Finn fought in the GPO during the Easter Rising, apparently on behalf of "small nationalities."  In reporting the Easter Rising's commemoration, Finland's main daily newspaper, Helsingin Sanomat, claimed that 'Ireland is like Finland – a small but tenacious country'. On a scholarly level, Bill Kissane, Michael Coleman, Kati Nurmi and others have produced ground breaking work, in recent years, by comparing experiences in both countries.
Such comparisons are not entirely new. In the years leading up to its independence Finland was regularly given the epithet "The Ireland of Russia", as its previously acquiescent national movement diversified via passive resistance and direct action to challenge St. Petersburg's Russifying designs. Future Irish leader Michael Collins was fulsome in his praise in 1909, in a speech written for the Geraldine GAA club in Notting Hill, London, during which he claimed that "the analogy between Finland and Ireland is almost perfect." For Collins, the analogy was beguiling as it seemed that political violence had won the Finns significant concessions from Russia. A few years earlier, it was Finnish passive resistance that made an impression on Michael Davitt during a visit to Helsinki, and the father of the Land League wondered when the Irish would emulate the "manly spirit of the Finlanders." Prior to this, the use of Finland by Gladstonian Home Rulers in the late nineteenth century, during what had been a more accommodating period of Tsarist rule, reflected the idea that national aspirations could be accommodated within an imperial framework, if only the imperial power demonstrated a sufficiently permissive attitude. Conversely, with Finnish statesmen leading a top-down national movement based on Lutheran ideals such as education and self-sufficiency, there was little appetite in Helsinki to have their brand of nationalism equated with what they perceived (based largely on British newspaper reports), as the violent and lawless Irish. It was only in the early twentieth century that any sense of a common cause with Ireland was developed among the more radical Finns. Strikingly, it was also to be Finland more than Ireland that was to experience the extreme ravages of political violence – over three times more fatalities arose from Finland's civil war of 1918 than from political violence in Ireland over the course of the entire nineteenth and twentieth centuries.
Writing comparative histories of both countries therefore offers an opportunity to draw out the complexity behind the obvious and shared imperial contexts.  A chance to highlight not only common experience but also the tensions, the rejections and compelling contrasts which may be lost in the attempt to commemorate without remembering. This special edition of Irish Historical Studies brings together, for the first time, scholars working on diverse comparative Irish-Finnish topics and offers a platform for a rigorous and critical approach to the idea of comparing these two nations. Each individual article is comparative, self-reflective, and aware of broader European contexts. The aim is to highlight the value of enhancing our understanding of the comparative and transnational aspects of Finnish and Irish history in the nineteenth and early twentieth centuries and, in doing so, to provide a timely contribution to centenary commemorations in both countries.
At its heart is the view that the often striking parallels between the history of modern Finland and Ireland, and their place within wider patterns of European development, deserve greater attention. This can be achieved, in this time of commemoration, without compromising the need to acknowledge the diversity of experience in both countries.  To this end, comparative and transnational approaches, if undertaken with care and awareness of the challenges they pose, can illuminate and offer new perspectives on the history of two countries that are too often overlooked or sidelined within the grand narratives of modern European history.
All articles in the Irish Historical Studies special issue Ireland and Finland, 1860–1930: Comparative and Transnational Histories are freely available until 1st January 2018.
Main image credit: Michael Davitt's postcard from Helsinki, 1904. Image courtsey of the Michael Davitt Museum
---
Dr Richard Mc Mahon is Assistant Professor in Modern History at Trinity College, Dublin.
Dr Andrew G. Newby is Associate Professor at the Aarhus Institute of Advanced Studies, Aarhus University, Denmark and previously University of Helsinki, Finland.
Photo credit: Anders Trærup