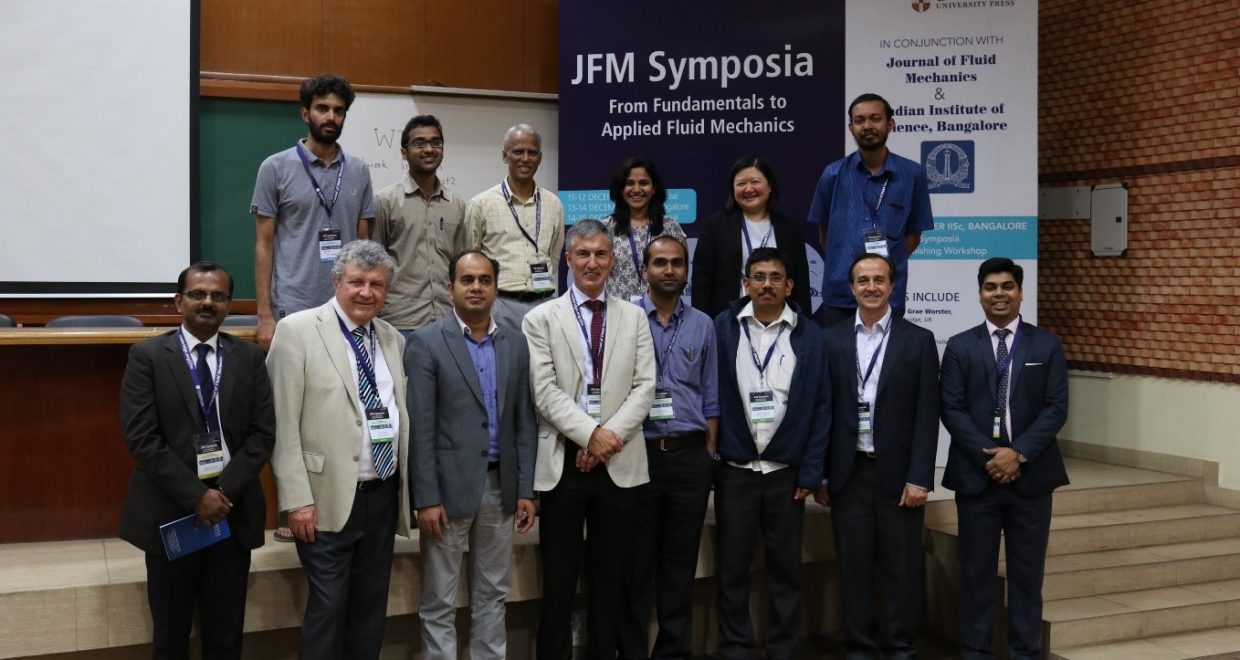 As the Social Media Editor for JFM, I was kindly asked to document the first-ever JFM Symposia: From Fundamentals to Applied Fluid Mechanics that took place in the three Indian cities of Mumbai, Bangalore and Chennai in December 2017.
My first-ever trip to India did not get off to the best of starts with a 72-hour transit from Chisinau to Bangalore via Bucharest and London (twice), due to the inability of the UK to be able to deal with minimal amounts of snowfall. Unfortunately, the delay meant that I missed the Mumbai event but I did manage to arrive in Bangalore on the morning of the second symposium. After a quick stop at the hotel to freshen up, I joined up with the rest of the team and we were on our way to the Indian Institute of Science (IISc) through the infamous Bangalore traffic. The driver seemed intent on getting us there as quickly as possible, which, needless to say, was different to any journey I have ever taken in the UK! It is almost impressive how the drivers are able to negotiate the multiple lanes of dense, high-speed traffic with consummate ease, or as Ivan put it 'a perfect example of organised chaos'.
Following a brief introduction to the Symposium by CUP's Kathleen Too we were underway with Moshe Matalon (University of Illinois at Urbana-Champaign) showing us just how difficult it can be to model turbulent flames. Fortunately, he is an expert in the field and he demonstrated how his computations of flame propagation showed good agreement with experimental data. The first local speaker of the day, Ganesh Subramanian (Jawaharlal Nehru Centre for Advanced Scientific Research) discussed mass transport from drops in shearing flows, before we were taken on a journey inside high Reynolds number wall turbulence by JFM editor Ivan Marusic (University of Melbourne). Ivan's talk proved so popular that we even had some of the local wildlife listening in!
Prior to the afternoon session we were treated to a traditional Indian lunch served outside, where I discovered what is quite possibly my new favourite beverage, 'Indian fruit punch', or what we might call melted mango ice cream. I also had the opportunity to speak to some of the local students and to record some brief interviews for the upcoming video diary of the symposia. The videos will feature snapshots of the talks, interviews with students/professors and footage from laboratory tours in Bangalore and Chennai.
The talks resumed with Samriddhi Sankar Ray (International Centre for Theoretical Sciences) giving a passionate description of decimated Navier-Stokes turbulence before JFM Editor-in-Chief Grae Worster treated us to some fantastic experimental visualisations of brine drainage from sea ice. The third session concluded with two more local speakers, Binod Sreenivasan (IISc) and Gaurav Tomar (IISc) discussing small-scale turbulence in the Earth's core and slip in corner flows respectively.
The final session of the day began with four quick-fire flash talks by students of IISc Bangalore: 5 minutes per talk with 2 minutes for questions – it made even the APS conferences look slow! The talks were judged by the JFM panel of Grae Worster, Ivan Marusic and Moshe Matalon on academic content and presentation style. In a closely fought contest, the award for the best student presentation was given to Pradeep Moise for his talk on bi-stability in swirling jets and he was presented with a certificate and book courtesy of CUP.
Closing the day, we had a panel discussion with the JFM editors answering questions from the audience on how the publishing process works and in particular what a JFM editor is looking for when assessing a paper. The discussion proved very popular with both students and professors alike and provided a nice end to a fantastic day of science. I think the day can be perfectly summed up by this quote from a PhD student at IISc: 'this symposium has been really engaging and its expanded my horizons. I'm really glad I came!'
Despite the scheduled talks drawing day one to a close, there was still time for the hosts banquet in the evening, with a keynote speech from Professor Narasimha, a published author in the third ever volume of JFM. He recalled tales of working with the great George Batchelor at the time of the formation of JFM, much to the enjoyment of the audience. After enduring what I can only describe as the worst journey of my life to get to Bangalore, I retired to bed post-dinner to enjoy a fully deserved rest ahead of day two.
The second day began where the first left-off, as we were treated to a tour of the laboratories at IISc Bangalore, whilst Kathleen Too and her colleagues at CUP ran a publishing workshop for aspiring authors. The diversity and range of the fluid mechanics research being undertaken at IISc is really quite incredible, and I will endeavour to showcase as much of it as possible in the forthcoming video diary. At the conclusion of the tour and workshop it was off to the airport once again, ready and raring go for the next symposium in Chennai…