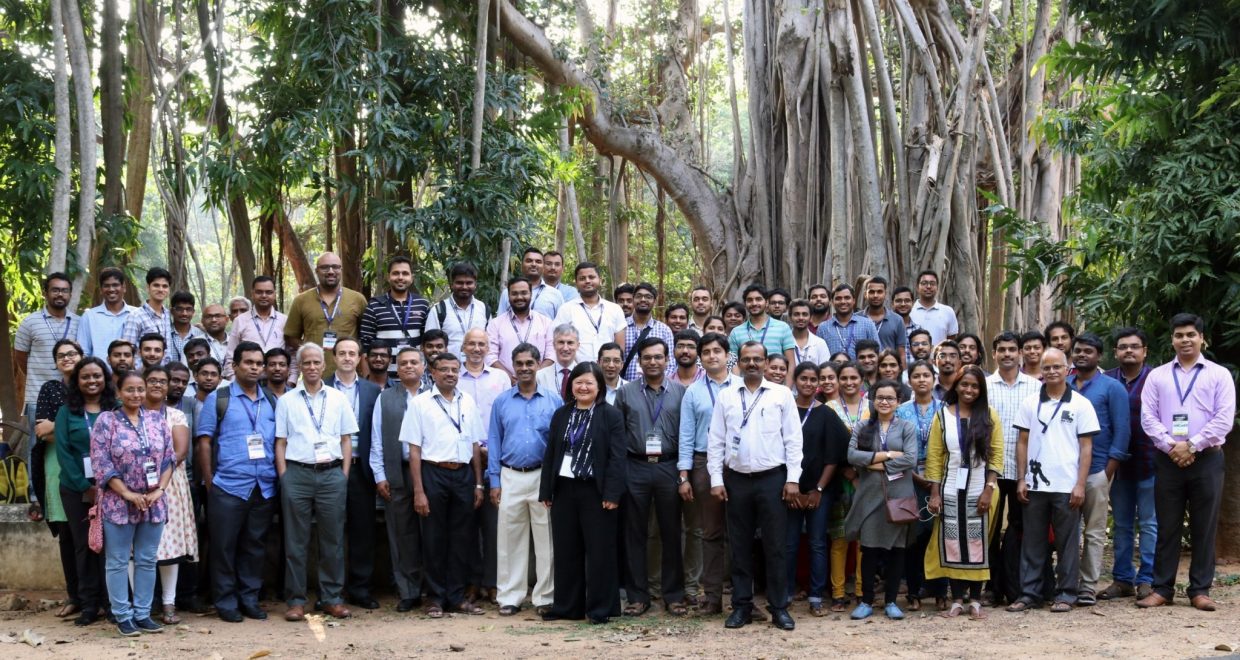 Dr. Tom Crawford, the Social Media Editor for JFM, documents the final leg of the first-ever JFM Symposia: From Fundamentals to Applied Fluid Mechanics that took place in the three Indian cities of Mumbai, Bangalore and Chennai in December 2017.
After a morning visit to the labs at IISc Bangalore we were on our way to the third and final stop on the JFM Symposia tour: Chennai. Having explained to various drivers in Bangalore that our next stop would be Chennai, the response was always the same: 'very hot'. They weren't wrong…
On arrival, we were whisked away to IIT Madras for a tour of their brand-new combustion laboratory which officially opened in October 2017. The space-age micro-gravity tower was particularly impressive, offering state-of-the-art facilities and a fantastic view out across the city. We were shown several experiments ranging from measurements of turbulence in sprays to visualisations of high temperature flames. It was very clear that when constructing the lab, the Institute were keen to ensure that the best equipment would be available to help their students and researchers achieve scientific breakthroughs. Be sure to check out the footage recorded from the lab tour in the soon-to-be-released video diary of the trip. The day ended with a traditional meal at a beautiful vegetarian restaurant whose name translates as 'food-goddess'. After sampling what seemed like an endless number of fantastic local dishes, it certainly seemed appropriate. The after-dinner delicacy of a Betel leaf was certainly unlike anything I have ever tasted before…
The final programme of talks began the next day at the impressive IIT Madras Auditorium. The journey to the venue was slightly delayed due to some unsuspecting wild deer blocking the road, but we were told that this was normal for the campus where students, researchers and local wildlife – including monkeys and wild dogs – live in harmony. The talks began with an opening address from Dean Professor Nagarajan who was keen to express his gratitude to JFM for bringing the symposium to Chennai and to emphasise the importance of international collaborations in research. The morning's talks included JFM editor Moshe Matalon and V. Shankar from IIT Kanpur, with Ivan Murasic providing a particular highlight when explaining how to turn an image of 100 dead cats in a field into something resembling boundary layer turbulence! I don't want to give away his secret but it's not as difficult as you might think… (shearing required).
The morning concluded with 3 of the PhD student flash talks, which at only 8 minutes apiece required a great deal of preparation to keep to time. These continued after lunch with a further 2 talks before the best presentation was selected by the JFM editorial panel. Congratulations to the eventual winner Danny Raj for a fascinating glimpse into his research. Mahesh Panchangula continued the afternoon session with a fantastic talk on time series analysis of droplets in sprays. The topic clearly resonated with many members of the audience leading to a series of interesting and challenging questions. Two further talks from Grae Worster and Manikandan Mathur from IIT Madras closed the session, before the third and final JFM panel discussion ended proceedings.
Our local hosts once again treated us to a lovely evening meal and even offered presents in the form of IIT Madras branded mugs to ensure that we would not forget the time that we had spent with them. Before leaving to return to the UK, we managed to squeeze in an afternoon of sightseeing on Saturday which saw us take in a local Hindu temple, the Cathedral of St Thomas, a traditional Madras lunch served on a banana leaf and a short visit to a local market to shop for some silks and jewellery. It was the perfect way to round off an excellent week of science and adventure. A massive thank you once again to our hosts in all three cities of Mumbai, Bangalore and Chennai for such an unforgettable experience.
Later in 2018, JFM will be visiting China for the second international symposia – watch this space for more information and announcements over the coming months.