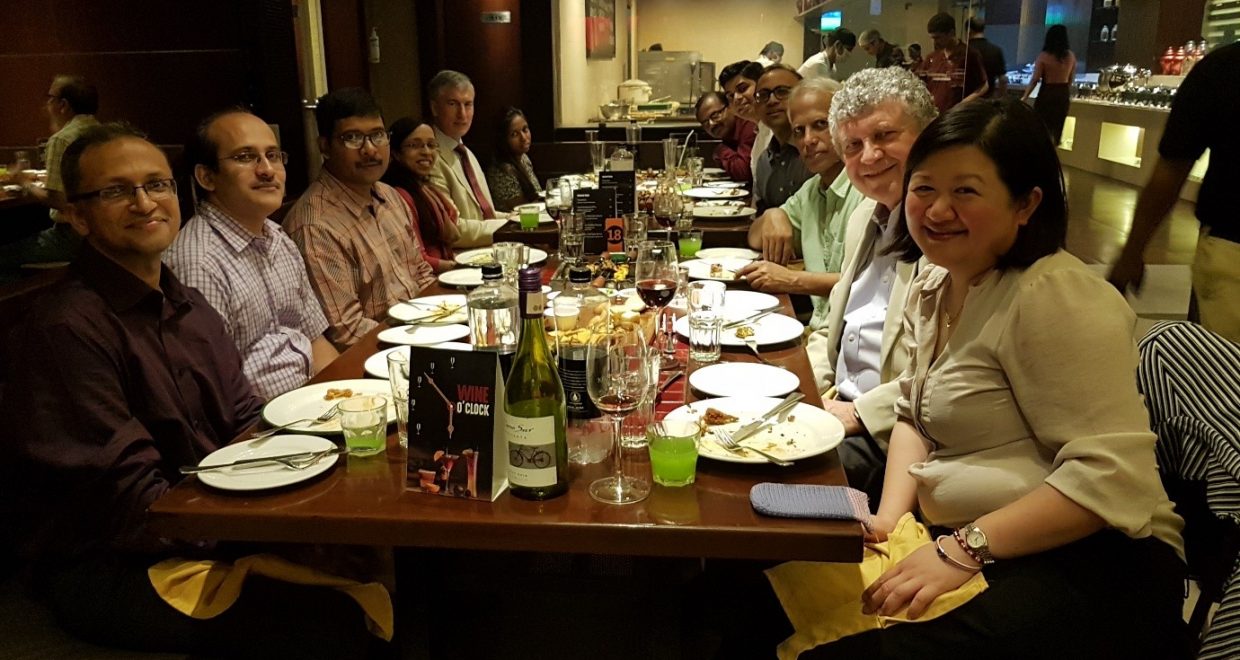 Dr. Tom Crawford, the Social Media Editor for JFM, documents the start of the first-ever JFM Symposia: From Fundamentals to Applied Fluid Mechanics that took place in the three Indian cities of Mumbai, Bangalore and Chennai in December 2017.
In December 2017, JFM travelled to India for the first-ever international symposia in the three cities of Mumbai, Bangalore and Chennai. The main aims of the symposia were to increase the interaction between Indian researchers and JFM and to showcase the fantastic work being carried out at Institutes across the country. An inaugural trip to India may seem a daunting task, but fortunately, Professor Prabhu Nott of IISc Bangalore and appointed to the JFM Editorial Board in February 2017, was able to provide local insight and to assist with the planning and logistics of the trip.
Mumbai
The adventure began in Mumbai as we arrived mid-afternoon to be welcomed by a very hot, humid and chaotic city. The local hosts joined us in the evening for the welcome dinner where we quickly became accustomed to the beautiful taste of Indian cuisine with vibrant smells and spices tickling the palate. The JFM editorial team of Grae Worster, Ivan Marusic, Moshe Matalon and Prabhu Nott were joined by the host professors Sinha and Thaokar and the local speakers Agrawal, Goswami, and Murallidharan. After a fascinating evening discussing fluid mechanics and Indian culture we retired to bed ready for the week's events to begin.
The first one-day symposium started with a very warm welcome by Prof. Devang Khakhar, Director of IIT Bombay. We then proceeded with a full day of scientific talks covering topics as varied as marine ice-sheets, turbulent flames, shock turbulence interactions and modelling of super-cooled flow boiling.  An audience of more than 125 delegates left feeling energised and inspired, as can be testified by Professor Krishnendu Sinha from IIT Bombay: "The audience, both students and faculty alike, were very impressed by the quality of the talks and the open interaction during the panel discussion. The input from the editors – about what they look for in a manuscript and how the review process goes – were greatly appreciated."
However, it was not just the local researchers that were impressed by the symposia, Profesor Moshe Matalon from the University of Chicago at Urbana-Champaign, was also very complimentary saying "In general, there is significant fluid mechanics done in India. We visited the three best places and evidently there was a sizable number of faculty working in the thermal-fluid sciences. They all recognize the quality that JFM stands for and many of them have either published or are trying to publish in JFM."
Ultimately, the success of the event would not have been possible without the support of the local hosts and sponsors, to whom we are very grateful. Mumbai set the scene for a fantastic week of science and collaboration between JFM and Indian researchers and it will certainly be a hard act to follow. Over to you Bangalore and Chennai…