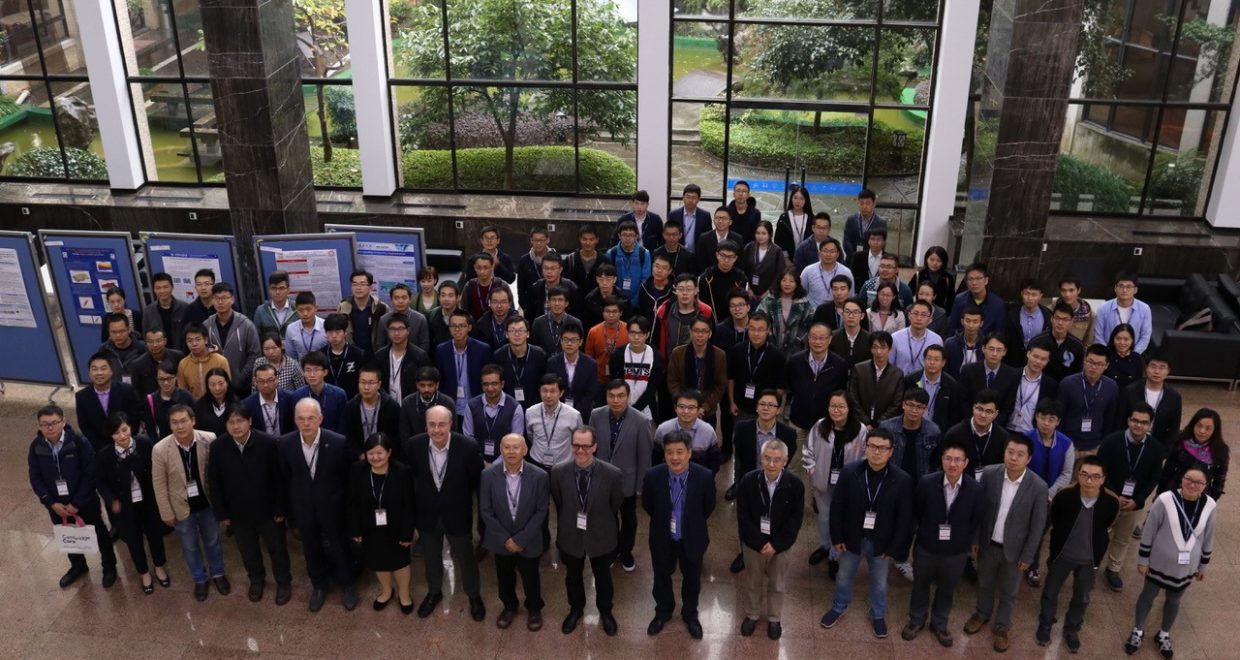 JFM Symposia China: Hangzhou
The JFM China Symposia visited the second city of the tour at Zhejiang University in Hangzhou. Another action-packed day of scientific talks began with a fitting reference to the foundation of JFM by George Batchelor, courtesy of Keith Moffatt1:
"Until 1956 there was no journal that was devoted to fluid dynamics in all its experimental and theoretical aspects, papers in fluid dynamics being widely spread over the literature of engineering, physics and mathematics. Batchelor perceived a need for a journal of a new kind, one that would include papers over the full range from those dealing with the most fundamental aspects of the subject right through to those dealing with applications in all sciences, whether geophysical, astrophysical, biological or technological, in which fluid dynamics plays a part."
Ke-Qing Xia of the Southern University of Science and Technology gave the first talk of the day as he discussed the 'dynamics of coherent structures in turbulent thermal convection', describing turbulence as a "high dimensional system with an infinite number of degrees of freedom". He was followed by Hang Ding from the University of Science and Technology of China and his talk on the 'fate of particles impacting onto a liquid pool'. Professor Ding's video of a mosquito being hit by a drop of water was certainly a crowd pleaser!
Next up was JFM deputy editor Charles Meneveau who provided an informative insight into the modelling of wind farms, stating that "onshore wind is currently the cheapest form of energy in the US and therefore needs to be better understood". Professor Meneveau's explanation of why he decided to publish the work in JFM Rapids was particularly well received by the audience given the panel discussion with JFM editors that was to follow later in the day.
Detlef Lohse began the afternoon session with another of his exciting talks, this time investigating several aspects of droplets and bubbles with phase transition. Whilst perhaps meant in jest, his remark that a good scientist requires the same level of patience as a good bird watcher seemed particularly apt given the time commitment often required to achieve a scientific breakthrough. Four local speakers also presented their research covering a wide range of topics, which included tsunamis with Hua Liu of Shanghai Jiao Tong University, Rayleigh-Taylor turbulence from Quan Zhou of Shanghai University, and hypersonic boundary layers courtesy of Cunbiao Lee of Peking University. A demonstration of the many flow structures able to be modelled by the numerical code of Zhaosheng Yu and his group at Zhejiang University was another highlight.
The day concluded with a panel discussion with JFM editors providing young researchers with the opportunity to ask any questions they may have about the publishing process with the journal. The discussion covered several topics, including the refereeing process, the difference between JFM rapids and JFM long-form papers, and the thoughts of the editors on the question 'what does a JFM editor look for when assessing a paper?'. Deputy editor Charles Meneveau summed it up nicely when explaining that the key requirement of a JFM paper is to present work that "advances fluid mechanical understanding". During the discussion, the panel were also keen to emphasise that experiments remain an essential and integral part of fluid mechanics research and will always have a place in JFM.
The final task of the day was to select the winners of the poster competition, as judged by the four editors present. Congratulations to Kai Mu from the University of Science and Technology China and Zhenyu Yuan of Zhejiang University who were selected as joint-winners. It just remains to say thank you once again to our magnificent hosts, and to all of the attendees and speakers for contributing to another brilliant day of scientific collaboration. Next stop Beijing!
Reference:
1: H. K. Moffatt, Biographical Memoirs of Fellows of the Royal Society, doi:10.1098/rsbm.2002.0002