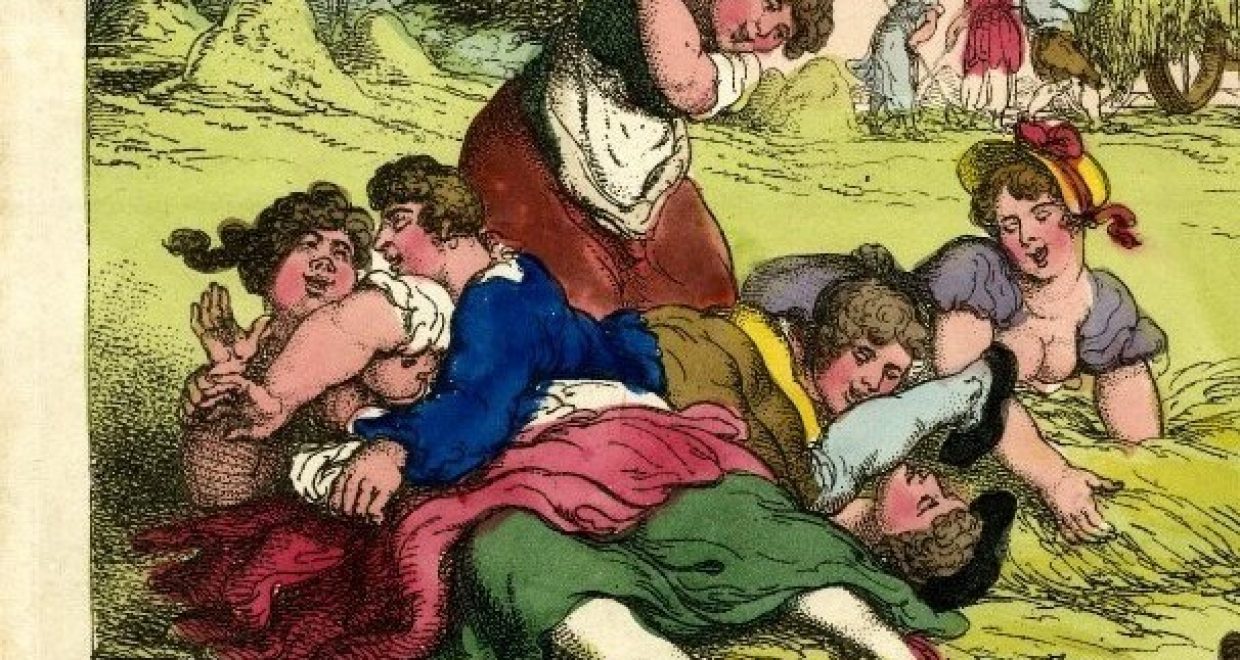 Promiscuous Presbyterians? Courtship, marriage and sexual activity in 18th and 19th century Ireland
This blog accompanies Leanne Calvert's Irish Historical Studies open access article ''He came to her bed pretending courtship': sex, courtship and the making of marriage in Ulster, 1750–1844'.
On 10 March 1706, Margaret McCal appeared before the Presbyterian kirk session of Templepatrick, county Antrim, and complained that Elizabeth McElroy had 'done wrong to her'. According to McCal, Elizabeth had 'Dressed in mans cloaths' and, calling herself 'David Campbell', had come to her 'pretending courtship'. She further alleged that Elizabeth had since told 'some persons … that if she had been a man she could have been naughte with her'.[1]
Around the same time, James Neil was called to appear before Carnmoney kirk session, after he was found in the bed of Jane Murray, a fellow servant. Asked what 'induc'd him' to go to Murray's bed, Neil answered that he 'had something to say to her' and thought he 'might with the more privacy converse with her about marriage'.[2]
These snapshots of intimate episodes in the lives of Presbyterian women and men in eighteenth-century Ulster, hold the potential to tell us much about the role that sexual activity played in the rituals of courtship and marriage.  Moreover, such cases offer us the opportunity to rethink accepted narratives in the history of Irish sexuality. My latest article in Irish Historical Studies sets out to explore these questions.
The image of Ireland, and in particular Catholic Ireland, as a sexually repressive society, marked by strict moral values and an uncompromising attitude to sex outside of marriage, is one with which many of us will be familiar. Indeed, it cannot be denied that the scars of these attitudes have left their mark on the psyche of many in Ireland today. The scandals of the Magdalene laundries and the mother and baby homes, such as that in Tuam, are stark reminders of Ireland's uneasy relationship with illicit sex. But where do Presbyterians fit into this picture?
In contrast to their Catholic counterparts, Ireland's Presbyterian population has gained a reputation for sexual licence in the island's historical imagination. Indeed, the demographic evidence does appear to support the trope of the Promiscuous Presbyterian. Illegitimacy rates in the province of Ulster, the heartland of Presbyterian settlement, were on the whole higher than elsewhere in Ireland for much of the nineteenth- and twentieth-centuries. Moreover, studies of birth and baptism registers in Presbyterian communities have shown that a high proportion of brides were pregnant on their wedding day.[3] But do Ulster's Presbyterians deserve their reputation for promiscuity and sexual freedom?
My article suggests that they do not. For many Presbyterian couples, sexual activity played a normal part in the rituals of courtship and marriage. As suggested by the words of Margaret McCal, 'naughte' activities such as groping, petting and fondling were recognised as normal courtship behaviours. Moreover, as the case of James Neil intimates, sexual intercourse (or at least the prospect of it) moved a relationship on from courtship to marriage. Practised within the boundaries of courtship and marriage, sexual activity for many Presbyterians was not considered illicit. That the Presbyterian church courts disciplined members who committed sexual transgressions, and that its members submitted voluntarily to such discipline, suggests that Presbyterians were not operating with a promiscuous mindset. By looking at Irish sexuality, through the lens of Presbyterian sources, my article argues that we can rethink the boundaries that lay between licit and illicit sexual behaviour.
---
[1] Templepatrick kirk session minutes, 10 March 1706 (Public Record Office of Northern Ireland, CR3/12/B/1).
[2] Carnmoney kirk session minutes, 9 November 1705, 5 February 1706 (P.R.O.N.I., MIC1P/37/4/9).
[3] Mary O'Dowd, 'Women in Ulster, 1600–1800' in Liam Kennedy and Philip Ollerenshaw (eds), Ulster since 1600: politics, economy and society (Oxford, 2013), pp 51–3; William Paul Gray, 'A social history of illegitimacy in Ireland from the late eighteenth to the early twentieth century' (Ph.D. thesis, Queen's University, Belfast, 2000), p. 296.
Image credit: Rural sports. Or a pleasant way of making hay. © The Trustees of the British Museum