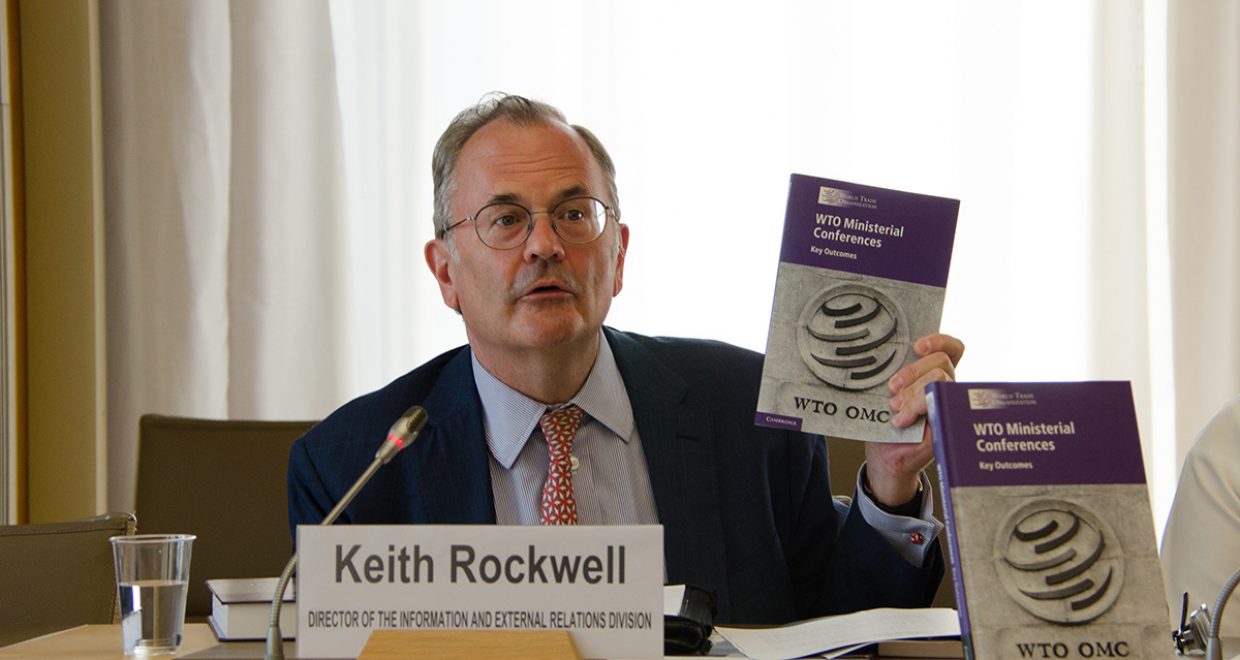 New book highlights key outcomes from WTO Ministerial Conferences
A new book containing all the key results from WTO Ministerial Conferences since the organization was established in 1995 was unveiled at the WTO on 18 July. Spanning 11 Ministerial Conferences held between 1996 and 2017, "WTO Ministerial Conferences: Key Outcomes" includes Ministerial Decisions and Declarations as well as Conference Chairpersons' statements. The publication also reproduces relevant ministerial outcomes from the Uruguay Round of trade negotiations adopted in connection with the establishment of the WTO.
Speaking at the book launch event, Director-General Roberto Azevêdo said:
"Each of the Ministerial Conferences has represented a unique milestone for the multilateral trading system. Ministers have debated the value of the system, voiced their agreements and disagreements, given guidance for future steps, and also agreed on new rules and disciplines.

"This publication is extremely timely. Our 12th Ministerial Conference will be held next spring in Kazakhstan. Members are discussing how to make progress on a number of issues. I have no doubt that the results of that conference and subsequent conferences will cause us to issue many future editions of this publication."
His full speech is available here.
The chair of the WTO's General Council, Ambassador Sunanta Kangvalkulkij of Thailand, said:
"This book enshrines the highlights of the work of WTO members since the establishment of this organization, culminating in the adoption of ministerial decisions and declarations. It is a testament to members' commitment, dedication and active participation to the work of the organization and to the effective functioning of the multilateral trading system. And the WTO needs today – as it did in the past – this firm commitment of all its members to keep delivering for the benefit of all."
The publication covers the following Ministerial Conferences:
• Buenos Aires, 10-13 December 2017
• Nairobi, 15-19 December 2015
• Bali, 3-6 December 2013
• Geneva, 15-17 December 2011
• Geneva, 30 November – 2 December 2009
• Hong Kong, 13-18 December 2005
• Cancún, 10-14 September 2003
• Doha, 9-13 November 2001
• Seattle, 30 November – 3 December 1999
• Geneva, 18-20 May 1998
• Singapore, 9-13 December 1996
The publication complements "The WTO Agreements", recently published by Cambridge University Press and the WTO, which contains the Marrakesh Agreement Establishing the WTO and its Annexes.
To celebrate the launch of WTO Ministerial Conferences, we are offering free access to the first chapter, which details key decisions from the first WTO Ministerial Conference in Singapore, for a limited time only.
This blog post was originally prepared as a news piece by the World Trade Organization and is reproduced with their permission. You can read the original news piece here.