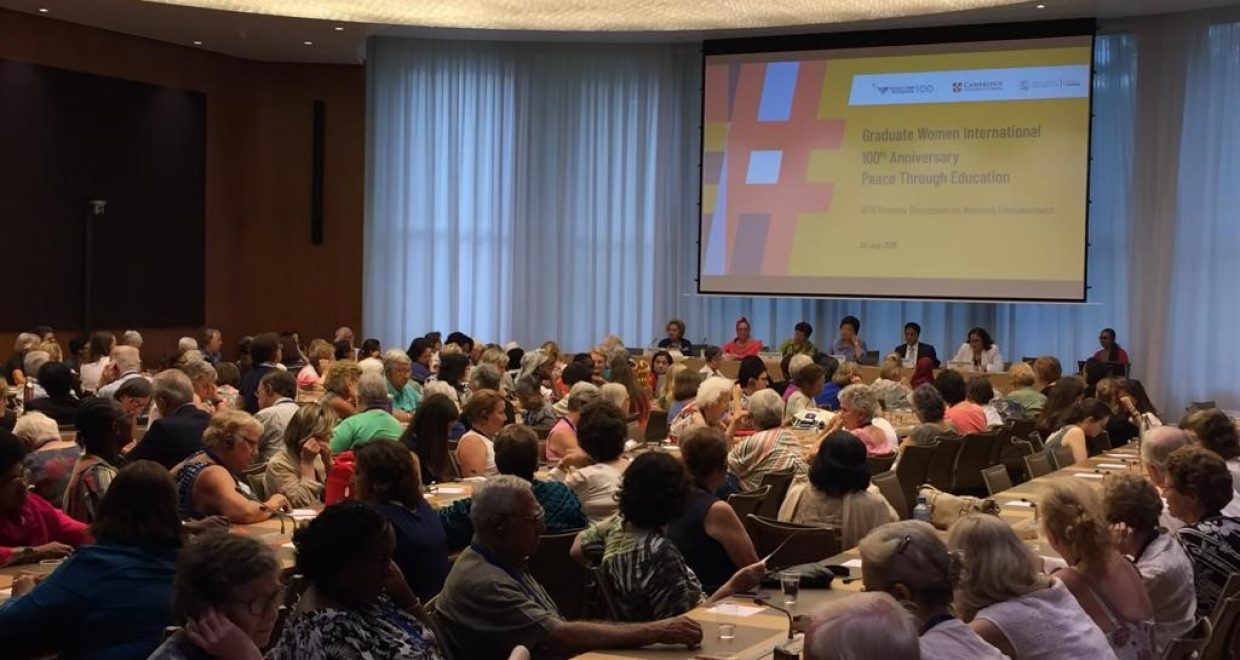 Education is key in fostering trade opportunities for women
As part of their 100 year anniversary, Graduate Women International (GWI) hosted a week-long assembly entitled 'Peace through Education' in partnership with the World Trade Organization and sponsored by Cambridge University Press. The assembly was attended by over 400 women from 50 countries and was dedicated to helping women acquire global leadership skills to eliminate barriers to equal and inclusive education, social and economic justice and the empowerment of women. In this blog post, co-organizer of the assembly, Anoush der Boghossian looks at some of the issues women face within international trade.
Women's empowerment is now an established feature of the debate at the WTO. Over the years, the WTO has worked to further strengthen the role of trade in empowering women; to assess the impact of international trade on women's economic development; to make trade as inclusive as possible and thus to contribute to the implementation of the United Nations Sustainable Development Goals.
Since 2017, 126 WTO Members and Observers gave their support to the Buenos Aires Declaration on Trade and Women's Economic Empowerment – pledging to work together on bringing down barriers faced by women, preventing them from participating fully in the global economy.
By doing so, they gave a strong message that women play a central role in economic growth and that trade has a major role to play. But this can only happen if they are given equal opportunities!
The regulatory and institutional systems still inhibit women's access to jobs, property, finance and any economic prospects created by trade.
The lack of education and training available to women and girls also hinder their capacity to integrate the formal economy.
Two Third of the 750 million illiterate adults in the world are women. They still lack basic reading and writing skills.
Hence, they remain in the informal sector working for low paid jobs, in unsafe conditions and without social protection.
Educating women and girls should be a strategic development priority for all, governments and international institutions. It should also be at the heart of trade strategies.
Trade is very education intensive. A large majority of women have started businesses on their own and most of them have done it without any formal support from their Governments or institutions. Even when such support has been made available, it has not been targeted to their specific needs. They face a blatant knowledge gap on trade, how it functions and how trade rules are implemented. I believe the WTO can act to fill this gap.
We live in a world where new technologies, especially digital ones, can help women in gaining access to market information, providing multi-lingual trainings, facilitating collective action through women's networks, all of which will facilitate women's access to new global consumers. Without targeted trainings, women will not have access to those technologies.
Actually, the global gender digital divide persists. In two-thirds of countries, the percentage of women using the Internet is lower than of men. Women in developing countries are about 10% less likely to own a mobile phone than men. Bridging the digital divide could increase the global GDP up to USD 18 billion, because when given opportunities, women prosper. In Asia for instance, when they are trained in ICT, they tend to use internet more than men while running their business.
So, education across the board is essential.
Trade can also create education opportunities for women. Today, through trade, more and more women in Madagascar have access to solar ovens suppling clear energy to their families and learning new ecologically friendly technologies. Women don't have to walk miles to provide wood for the household anymore and they can therefore devote more time to other activities such as education and training.
However, trade cannot do it alone and needs to be accompanied by other policies including education thus creating an environment where women can thrive in peace.
You can find out more about Graduate Women International (GWI) and 'Peace through Education' here.