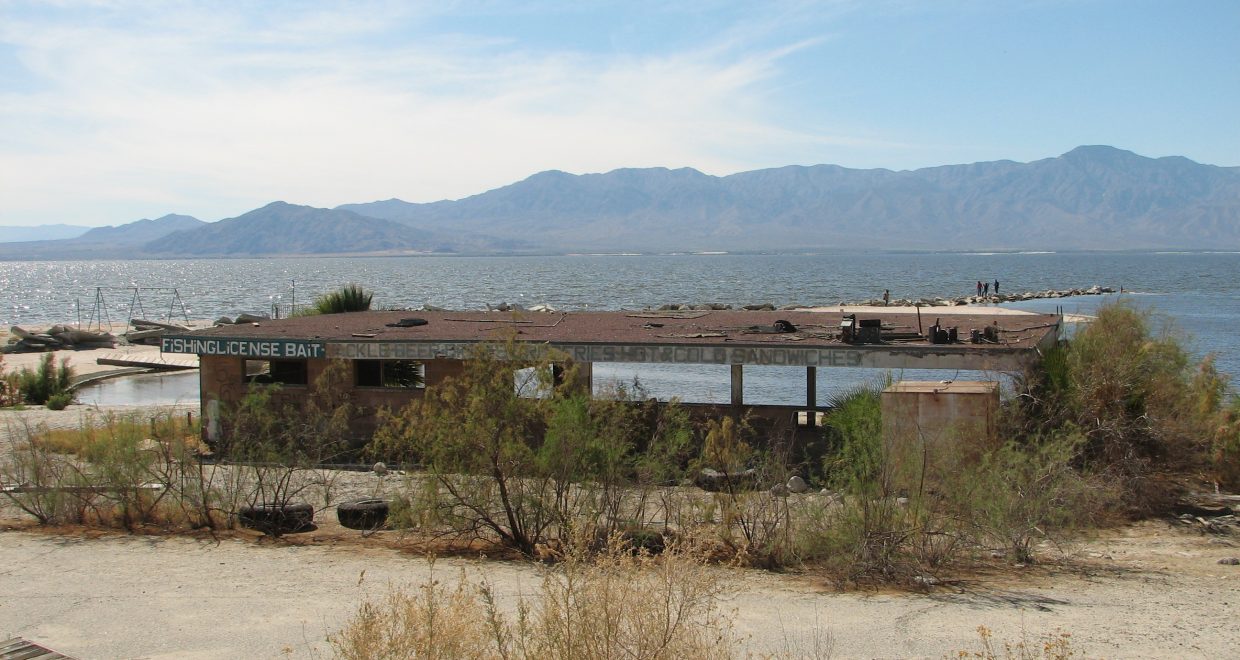 Human-Environment dynamics on the shore of Lake Cahuilla
My recent research along the relic shorelines of Lake Cahuilla has been somewhat of a tangent for me. I've spent most, if not all, of my professional career investigating archaeological shell middens along Pacific coastlines and offshore islands.
Much of this research has focused on understanding the long-term histories of human-marine ecodynamics and applying deep historical records to modern conservation management. From time to time, my curiosity has been captured by other places and other stories.
Lake Cahuilla is a fascinating story. Its modern remnant, the Salton Sea, is downright beguiling. Located in the Coachella and Imperial valleys of inland southern California, Lake Cahuilla was a massive prehistoric lake that covered 5700 km2 in California and northern Mexico. The lake formed, then slowly evaporated, several times during the Holocene, as water from the Colorado River periodically diverted into the Salton Trough. The lake acted as a magnet for local indigenous communities, who seasonally occupied its shoreline to gather plants, hunt game, and construct cobble fish traps.
The Salton Sea is all that remains of Lake Cahuilla, the result of an irrigation canal breach and natural levee failure in the early 1900s. Developers envisioned the lake-in-the-desert as a relaxing oasis and resort, and, in the 1950s, non-native fish were imported to support a recreational fishery, attracting some 380 species of migrating birds. The majority of the water that enters the Salton Sea, however, originates from polluted rivers and agricultural drainages. Once a getaway that rivaled Palm Springs for California's rich and famous, the Salton Sea is a largely abandoned ecological distopia that suffers regular mass fish and bird dieoffs, but still acts as a respite for tens of thousands of migrating birds. What a confused and interesting story of human-nature entanglements! I had to know more.
I have been very fortunate to have had the opportunity to mentor a number of very smart, motivated, and curious graduate students. Anjali Phukan has been this and more. She came to SDSU to work with me on the Channel Islands. Shortly after she arrived, I pitched her on a project mapping fishtraps along California's ancient "inland ocean." Even after a trip in the early spring to visit a number of new stone fish trap sites documented by archaeologist Jim Cassidy, as off-road motorbikes and quads raced by us kicking up dust and debris and the sun pounded down and we felt as if our brains were in a slow cooker, she remained enthusiastic.
Partnering with San Diego-based drone technology company, Spark Aerial, in a matter of a day, we were able to map with shocking precision the distribution, orientations, and elevations of some 55 stone fish traps. The mapping techniques I learned as a graduate student would have never produced the quality of data and resulted in the kinds of interpretations we were able to make. We discovered new patterning in the orientations, elevations, and shapes of these fish traps, results that can help us re-think interpretations about the thousands of other fish traps that dot the ancient shores of Lake Cahuilla.
Ultimately, there are still many stories to be told about the history of Lake Cahuilla, the Salton Sea, and the dynamic human-environmental relationships that have played out over thousands of years in inland southern California. These stories, I am convinced, will be critical for guiding decisions about how to best manage, conserve, and protect these ecosystems into the future. Maybe there is another eager graduate student who can be diverted from the Channel Islands. I surely hope so, because I am going to give it a try!
This blog was inspired by an article in Volume 7, Issue 4 of Advances in Archaeological Practice: Shorelines in the Desert: Mapping Fish Trap Features along the Southwest Coast of Ancient Lake Cahuilla, California – by Anjali Phukan, Todd J. Braje, Thomas K. Rockwell, & Isaac Ullah.