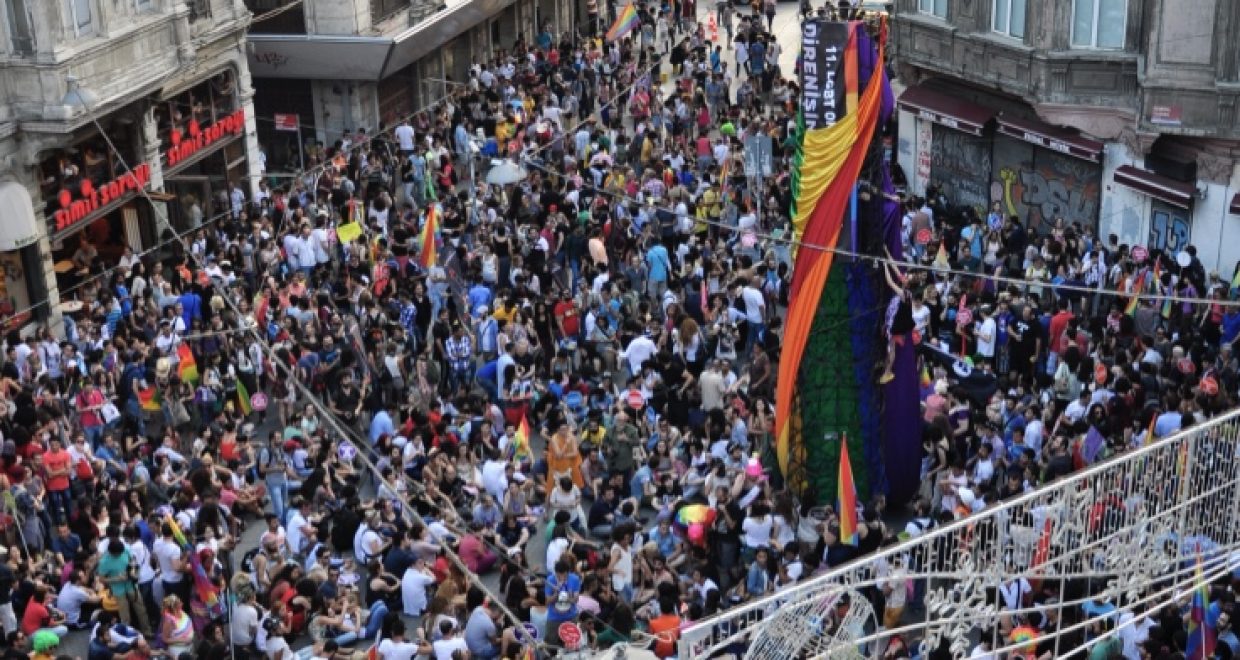 Boğaziçi University Protests and State Homophobia in Turkey
Since January 2021, student protests against the top-down appointment of a new rector to Boğaziçi University by President Recep Tayyip Erdoğan has been misrepresented in many ways in order to control public opinion and position people against students' (and the academic staff's) demands. One example of these manipulations is the framing of student protests by government spokesmen and their social media associates as an LGBTI insurgence. Within a few days following the start of the protests that called on the new rector Melih Bulu to resign and for elections to be held to identify a new rector, police raided the student space that was shared by the Women's Studies Club (BUKAK) and the LGBTI Studies Club on the university campus and confiscated rainbow patterned LGBTI flags as "evidence." Islamist news outlets claimed that the LGBTI Student Club was "sympathetic to terrorists." The İstanbul Governorship released a press announcement stating that students were detained from the protests and among them were members of the Boğaziçi University "LGBTI Club." President Erdoğan elucidated that "their" youth were loyal to national and moral values and were not LGBTI. Then the President's Communication Office announced that the newly appointed Boğaziçi University rector had shut down the LGBTI Student Club.
These are the desponding highlights of the state's side on this issue. On the other hand, a participatory and resilient queer politics also emerges in Turkey, and towards the end of this post I will argue that there are reasons to be cautiously optimistic.
Like the state itself, its standpoints, policies, and regulations about the non-conforming gender identities and sexual orientations have been incoherent, decentered, and conjectural. What we have witnessed and experienced recently, however, is both an intensification and stabilization of "state homophobia" in Turkey. "State homophobia" denotes a series of articulated negative attitudes, hatred, fear, and disgust regarding the emergent LGBTI and queer identities, communities, politics, and activism by the various organs and representatives of the government. Despite the fact that discrimination of any sort among citizens is forbidden by the constitution as well as numerous laws, public authorities have repetitiously rejected, marginalized, and condemned queer bodies, visibilities, and actions with religious, nationalist, indigenous, fundamentalist, traditionalist, and statist connotations. The recent increase and systematization of the homophobic and transphobic assaults (e.g. "they are sinners," "terrorists," or "deviants") and the denial of the existence of queer citizens by state officials and the government point to a dangerous and daunting "state homophobia," which may legitimize and cause in-person attacks, risk, and harm as well as a possible rollback of democratic gains, rights, and mechanisms. "State homophobia" has been consolidated during the government's backlash against the Boğaziçi University protests. It has expanded its discursive effects into the social, cultural, political spheres, and turned into a useful tool to stigmatize anti-government, dissident, and opposition movements.
When has the state in Turkey embraced sexual diversity, implemented inclusive policies, or led a form of sexual democracy? Most probably, never. Sure, there were times when different state institutions and authorities developed tolerant and even supportive attitudes towards various expressions of counter-hegemonic gender and sexual identities. For example, queer musicians such as Tarkan, Zeki Müren, and Bülent Ersoy have been allowed to appear on state-run television for decades; getting a "rotten report" from the army as a result of declaring homosexual orientation has become easier and more humane after 2000; and the annual LGBTI Pride Parade in Taksim Square and through the İstiklal Street in İstanbul was not only permitted but also protected by police until it was banned in 2015. This does not mean that queers have always been safe or that they have been emancipated in Turkey. Recently, there has been a growing body of research and escalating popular attention on how different segments of LGBTI groups have been oppressed, excluded, discriminated against, and threatened by state institutions or state-sponsored ideological and cultural campaigns.
Despite its unquestionably heteronormative tendencies, the Turkish Republic, with a secular policy and modernizing orientation, has never officially made queers illegal or imposed punitive measures on their actions. The opposition Republican People's Party (CHP) and People's Democratic Party (HDP) have fielded LGBTI and queer candidates in national and local elections; numerous municipalities celebrated the Pride Week on their official Twitter and Facebook accounts; many queer student clubs, formal associations, and NGOs have been legal and active for almost two decades; there has been an increasing number of social scientific publications on queer lives in Turkey (contributing to this, a special dossier that Kerem Öktem and I have co-edited on "Turkey's Queer Times" is forthcoming in the next issue of New Perspectives on Turkey); the popular hashtag "#LGBTIhaklariinsanhaklaridir" (#LGBTIrightsarehumanrights) was shared on social media by many intellectuals, public figures, and opinion leaders including some right-wing politicians; and against the impactful state homophobic wave of criminalization and demonization at Boğaziçi University neither students from a wide spectrum of political persuasion nor the student clubs rejected or disclaimed queer students.
Historical and sociological research on queer social movements demonstrates that attempts to oppress and dehumanize sexual minorities further inspire, encourage, connect, and motivate queer groups to get organized and develop arguments against institutional heterosexism, heteronormativity, and homophobia. The recent ascendant state homophobia that is represented at the highest levels of public authority in Turkey has the potential to trigger a counter-discourse and countermovement along the lines of enhanced solidarity, alliances, cooperation, and compromise between disenfranchised groups across class, racial, ethnic, citizenship, religious, bodily, gender and sexual lines. A flexible and vigilant legal activism and the determination of the grassroots student protest movement following the appointment of a rector at Boğaziçi show that the aspiration for equality, inclusion, diversity, and openness can possibly define a new sense of politics in the country. The established opposition parties' belated and hesitating but at the end supportive and curious attitudes to these queer(-ed) channels of politics might be a reason to be optimistic and reassuring about the changing terms and novel circumstances of the future of political demands and rights advocacy in Turkey.
Explore New Perspectives on Turkey on Cambridge Core to learn more about this ground-breaking Journal and its content offerings.