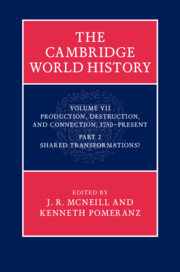 Cited by

1

Crossref Citations

This Book has been cited by the following publications. This list is generated based on data provided by Crossref.

---

Narasimhan, Vagheesh M. Patterson, Nick Moorjani, Priya Rohland, Nadin Bernardos, Rebecca Mallick, Swapan Lazaridis, Iosif Nakatsuka, Nathan Olalde, Iñigo Lipson, Mark Kim, Alexander M. Olivieri, Luca M. Coppa, Alfredo Vidale, Massimo Mallory, James Moiseyev, Vyacheslav Kitov, Egor Monge, Janet Adamski, Nicole Alex, Neel Broomandkhoshbacht, Nasreen Candilio, Francesca Callan, Kimberly Cheronet, Olivia Culleton, Brendan J. Ferry, Matthew Fernandes, Daniel Freilich, Suzanne Gamarra, Beatriz Gaudio, Daniel Hajdinjak, Mateja Harney, Éadaoin Harper, Thomas K. Keating, Denise Lawson, Ann Marie Mah, Matthew Mandl, Kirsten Michel, Megan Novak, Mario Oppenheimer, Jonas Rai, Niraj Sirak, Kendra Slon, Viviane Stewardson, Kristin Zalzala, Fatma Zhang, Zhao Akhatov, Gaziz Bagashev, Anatoly N. Bagnera, Alessandra Baitanayev, Bauryzhan Bendezu-Sarmiento, Julio Bissembaev, Arman A. Bonora, Gian Luca Chargynov, Temirlan T. Chikisheva, Tatiana Dashkovskiy, Petr K. Derevianko, Anatoly Dobeš, Miroslav Douka, Katerina Dubova, Nadezhda Duisengali, Meiram N. Enshin, Dmitry Epimakhov, Andrey Fribus, Alexey V. Fuller, Dorian Goryachev, Alexander Gromov, Andrey Grushin, Sergey P. Hanks, Bryan Judd, Margaret Kazizov, Erlan Khokhlov, Aleksander Krygin, Aleksander P. Kupriyanova, Elena Kuznetsov, Pavel Luiselli, Donata Maksudov, Farhod Mamedov, Aslan M. Mamirov, Talgat B. Meiklejohn, Christopher Merrett, Deborah C. Micheli, Roberto Mochalov, Oleg Mustafokulov, Samariddin Nayak, Ayushi Pettener, Davide Potts, Richard Razhev, Dmitry Rykun, Marina Sarno, Stefania Savenkova, Tatyana M. Sikhymbaeva, Kulyan Slepchenko, Sergey M. Soltobaev, Oroz A. Stepanova, Nadezhda Svyatko, Svetlana Tabaldiev, Kubatbek Teschler-Nicola, Maria Tishkin, Alexey A. Tkachev, Vitaly V. Vasilyev, Sergey Velemínský, Petr Voyakin, Dmitriy Yermolayeva, Antonina Zahir, Muhammad Zubkov, Valery S. Zubova, Alisa Shinde, Vasant S. Lalueza-Fox, Carles Meyer, Matthias Anthony, David Boivin, Nicole Thangaraj, Kumarasamy Kennett, Douglas J. Frachetti, Michael Pinhasi, Ron and Reich, David 2019. The formation of human populations in South and Central Asia. Science, Vol. 365, Issue. 6457,

---
Part 2: Shared Transformations?
Publisher:

Cambridge University Press

Online publication date:

May 2015

Print publication year:

2015

Online ISBN:

9781316182789