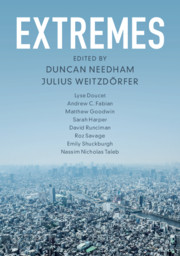 Coming soon

Expected online publication date:

April 2019

Print publication:

30 April 2019

Humanity is confronted by and attracted to extremes. Extreme events shape our thinking, feeling, and actions; they echo in our politics, media, literature, and science. We often associate extremes with crises, disasters, and risks to be averted, yet extremes also have the potential to lead us towards new horizons. Featuring essays by leading intellectuals and public figures arising from the 2017 Darwin College Lectures, this volume explores 'extreme' events, from the election of President Trump, the rise of populism, and the Brexit referendum, to the 2008 financial crisis, the Syrian war, and climate change. It also celebrates 'extreme' achievements in the realms of health, exploration, and scientific discovery. A fascinating, engaging, and timely collection of essays by renowned scholars, journalists, and intellectuals, this volume challenges our understanding of what is normal and what is truly extreme, and sheds light on some of the issues facing humanity in the twenty-first century.
---
Historical reasons for the focus on broad monetary aggregates in post-World War II Britain and the 'Seven Years War' with the IMF
Journal: Financial History Review / Volume 24 / Issue 3 / December 2017
Published online:

11 January 2018

, pp. 331-356

Print publication:

December 2017

The British monetary authorities have traditionally focused on broader monetary aggregates than their counterparts elsewhere. The reasons include: the willingness of UK banks to allow customers to make payments by drawing on time deposits, the particularities of the UK approach to managing the national debt and the foreign exchange reserves, and the flow-of-funds system of national accounts developed after World War II. This article outlines these reasons, and explores the implications for the UK's often fractious relationship with the International Monetary Fund during the 1950s and 1960s. It explains why IMF conditionality on loans to the UK focused on broad aggregates.
---
Published online:

05 October 2014

Print publication:

15 September 2014

, pp

ix-x
---