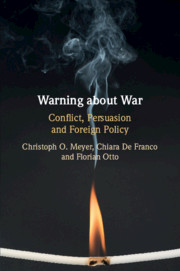 Conflict, Persuasion and Foreign Policy

Coming soon

Expected online publication date:

August 2019

Print publication:

29 August 2019

What does it take for warnings about violent conflict and war to be listened to, believed and acted upon? Why are warnings from some sources noticed and largely accepted, while others are ignored or disbelieved? These questions are central to considering the feasibility of preventing harm to the economic and security interests of states. Challenging conventional accounts that tend to blame decision-makers' lack of receptivity and political will,  the authors offer a new theoretical framework explaining how distinct 'paths of persuasion' are shaped by a select number of factors, including conflict characteristics, political contexts, and source-recipient relations. This is the first study to systematically integrate persuasion attempts by analysts, diplomats and senior officials with those by journalists and NGO staff. Its ambitious comparative design encompasses three states (the US, UK, and Germany) and international organisations (the UN, EU, and OSCE) and looks in depth at four conflict cases: Rwanda (1994), Darfur (2003), Georgia (2008) and Ukraine (2014).
---
Journal: The British Journal of Psychiatry / Volume 146 / Issue 6 / June 1985
Published online by Cambridge University Press:

29 January 2018

, pp. 628-632

Print publication:

June 1985

Sexual dysfunction in male subjects is a multifaceted illness, not appropriately classifiable by any of the current diagnostic systems, in most of which a major disadvantage is their poor inter-rater reliability. This results in over-or underestimation of minor biological (e.g. hormonal) disturbances, which occur in conjunction with the disorder, but are unlikely to be only its pathophysiological correlate. These biological factors can be important in some cases, however, as they indicate therapeutic strategies (e.g. correction of a minor hormonal deficit). The broad acceptance of classificatory systems with multi-axial dimensions has prompted the construction of a new system. In accordance with DSM III this consists of seven equivalent axes and sub-axes, supplemented by five sub-types, from which the diagnostic attribution can be derived.
---