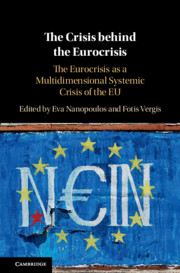 The Eurocrisis as a Multidimensional Systemic Crisis of the EU

Coming soon

Expected online publication date:

May 2019

Print publication:

31 May 2019

The Crisis behind the Euro-Crisis encourages dialogue among scholars across the social sciences in an attempt to challenge the narrative that regarded the Euro-crisis as an exceptional event. It is suggested instead that the Euro-crisis, along with the subsequent crises the EU has come to face, was merely symptomatic of deeper systemic cracks. This book's aim is to uncover that hidden systemic crisis - the 'crisis behind the Euro-crisis'. Under this reading it emerges that what needs to be questioned is not only the allegedly purely economic character of the Euro-crisis, but, more fundamentally, its very classification as an 'emergency'. Instead, the Euro-crisis needs to be regarded as expressive of a chronic, dysfunctional, but 'normal' condition of the EU. By following this line of analysis, this book illuminates not only the causes of contemporary turbulences in the European project, but perhaps the 'true' nature of the EU itself.
---