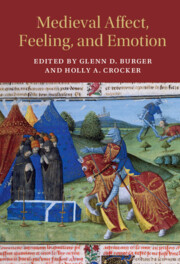 Coming soon

Expected online publication date:

March 2019

Print publication:

30 April 2019

Representations of feeling in medieval literature are varied and complex. This new collection of essays demonstrates that the history of emotions and affect theory are similarly insufficient for investigating the intersection of body and mind that late Middle English literatures evoke. While medieval studies has generated a rich scholarly literature on 'affective piety', this collection charts an intersectional new investigation of affects, feelings, and emotions in non-religious contexts. From Geoffrey Chaucer to Gavin Douglas, and from practices of witnessing to the adoration of objects, essays in this volume analyze the coexistence of emotion and affect in late medieval representations of feeling.
---
---
Published by: Boydell & Brewer
Published online:

12 September 2012

Print publication:

17 April 2008

, pp

82-96

Summary

With a title that is simultaneously declarative and descriptive, one might think we would have a confident answer to the guiding question of this essay: what are the pleasures of Chaucer's Troilus and Criseyde? This question remains difficult to answer, for reasons that pertain to the poem's construction of Troilus's masculinity out of the fracturing experience of suffering. At its basic level of plot and character, the tale of an arrogant and sulky bachelor who wins the fleeting love of a morally inscrutable widow through the oily machinations of her lascivious uncle seems an unlikely source of literary pleasure. With its formulaic structure, featuring love's debilitating desire, its momentary reward, and its inevitable loss, Troilus and Criseyde seems almost deliberately unappealing. For instance, Gretchen Mieszkowski argues in her feminist analysis of the text that "Male Chaucerians may be surprised to learn that reading Troilus and Criseyde for the first time is almost invariably a disappointment for a woman." Of course, there arises no inherent discrepancy between a pleasureless narrative and a pleasurable reading experience, since, as Roland Barthes observes, "The text of pleasure is not necessarily the text that recounts pleasures." If the same could be said for depictions of pain, then we might readily agree that Troilus's suffering potentially provides a source of pleasure in the poem. Taking pleasure from another's pain, however, is often regarded as socially suspect and ethically corrupt.
---